5 Best Stag Do Holidays [The Best Stag Do Party Holiday Locations]
Luke Iles – Uploaded 07.08.2023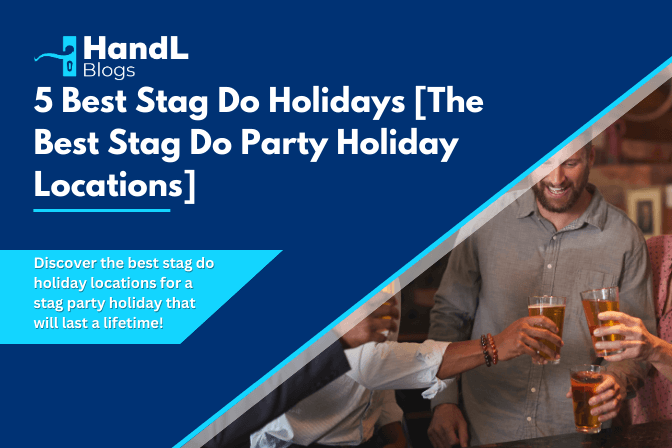 The best stag do holiday locations
Stag do holidays are some of the best trips you can ever experience and if you are a group that is looking to celebrate the momentous occasion with a chaotic and lively party holiday there is nothing better than visiting some of the best party holiday destinations in the world!
A stag do holiday also known as a bachelor party holiday is a party held by the groom-to-be and is often planned by the groom's "best man". It is full of a group of friends to the groom and involves a short break or stag weekend away to a lively party holiday destination.
Now, no matter your travel budget, a party holiday is one of the best experiences you can have as a group event during a stag weekend from cheap popular stag holidays to luxury popular stag holiday locations. From lively nightlife, relaxing sandy beaches and clear, blue seas to rows of bars, world-famous nightclubs and incredible cuisine, exploring a new party holiday destination with your best mates and the groom-to-be can be one of the best party experiences of your life!
Five best stag holidays for cheap stag weekends
The five best stag do holidays for stag groups across the world include the following party holiday stag destinations:
Budapest, Hungary
Las Vegas, USA
Melbourne, Australia
Rio de Janeiro, Brazil
Phuket, Thailand
Budapest is the capital city of Hungary located in central Europe and is one of the best party holidays in Europe. For a stag do holiday the best locations to stay are the centre of the city in locations such as Pest, District VII (Jewish Quarter) or District V (Inner city) which are perfect locations for all your stag do activities.
Stag Do Pub Crawls in the Ruin Bars –

Budapest is known for its cheap nightlife and buzzing party scene. Explore the trendy ruin bars in renovated abandoned buildings in District VII (Jewish Quarter). It is home to plenty of stag groups all doing the same thing, jumping from bar to, pub to nightclub!
Thermal Bath Party –

Party in the famous thermal baths in Budapest in one of the best and most unique party experiences around. Enjoy music, drinks and a lively atmosphere while soaking in the hot, warm baths at the Szechenyi Bath Party!
Danube River Cruise –

Enjoy a booze cruise along the scenic Danube River in Budapest viewing the stunning famous buildings and iconic landmarks across the city including the Buda Castle, Chain Bridge and Parliament building whilst you drink and party along the river.
Flights – A flight from London to Budapest costs around £110 – £190 during peak season. In shoulder season you can find flights for as little as £60.
Hotels – The average price for a hotel room in Budapest is around £65 – £90 per night during peak season. However, you can find cheaper basic accommodation for around £40 per night.
Food – A standard meal in a restaurant costs around £8 – £10.
We rate Budapest an 8/10.
Las Vegas is located in the state of Nevada in the southwestern United States and is one of the best party holidays in North America. For a stag do in Las Vegas, the best place to stay is in the Las Vegas Strip which is the iconic stretch of Las Vegas lined with all the iconic hotels, casinos and entertainment venues.
Party all night on the Las Vegas Strip –

Las Vegas is famous for its world-class nightclubs along the Las Vegas Strip alongside its incredible offering of unique bars and pubs. The strip is unlike anything you will ever experience with live music, entertainment and a crazy atmosphere. Visit popular nightclubs such as Omnia at Ceasars Palace, XS at Encore and the Marquee at the Cosmopolitan for a wild night.
Try your luck in one of the 60 major casinos –

No visit to Las Vegas is complete without experiencing the thrill of gambling in one of the best nightlife cities in America. Don't miss the iconic casinos, such as Caesars Palace Casino, the Venetian, the Bellagio Casino, the Aria Resort Casino, the Redrock Casino, the Mirage Casino, and El Cortez Casino and Hotel.
Partake in the adventure activities –

No stag do in Las Vegas is complete without doing some sort of action and adventure activity. Partake in Las Vegas indoor skydiving, visit the shooting range in Battlefield Vegas or race go-karts at Las Vegas Mini Grand Prix.
Flights – A direct, return flight from London to Harry Reid International Airport in Las Vegas costs around £950.
Hotels – The average price for a hotel room with two beds costs around £50 – £60 per night on the Las Vegas Strip.
Food – A standard meal in a restaurant including a tip costs around £18 – £20.
We rate Las Vegas an 8.5/10.
Melbourne is located in the state of Victoria in Australia and is one of the party holidays in Oceania. If you are planning a stag do in Melbourne the best area to stay is Southbank along the Yarra River which is close to many bars, clubs, casinos and entertainment venues.
Party at Chapel Street –

Chapel Street is a bustling nightlife precinct in Melbourne, renowned for its trendy bars, clubs, and vibrant atmosphere. Start your evening with pre-drinks at The Woods of Windsor, a chic cocktail bar offering a wide selection of creative concoctions. Then, head to Revolver Upstairs, an iconic nightclub known for its late-night parties and diverse music offerings. Don't miss the Electric Ladyland for a unique bar experience with neon lights and an '80s-inspired vibe.
Explore Fitzroy's Hip Scene –

Fitzroy is another hotspot for nightlife in Melbourne, offering a mix of quirky bars, live music venues, and stylish clubs. Begin your night at Naked for Satan, a popular rooftop bar serving delicious tapas and cocktails. Move on to the Night Cat, an iconic venue hosting live bands and DJs playing funky tunes. If you're into retro vibes, visit Glamorama, a stylish club with vintage aesthetics and modern beats.
Experience the Crown Casino Complex –

For a grand stag do night, head to the Crown Casino complex on the Southbank. Start with dinner and drinks at the lively Mesh Bar, which offers a variety of beverages and tasty dishes. Afterwards, make your way to Club 23, an upscale nightclub with stunning views of the city skyline. Crown Casino also houses multiple bars and entertainment options to keep the party going until the early hours.
Flights – A flight from London with a return costs around £1,200 – £1,500 to Melbourne International Airport.
Hotels – The average price for a hotel room in Rio de Janeiro is £50 – £70 a night.
Food – A standard meal in a restaurant costs in Melbourne costs around £15.
We rate Melbourne an 8/10.
4. Rio de Janeiro, Brazil
Rio de Janeiro is located in southeastern Brazil along the Atlantic coast and is one of the best party holidays in South America. The best places to stay in Rio de Janeiro for a stag do holiday are Copacabana, Ipenema and Lapa all known for their crazy party nightlife and incredible beaches.
Join the Samba Extravaganza in Rio's World-Famous Nightclubs –

Rio de Janeiro offers an unforgettable stag do experience with its vibrant nightlife. Get ready to groove to the pulsating rhythms of Samba at some of the hottest nightclubs in the city. Our top picks for an epic night out were Rio Scenarium, Carioca de Gema, and Lapa 40 Graus.
Embark on a Lively Nightlife Adventure in Lapa –

For an unforgettable night, head to Lapa, a neighbourhood renowned for its vibrant party scene. Here, you'll find a plethora of bars, clubs, and open street parties that cater to every partygoer's tastes. Don't miss the chance to explore lively venues like Rio Scenarium, Carioca de Gema, and Lapa 40 Graus.



Dance the Night Away at a Beach Party on Copacabana Beach –

No stag do in Rio is complete without experiencing a beach party at the iconic Copacabana Beach. Feel the energy of the city as you dance under the moonlight, enjoy drinks, and revel in live music on one of the most famous beaches in the world.
Flights – A flight from London with a return costs around £800 – £850 to Sao Paulo-Guarulhos International Airport.
Hotels – The average price for a hotel room in Rio de Janeiro is £20 – £30 a night.
Food – A standard meal in a restaurant costs in Rio costs around £10.
We rate Rio de Janerio an 8.5/10.
Phuket is known as one of the best party holiday destinations in Asia and the whole of Thailand. It is an island located in Southern Thailand. The best area of Phuket to stay in for a stag do holiday is Patong Beach which offers a stunning beachside with a short walk to the party district of Bangla Road with rows of nightclubs, bars and karaoke bars.
Experience the Madness of Bangla Road –

When in Phuket for a stag do, a visit to Bangla Road is an absolute must. This iconic strip boasts some of the wildest nightlife scenes in all of Asia. With pocket-friendly prices for beer, alcohol, and entry tickets, Bangla Road promises an unforgettable time. Even if you're not a hardcore partygoer, the vibrant 400-meter stretch adorned with neon lights, blasting music, and eccentric nightclubs and bars will leave you amazed. No words can fully capture the electrifying and surreal atmosphere of this place. Bangla Road is home to a variety of live music bars, nightclubs, karaoke spots, restaurants, shops, and renowned go-go bars. If you're seeking an epic party in Phuket, Bangla Road is the place to be!



Unleash the Nightlife Beast at World-Famous Nightclubs –

Bangla Road's notorious strip houses a plethora of world-famous nightclubs, hosting massive parties every night of the week. You'll discover an eclectic mix of popular music from various countries at these vibrant venues. Whether you're into dance and electro clubs or live music bars, Bangla Road offers a vast selection. Make sure to check out Illuzion, Sugar Nightclub, White Room Nightclub, Tiger Nightclub, Armania Phuket, and more for an unforgettable clubbing experience.
Party Under the Full Moon –

For a truly unique and exceptional party experience, the famous Full Moon Party in Phuket is an absolute must-do. This event draws inspiration from the legendary Full Moon parties on Koh Phangan and promises an incredible beach party featuring the island's top DJs and mesmerizing fire theatrics that last until the early hours of the morning. The Full Moon Party on Phuket's party island is an opportunity you can't afford to miss. Get ready to dance the night away and create memories that will last a lifetime!
Flights – A return from London costs around £800 including an exchange from Bangkok airport to Phuket airport.
Hotels – A hotel near the strip by Bangla Road and Patong Beach ranges from around £25 – £50 a night including a pool and 2 beds.
Food – Food ranges from around £2.50 – £5 for a typical sit-down restaurant meal.
As a travel blogger who has partaken in some of the best stag do holidays, it is a type of holiday that everyone should experience at least once in their lifetime. From all the stag destinations on the planet from the vibrant nightlife of Las Vegas to the incredible beach parties of Phuket there are plenty of unforgettable stag destinations for your next bachelor party.
All these stag holiday locations are perfect stag dos for those that love party holidays with plenty of stag activities for the whole group to enjoy, no matter your preference. If you love pub crawls, partying on the beach or gambling all day and night, at least one of these party destinations will be a great fit for your stag holiday whether you are going for a week or just doing the classic stag weekend party holiday trip!
So what are you waiting for, grab all your mates and the groom and prepare for a wild stag do in one of the party capital destinations on the planet whether that be in Europe, Asia, North America or somewhere else mentioned on this list.
Disclosure: Some links in this article may be affiliate links, which can provide compensation to HandL Blogs at no cost to you if you decide to purchase through these links. These are products we have personally used and stand behind. This site is not intended to provide financial advice and is for entertainment only. You can read our affiliate disclosure in our privacy policy.
 Disclosure: Some links in this article may be affiliate links, which can provide compensation to HandL Blogs at no cost to you if you decide to purchase through these links. These are products we have personally used and stand behind. This site is not intended to provide financial advice and is for entertainment only. You can read our affiliate disclosure in our privacy policy.