How To Plan Your Travel Budget & Create A Realistic Travel Fund That Actually Works
Luke Iles – Uploaded 02.06.2023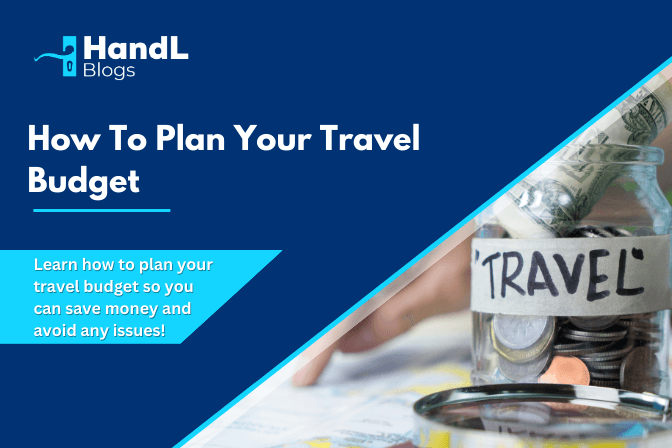 The steps to take to plan your travel budget and save money!
As much as we all love travelling, there is one thing that we all depend on in life and that is money! Now what we all spend our money on is different from person to person, however, if you have a love for travel and are fortunate to earn at least a bit of disposable income, you can set that away and create a realistic travel budget that can help you visit your dream travel destinations.
Budgeting can be difficult for many reasons but if you are determined to get away and start travelling, it is a necessary step we must all take.
Planning how much money you are going to try and save for a specific holiday is one of the key steps to planning your holiday because, without money, you will struggle to find ways to travel.
Furthermore, it is a key consideration when factoring on which travel destination you are going to look for and what kind of trip you are supposed to have. By having a solid budget and an idea of how much you plan to spend on a trip, you can look to plan for the best travel destinations for your specified budget.
Planning a budget is vital for those who are planning to travel for months on end, whether that is backpacking an entire country or living lavishly from hotel to hotel; keeping track of your finances is pivotal.
I remember when planning to backpack Southeast Asia for a few months that I would need to save before I went and when I was actually in Asia, I had to learn to be aware of how much I could spend on certain aspects of the trip so I wouldn't go over my budget and be caught with empty pockets halfway through my trip.
So no matter whether you are a person who struggles to save money and set aside for a holiday or you are someone who just likes to be overly cautious and prepared so they can have the best time on their travels, join us as we explore this guide on how to plan your travel budget so you can plan your dream drip!
How much money do you need for your next holiday?
Now it's fair to say that planning a trip budget is no one's favourite activity and it can get boring pretty quickly.
That being said it is a pivotal task that can help you make the most of your holiday whilst providing peace of mind that you won't get caught out and left in a sticky situation.
When it comes to how much money you need for your next holiday, it depends on which destination you plan on visiting. That way by researching the typical cost of things in this travel destination, you can understand roughly how much it will cost and then you can plan accordingly.
Throughout this travel guide, we will provide you with a list of all the things you need to research and consider when planning a travel budget so you can be fully prepared with a travel budget that will help you make the most of your trip.
Our guide on how to plan your travel budget
When I look to travel abroad, I always sit down and plan out a budget to ensure that I have enough capital to fund my entire trip without having to delve into my savings or other forms of money which I may need for general life necessities such as paying for the bills when I am at home.
I like to separate my travel expenses into three different categories so that I can have a full in-depth breakdown of my travel budget.
I recommend that you follow the same plan so you can incorporate your travel expenses into your trip budget.
Preparation expenses
Holiday spending money
Emergency travel budget
The following expenses are the type of travel expenses that you need to consider saving for before even booking the trip.
Firstly, one of the most expensive aspects of your trip is going to be the transportation. Ensuring that you account for this big expense in your travel budget will help provide you with a good understanding of how much your trip is going to cost.
If you decide on the following modes of transport there is a few extra considerations you should plan for:
Plane – If you are travelling by plane you need to account for the price of the flight there and back. You also need to plan for additional spending money on transportation to and from each airport. Accounting for paying for luggage options and holding bags and also incorporating additional charges such as paying for reserved seats on the plane.
Train

– You need to account for the train ticket and additional train tickets if you need to get off different trains to get to your desired location. You also need to plan for transportation to and from train stations.

Rental vehicle

– When renting a vehicle you will need to account for the initial rental, as well as rental insurance plus a deposit for the vehicle. furthermore, you will need to save money for petrol which will be spent along the trip as most rentals offer a full tank to full tank policy.

Your own vehicle

– You will need to account for petrol costs as well as a potential international driver's license permit as well as vehicle insurance.
Another large portion of your travel budget will be taken up by accommodation so deciding on what type of holiday you are planning on having, how much you are willing to pay and researching the general cost of accommodation in the area you are planning on staying in will be huge factors to consider when planning a budget for accommodation when travelling.
When planning your budget we recommend that you look at the potential accommodations and hotels you may be considering staying at so you can look at find the best rates for these types of accommodations.
If you are hoping to get cheaper rates use accommodation comparison websites such as Trivago and Air BNB to find the best deals. You can also sign up to hotel loyalty schemes which will provide you with discounts when travelling.
We recommend you make a list of all these places you plan on staying, accounting for the price per night and what they offer. This will provide you clarity on how much you will need to budget to afford to book these places.
Ensure that you have backup accommodation at similar prices at the ready in case by the time you have saved up, they have sold out or the prices have gone up or changed.
Passports and travel visas are essential documents that you need to have if you are planning on going on holiday. These costs will vary greatly depending on what country you are planning to renew or get your passport from.
In regards to travel visas, the prices can vary from country to country so we therefore recommend that you do your research by looking on official government websites regarding travel visas so you can get an idea of how much they are going to cost you and you can then account this into your overall travel budget.
Travel insurance is another very important thing you require when travelling, therefore it is vital that you include the cost of it within your travel budget so there are no hidden extra costs or surprises you need to end up paying for.
We couldn't recommend purchasing travel insurance anymore, every time you travel. You never know what might happen when you are travelling so it is therefore better to be safe than sorry because some country's health care can cost you thousands that you will need to pay however if you purchase travel insurance it will only cost you pennies in comparison.
Depending on the country you live in, your own situation and the country you are travelling to, travel insurance can vary in price. Despite this, it will most likely only cost you a minimal amount. Therefore doing your research an incorporating the cost of insurance into your travel budget can do you the world of good.
Travel equipment, suitcases, luggage, appropriate clothing and lots more are all important factors to consider when planning your travel budget. There is nothing worse than being under-prepared and depending on your current situation travel gear can cost you nothing to hundreds of pounds depending on what you require for your travels.
Therefore, do your research on the specific items you require and add those costs to your holiday budget plan.
2. Holiday spending money
These next expenses are the type of things you need to consider when you are actually on holiday and living the travel experience. These are generally daily costs which can come with a risk.
I know when I have been travelling in areas for long periods of time such as in Southeast Asia, where I may have gotten carried away at the moment doing too many things such as eating out and paying for too many attractions in one day, that I actually went over the daily budget that I set.
It is very important that you stay on track with your budget when in an actual country because it can be very tough to get additional travel funds if you do go over. Therefore, try not to get swept away in a spending spree and can your money-spending habits at bay particularly if you are attempting to travel cheaply as a backpacker.
Food and drink play a major role in experiencing new cultures and enjoying your time on holiday. Who doesn't love food and drink right?
Depending on the type of travel adventure you are planning, the cost of food and drink will vary from person to person and location to location. Thus you need to plan and do your research.
Ask yourself the following questions and then plan accordingly to understand your budget.
What type of food options will your accommodation be offering?

Will you be eating out for all your meals or cooking them yourself?

What is your preferred dining style when on holiday?

Do you have any specific dietary requirements that may impact costs?

What is the cost of living at the destination you plan on visiting?

Will you be spending money on snacks throughout the day?

Are there any planned events or special occasions?

Have you accounted for tips?

Will you be partying and spending lots of money on alcohol?
By understanding the answer to these questions and what type of culinary experience you hope to achieve on your travels, you will be able to decide how to plan your travel budget accordingly.
Activities and tours can be expensive when on holiday but it is what travel is all about, getting out and trying new things countries have to offer. In order to plan your travel budget around this, create a list of all the activities you hope to do and all the attractions you want to see.
From here research the cost and whether you will need to pay for additional services and transport to get to these attractions and activities.
Transport is one of the most costly aspects of travelling when in the country too. decide whether you will be walking or whether you will require public transportation or taxis to get around to the places you want to do and see.
You can consider all the different price options including car and bike rental as well as other modes of transport such as a bicycle and electric scooter. Either way, make a list of all the different modes of transportation and budget accordingly.
Souvenirs and shopping also a pivotal role in travel. Therefore you need to account for money for it in your budget.
3. Emergency travel budget
This is the most important part of the travel budget that you cannot neglect under any circumstance. The emergency travel budget must only be used in dire circumstances however will be an absolute lifesaver if the worse does ever come when on your trip.
In most cases for many travellers, you won't have to use it and can have a comfortable bit of money left over when you return back from your trip. However, if the worse circumstances do arise you have peace of mind to a certain extent that you will be covered and safe.
We recommend keeping a couple of hundred pounds in cash stored in separate locations in case your passport, phone or credit card gets stolen. It is a typical occurrence which can have a devastating impact on your travel experience and holiday.
Medical emergencies are something you never want to think of however it is wise to be prepared for all situations, particularly in another country. Hopefully, you have budgeted for travel insurance so that medical costs are covered.
Despite this, some locations and some injuries may require emergency funds upfront. You may need to pay for emergency medication, hospital bills or medical evacuation up front so be prepared.
In the rare case you are involved in some sort of natural disaster, you may need to evacuate and relocate to a safe area, meaning leaving all your belongings and valuables behind.
Budgeting for an emergency travel fund can help cover immediate costs such as transportation, food and accommodation.
Unforeseen Travel Changes
When travelling unforeseen circumstances and travel changes can arise. Budgeting for things that can cause trip-altering plans such as a delayed flight, lost passports, rejected visas or changes to your political landscape can provide you with a backup of funds if required.
Sometimes legal issues can arise in a country requiring you to have a legal entity to represent you in court. Budgeting for an emergency fund can help you cover the costs of any legal fees that may arise.
Overall, you should now have a full in-depth breakdown of everything you need to consider within your travel budget so no unexpected travel costs arise and you can have a fun short or long trip without the worry of running out of disposal cash.
Get ready to start budgeting and work out your upfront costs for bookings and transportation as well as your spending money whilst on holiday and how much you plan to spend each day. From here work out an allocation of money you will reserve for your emergency fund too.
It is important to remember that a successful trip, ultimately depends on how well you plan your holiday and when it comes to a budget that is no different. By weighing up all the potential consequences it is clear to see that planning a travel budget is a necessary thing and if you are planning on a long-haul trip for many months it is worthwhile to spend an hour or two planning your budget rather than getting caught in a foreign country which you no little about with no money. The risk is yours!
Read Travel Blogs and More
Disclosure: Some links in this article may be affiliate links, which can provide compensation to HandL Blogs at no cost to you if you decide to purchase through these links. These are products we have personally used and stand behind. This site is not intended to provide financial advice and is for entertainment only. You can read our affiliate disclosure in our privacy policy.
 Disclosure: Some links in this article may be affiliate links, which can provide compensation to HandL Blogs at no cost to you if you decide to purchase through these links. These are products we have personally used and stand behind. This site is not intended to provide financial advice and is for entertainment only. You can read our affiliate disclosure in our privacy policy.