3 Best Websites to Book Tours, Tickets, Activities & Attractions Around the World
Luke Iles – Uploaded 27.06.23
Discover the best websites to book tours, tickets, activities and attractions when on holiday
There is so much to do and so much to see when travelling the world but when it comes to visiting any of the famous tourist attractions or taking part in a tourist activity in a particular destination it can always be so difficult to secure tickets. Furthermore, you lack peace of mind in that the particular tour you wanted to do or attraction you wanted to see may have sold out.
Therefore, in this day and age, it is always wise to use the internet and pre-book in advance, whether that is pre-booking tours and activities or reserving your tickets online to take part in an excursion or see an attraction.
However, the problem when booking online is not knowing which websites are genuine and which ones are scams. The worst thing you can do is spend hundreds of pounds on tours and tickets to not only find out they are not real but also to understand that because of that your holiday is now ruined because you won't be able to do and see all the things you wanted to.
Personally, as a regular traveller who has visited countries across the globe, it can be hard to determine which websites that offer guided tours, tickets and activities are legitimate. Particularly if they are in a different language that you do not understand.
Therefore if you are planning a holiday and want to find the best websites to book tours, activities, excursions, tickets and more, there are a few big players within the industry that provide legitimate tickets at a cheap price which are guaranteed to be safe and provide you with peace of mind.
Throughout this article, we will provide three of the best websites that we have used to book tours and tickets for our holidays. These websites are large, reputable companies that host an array of different tickets to official attractions and guided tours across the planet.
So what are you waiting for? Jump in and discover the three best websites to book official tickets, tours and more, when on holiday.
The three best websites to book tickets online that we use when on holiday
The three best websites we have used to book tickets online when travelling across the country are the following three websites:
Get Your Guide
Viator
Airbnb
These websites are guaranteed to give you a wide array of choices when it comes to booking tours, tickets, private tours, attraction tickets and more. Each website has a large choice of legitimate and official businesses selling tickets at affordable prices plus they offer peace of mind in a customer service team and free cancellation policy depending on which website you use. One thing is for certain each of these websites are large organisations who are known to be legitimate and provide official tickets and tours.
Throughout this article, we will discuss the advantages and disadvantages of each website which we have determined from personal experience when we have used these platforms travelling across the world.
Get Your Guide is an online travel agency and online marketplace for tour guides, excursions, attraction tickets and more. You can browse the marketplace via their website online or via their free mobile app, making it easy to book tickets and tours online.
They are essentially a middleman between you and a great travel experience selling tours, excursions, activities and tickets to tourist attractions. They offer more than 60,000 products worldwide in 150 countries, 22 languages and 44 currencies. They are essentially the middleman between you and the travel company providing the experience meaning that they are not responsible for any third-party errors which is something you should consider before booking with Get Your Guide.
Personally, I have used Get Your Guide a handful of times and my experience of either getting sold-out tickets to world-famous attractions and also having high-quality tours have been second to none. They are a great source if you are looking for a wide marketplace which offers something directly that you are looking for.
Great user-friendly experience online and via the mobile app meaning anyone can use it and easily book tickets.

Contact and support options are available 24 hours a day, 7 days a week in case something goes wrong.

Huge variety of tour options, tickets, activities and excursions being one of the best tour websites to buy tickets and find tours in European destinations from skip-the-line tours, walking tours, food tours, multi-day tours and more.

Get Your Guide price guarantee means that if you've booked cheaper elsewhere on the day you booked for then Get Your Guide will refund the price difference; perfect for budget travellers!

Offer complete transparency on the company and location that is providing your tour or tickets.

Provide full refunds up to 24 hours before the tour.
The variety of options can be overwhelming and difficult to navigate.

The descriptions from tour operators and ticket sellers can be confusing to decipher.

Can be hard to find options in unpopular and less touristic areas.

Can be more expensive in unpopular areas

Get Your Guide is only the middleman meaning they are not responsible for any third-party errors.
We rate Get Your Guide a 9/10.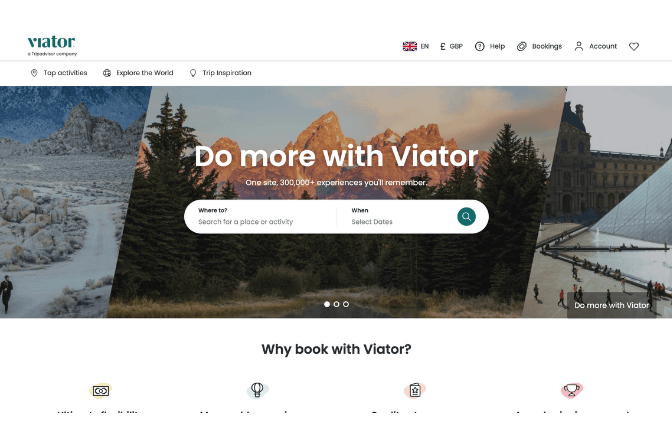 Viator is a tour and activity booking platform that acts as a middleman between travellers and tour operators. It allows you to book experiences and attractions across the globe via its website and app which is fully secure and offers fast payment options for tours, tickets, excursions and more.
Similar to Get Your Guide, Viator acts as the middleman between the customer and tour websites thus providing you with a portfolio of different options from guided tours to activities across the planet. Viator is a well-established tour and activity booking platform that has been in the industry for over 20 years.
I have used Viator a few times and have been satisfied with the number of tours and activities that are available to purchase and book from reputable and leading tour companies. They are also owned by world-renowned Trip Advisor after they were bought in 2014 by the company which also provides peace of mind that they are a somewhat reputable company.
Provide full refunds up to 24 hours before the tour.

A huge selection of tours and activities.

Provides peace of mind with 24 hours a day, 7 days a week contact options and customer support that is multilingual.

Price match guarantee which means that if you find the same tour cheaper within three days of booking, Viator will refund you the price.

Range of price points for tours means a suitable option for everyone's budget.
Very USA-focused meaning that it can be a struggle to find good options for tours in other places around the globe.

Only the middleman meaning they are not responsible for any third-party errors.

The variety of options can be overwhelming and difficult to navigate.
We rate Viator an 8.5/10.
Although you may know Airbnb as a place where you can find cheap accommodation across the world in which it allows property owners to rent out their spaces to travellers looking for a place to stay, they also offer experiences, tours and activities as well.
Using their website or app, you can look to book what is known as Airbnb Experiences which are tours, activities and excursions which Airbnb offer to travellers. Airbnb yet again acts as the middleman between travellers and local tour providers. Airbnb Experiences offers niche tours and activities that allow travellers to experience a unique connection to the local culture through local people and individual experiences.
I have used Airbnb to not only book affordable and cheap accommodation but also to book tours and activities. It provides an easy and stress-free way to do everything in one and get it all out of the way quickly. Once you book an accommodation, Airbnb will recommend their Airbnb Experiences which give you a great picture of what you can do in the local area if you are looking for an easy and reliable tour or activity, you can book through the website quickly using the same details you used to just purchase your accommodation.
Over 40,000 experiences in 1,000 cities.

Contact and support options are available 24 hours a day, 7 days a week in case something goes wrong.

Prides itself on providing unique experiences and tours you won't find anywhere else.
Minimal selection compared to the other two websites mentioned.

Airbnb is not known for its reputation for supplying tours and experiences so could be deemed less trustworthy.

Only the middleman meaning they are not responsible for any third-party error.

Not as easy-to-use interface to find tours and activities compared to its competitors.
In conclusion, if you are planning to have the best holiday possible and are hoping to book tours, tickets, activities and more, take a look at the three websites we mentioned and discover some affordable deals from legitimate and reputable tour companies and ticket resellers.
Although it is important to remember that as good as these companies can be they also have their downsides too, so consider all the points mentioned for each of the websites we have written about and create your own opinion when it comes to deciding which website is best to book your tours and activities.
As a budget traveller myself, I always try to look for the best deals so if you are after a certain guided tour or specific attraction tickets, I recommend going around each of the websites mentioned and looking for the best price plus any amenities and bonuses other websites may offer for each ticket and popular attraction therefore you can not only find the best price but also the best value for money ticket too.
One useful tip, once you have confirmed and booked all of your tickets and private tours, is that you download the tickets on multiple devices and even print out evidence of purchase if possible so then if you can't access your tickets on your device during the day, you have a backup meaning there will be no disappointment either way.
Discover More Travel Blogs
Disclosure: Some links in this article may be affiliate links, which can provide compensation to HandL Blogs at no cost to you if you decide to purchase through these links. These are products we have personally used and stand behind. This site is not intended to provide financial advice and is for entertainment only. You can read our affiliate disclosure in our privacy policy.
 Disclosure: Some links in this article may be affiliate links, which can provide compensation to HandL Blogs at no cost to you if you decide to purchase through these links. These are products we have personally used and stand behind. This site is not intended to provide financial advice and is for entertainment only. You can read our affiliate disclosure in our privacy policy.