How To Pick A Travel Destination | Choose The Best Holiday Location
Luke Iles – Uploaded 01.06.2023
Learn how to choose your dream travel destination for your next holiday
Many people have a dream of travelling the globe, whether you were eyeing up that exotic-looking Thai beach on Instagram or watched a cool Skiing video on YouTube that got excited about travelling. There is so much this world has to offer that sometimes it can become a bit overwhelming.
As someone who travels frequently, we know the exact feeling. You just wanted to be away on holiday, in the hot or cold weather, relaxing or adventuring however you see fit. However, you just don't have a clue where you want to go.
Whether that be because there are too many options or you simply just don't have an idea of what travel destination you want to visit at all!
Either way, it can be a difficult time having to plan a holiday and although it can be a fun activity planning a trip to a new travel destination, it can also be frustrating and time-consuming too.
As travel experts who know that feeling all too well, we have compiled a step-by-step guide on how to pick the best travel destination for your holiday so you can quickly and easily find the perfect destination for you and whoever you are travelling with because at the end of the day if you can't decide where to travel there will be no holiday taking place at all!
A step-by-step guide on how to pick a holiday destination
Throughout this travel guide, we will provide you with a breakdown of five key steps on how to pick the ideal travel destination, saving you time and stress whilst all the while providing you with a way to decipher which is the best holiday destination for you and your fellow travellers.
The following steps will guide you on how to pick a travel destination for your next trip:
Consider the duration of your trip
Determine your interests
Set a budget
Research destinations
Get booking your holiday
1. Consider the duration of your trip
First things first when it comes to choosing a travel destination for your next vacation spot, it is necessary that you plan accordingly. This means that you need to first plan the duration of your trip and what dates you plan on travelling.
Now that doesn't mean determining the dates strictly but just have a rough idea of whether you want to go away for two weeks, a month or for a short weekend as an example. Furthermore, you want to have a rough idea of what month you are planning to travel so you can have a good idea of the type of weather, season and busyness of certain destinations.
This way you can plan your trip accordingly depending on where you are flying from. For example, if you live in the UK and are planning a two-day weekend holiday, you are not going to pick a trip to a country that is far away and has a long flight time such as Australia, New Zealand or Japan to name a few. Instead, you are going to pick somewhere closer such as a European destination which has a short flight time so you can spend the most time available in that location.
In addition to this, knowing the duration of your stay is pivotal to picking a location. For instance, if you are choosing to travel in July for two weeks, you need to understand what conditions you are going to face in terms of weather. For example, is this the best time to visit this country? Is this destination in the rainy season during the two weeks you are planning to stay? Is this location in the busy, touristy season when I am planning on staying? Is everything open that I want to do and see?
These are just some of the questions you should be asking yourself when considering the travel duration of your trip. Are you staying in a time period that suits all your wants and needs? Do you want hot weather, well pick a date when that country is in their summer season. Do you want it to be busy with everything open? Well, plan the holiday in the peak tourist season for that destination.
The same can be said for deciphering whether you stay in one location or with careful planning choose multiple locations within close proximity. For example, when I travelled across the South of Thailand for three months, I had plenty of time to be able to travel from destination to destination. It is important to consider if you are limited in time will it be worth moving locations or will that be more time taken up travelling?
We know most people work jobs that don't allow for long holidays or long amounts of time away therefore it is important to consider the duration of your trip so you can make the most of your time in the destination you eventually end up choosing.
2. Determine your interests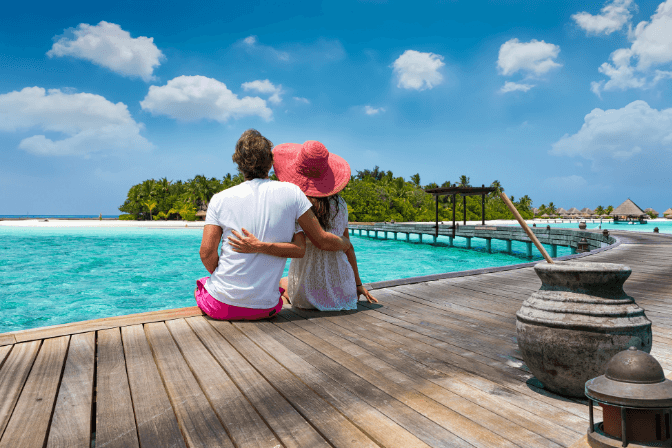 Once you are clear on the time and length of your desired trip, it is now time to decide your interests. If you are travelling as a solo backpacker, this makes discussions with yourself fairly easy and you can simply just decipher on your dream travel spot just by how you are feeling. However, this is where it can become tricky if you are travelling with others such as friends or family who may have other interests in mind.
You need to decide what type of holiday you are choosing. Whether you fancy a warm, relaxing beach holiday with all-you-can-eat food and drink, an action-packed outdoor adventure trip or maybe a romantic city sightseeing break. The possibilities are endless but the reality is you need to make a choice!
Travel planning is all about decision-making and creating adventures and when it comes to determining your interests with your fellow travel companions, there are a few ways you can all have a friendly and fun discussion on choosing where you want to visit.
Some factors you should sit down and consider together are the following:
What things do you hope to do on your trip?

What experiences do you hope to have?

How do you want to remember the trip?

How far do you want to travel?

Do you want to visit different locations?

Do you want a relaxing break or a busy and adventurous trip?

Is there anything, in particular, you hope to achieve from this trip
If you answered these questions hoping to have a mellow and relaxing trip an all-inclusive summer beach holiday is probably ideal for you. If you are travelling with children you may want to consider a family-friendly style holiday with children's entertainment. If you fancy an adventurous holiday it may be worth considering a mountainous or skiing trip.
No matter what you choose in the end, it is worth having a discussion with your fellow travellers to pinpoint the ideal location so everyone is happy.
Once you have decided on the date and duration of your trip plus the type of holiday you are hoping to have, next you need to decide what destinations are within your budget. This includes everything from flight prices and accommodation costs to spending money and activity expenses.
Determining your budget and understanding how much you are willing to spend from the get-go can help you decipher which place would be ideal for your holiday because some travel locations are far more expensive than others.
Furthermore, a long-haul flight will cost you more than a short-haul flight so it is all up in the air.
An example was when I travelled to Thailand, although the flight was far more expensive from the UK costing around £800 when you are over in the country everything from hotels to food and drink is far cheaper compared to western world prices, so you have to take everything with a pinch of salt when choosing your destination and make sure to do your research!
Some things you should consider when setting a budget for your trip are the following:
How will you travel? By plane, coach, train or car?

Are you a budget backpacker or a luxury holidaymaker?

Are you willing to stay in cheaper accommodation or do you prefer boutique hotels?

How much are you willing to spend each day?

Are you going to book additional activities and trips?

Do you know which countries have a more favourable exchange rate for your currency?

What is your budget?

How much are you going to take as spending money each day?

How much are you willing to spend on accommodation?

Are you self-catering or going all-inclusive?
These factors will allow you to identify and rule out different travel destinations so that you are left with a select few which you can research further and find out which you prefer best.
So you should now have started to develop and whittle down the locations to a select few that you can now fully dive deep and research into. This is my favourite part of planning a holiday and it just gets you so excited to finally step off that plane and reach your destination, however, it is not complete yet!
You should have developed a good idea for when you are going, considering factors such as the type of holiday you are hoping for, if the weather is what you would like and you have now set a budget. This should leave you with only a few destinations in mind, now comes the research.
By following the steps we have crafted below you can get a great idea on the destination you are visiting and whether it is a good fit for your trip:
Start by using Google and simply typing in the destination you want to visit.

Look through the results looking at images and the surrounding map to get a good idea on what the place looks like.

Next type up travel itinerary ideas and personal blog accounts of the area on Google and read some of the ideas.

You can also check out travel forums and Reddit-dedicated communities that discuss this location in great detail and ask for comments yourself.

If videos are more your thing, watch accounts on Youtube of vlogs of places you want to visit, including review videos, itinerary videos and top 10 videos.

TikTok and Instagram are also great tools to watch short-form content and find amazing little gems that these places offer that you may have never heard of, like the best restaurants and hidden attractions.

All these different tools offer great communities you can get involved in and ask questions to learn more.

Read review websites and personal accounts of the areas you are planning on staying including accommodation and food places.
By following these tips, you will be able to get a visual idea of how great the place is and by reading reviews from people who have been before you can uncover the good, bad and ugly side of each destination so you can come to your own conclusion and not be in for any shocks or surprises when you step off the plane.
5. Get booking your holiday
There you have it, you have now whittled it down to the exact dream destination that you can now go and book your tickets and get on holiday.
For more tips and tricks on how to book the best holiday possible, check out our blog on how to find the best deals on flights and accommodation.
Hopefully, by now you have found the dream location for your next holiday and you are getting ready to pack your bags and jet off to paradise, wherever you may deem it to be. Remember there is no right or wrong answer to the travel destination that you choose and instead is totally down to you and who you plan on travelling alongside.
Throughout this travel blog, we have provided you with a breakdown of how to pick your next destination and now the rest is up to you. You can be confident that now you have done the right research on the perfect destination for your holiday. Not only have you planned for the weather but also chosen a destination that is in season and akin to your budget so that you can have a trip that has no surprises.
Using these simple five steps you can pick a quality travel destination that you can enjoy if you are travelling on your own, with family or friends. No matter what travel destination you pick because you have done the research you will know what to expect and therefore should have a great trip altogether.
If you are a first-time traveller that wants some nifty tips and tricks on how to have the best time while travelling, check out our essential travel tips guide for first-time travellers that breakdowns the best tips for a beginner written by a travel expert who has visited countries all across the globe.
Read Travel Blogs and More
Disclosure: Some links in this article may be affiliate links, which can provide compensation to HandL Blogs at no cost to you if you decide to purchase through these links. These are products we have personally used and stand behind. This site is not intended to provide financial advice and is for entertainment only. You can read our affiliate disclosure in our privacy policy.
 Disclosure: Some links in this article may be affiliate links, which can provide compensation to HandL Blogs at no cost to you if you decide to purchase through these links. These are products we have personally used and stand behind. This site is not intended to provide financial advice and is for entertainment only. You can read our affiliate disclosure in our privacy policy.