5 Best Party Holiday Destinations in 2023 [Zante, Las Vegas & More...]
Luke Iles – Uploaded 28.12.2022
When searching for that dream party holiday destination, there are only three things people think about: good music, amazing clubs and jaw-dropping entertainment. Our list consists of holiday destinations that check all the tick boxes when it comes to a clubbing holiday and more!
Now we haven't just found the best party holiday destinations that you typically hear about such as Ibiza and so on. We have investigated and discovered some of the best party cities and clubbing holidays that will provide you with an experience of a lifetime.
In 2023 you have heard of the typical party destinations. Our lists contain some of the classic well-known party destinations with legendary clubs and some of the more up-and-coming destinations with a thriving party scene and nightlife that you may never have thought about flying to.
What are the best party holiday destinations?
We have created a list of the most incredible party holiday destinations from across the globe where you can party in the jungle, out at sea or in a legendary beachside resort. From across Europe, North America, Asia and more find the perfect party destination for you and your friends!
Whether you are going for spring break or a summer holiday browse our list of the 5 best holiday destinations in 2023 below:
Zante (Greece)
Phuket (Thailand)
Ayia Napa (Cyprus)
Las Vegas (United States of America)
San Antonio (Ibiza)
Zakynthos (Zante) is the most southern island within the group of the Ionian Islands located to the west of mainland Greece. It is notorious for being one of the best party islands in Europe with luscious white beautiful beaches, crystal clear water and a buzzing nightlife scene with everything you could ever want on the famous Laganas Strip.
Featuring entertainment and activities all day and night long, Zante has everything you would expect from a top party holiday destination. With the Zante holiday season beginning in the early summer months in the first week of June all the way to the end of September, it is the ultimate holiday getaway for anyone looking to unwind and dance the summer months away!
Not only does Zante offer some amazing views across the city but it is also the perfect destination to party. The Laganas Strip is located on the south of the island and is only a 15-minute taxi drive from the main airport, Zakynthos Airport Dionysios Solomos. Look out for the bright red flashing lights that are abundant across the mile-long strip that rivals Ibiza's iconic San Antonio strip. Whatever you are looking for from your clubbing holiday, Zante has over 50 different types of bars and clubs along the main strip from live music bars, clubs, karaoke bars, live entertainment bars, British-style pubs and much more. You are guaranteed to find something that suits your music and party tastes. From famous well-known DJs to more obscure bars and clubs that are open till the early hours of the morning, Zante can be counted as one of the party capitals of Europe and certainly a destination that does not like to sleep!
Explore Shipwreck Cove (Navagio) – Within the northeast region of the island, you can take a day trip cruise from Porto Vromi and explore the hidden shipwreck cove. The cove is hidden by white, limestone cliffs and features a picture-esk white sand beach with glowing blue waters and the iconic remains of the rusting MV Panagiotis vessel. Keep an eye out in the water and you might even spot a sea turtle that is native to the coastlines around Greece! Guided tours cost around €25 -€35 and are fully worth the day trip!
Visit the famous clubs in Laganas Strip – The Laganas Strip is the ultimate paradise for people in search of getting their boogie on. It is known as the party capital of Zante and for good reason. The strip is over a mile long with famous clubs such as Rescue Club, Zero's Club, IKON Club, Cocktails & Dreams and many more. Most are free entry if you are over 18 so go and check them out on your getaway!
Experience a Pool or Boat Party – When it comes to the best destinations for party people, the holiday needs to include a pool or boat party. Well in Zante why not have both? There is a selection of pool parties and boat parties featuring all types of music from house music to hip hop there is something for everyone. Ranging from €30 -€50 you are guaranteed to find something to float your boat!
Plane flights from London Gatwick and a return range from around £150.
Hotels within the centre of the Laganas Strip range from around £85 per night at peak season for a two-bed apartment with a pool and self-catering.
Food ranges from £12-£15 for a typical sit-down restaurant meal.
Zante is definitely one of the top party holiday destinations in Europe and is great value for money if you are looking for everything in one holiday. From relaxing day trips and beautiful beaches to the fast-paced and energetic nightlife, Zante is a great choice for anyone looking for a top-quality summer break.
That is why we have rated Zante an 8.5/10!
Phuket City is located on the island of Phuket in Thailand and although it may surprise you that this Asian destination is on the list, it is actually one of the biggest clubbing holiday destinations. The magical aspect that you get with Thailand is not only do you get the exotic retreat of breathtaking golden sand beaches and crystal clear waters with unbelievable backdrops but you are also provided with an excellent nightlife scene that is buzzing with energy and things to do along the famous Bangla Road strip near Patong Beach in Phuket.
The best period to visit Phuket is from November to February when all the nightclubs and bars will be open with entertainment on every night no matter where you visit down Bangla Road. The weather will be most likely dry and sunny meaning you can spend lots of time at the famous beaches Thailand has to offer. In addition to this, you will avoid the rainy monsoon season that occurs from May to October.
The city of Phuket is surrounded by beauty and unbelievable views and beaches such as Patong Beach and Kata Beach with many things going on day and night. Furthermore, Bangla Road is the clubbing capital of Phuket City with a 400-metre-long strip that is full of bright neon lights and all your go-to bars and clubs. From rooftop bars, clubs, live music bars, gay clubs, restaurants and the famous go-go bars, Bangla Road is a must-visit if you are looking to party in Thailand!
Pool & Foam Parties in Patong

– Experience the joys of sky top pool parties and foam parties in Phuket offering a selection of events from local and international DJs playing a selection of house, EDM, pop, rap and a lot more, all whilst you are getting bombarded with foam and water in a pool. Sounds fun!
Discover the Nightlife on Bangla Road

– Bangla Road is the famous strip in Phuket offering 400 metres of vibrant and energetic clubs and bars including Illuzion, White Room Nightclub, Tiger Nightclub, Hollywood Phuket and more.
Full Moon Party in Phuket

– Phuket is known for its famous Full Moon party which features a full-blown beach party featuring the island's best DJs and fire theatrics and shows which last into the early hours of the morning. It is modelled and copied from the Koh Phagan Full Moon and Half Moon parties that take place on their beaches. It is something you do not want to miss.
Plane flights from London Gatwick and a return range from around £800.
Hotels near Bangla Road range from around £40 – £60 a night including a pool, 2 beds and a hot tub. The hotels tend to be self-catering but are great value for money!
Food ranges from £8-£9 for a typical sit-down restaurant meal.
Phuket is a breathtaking city that has everything you would want on a holiday, the downsides are the expensive flights and the long 14-hour flight time from England. However, if you can afford the price of a plane ticket and withstand the flight then it is definitely a different type of party holiday that offers a unique experience no other city in the world can replicate.
We have rated Phuket an 8/10!
Ayia Napa is notorious for being the party capital of Cyprus with beach bars, huge clubs and pool parties galore. Located at the eastern end along the southern coast of Cyprus with scorching temperatures from around 34 degrees in the summer period, it is the ideal place for those looking to catch a tan in the daytime and dance the night away into the early hours of the morning.
If you are looking to live it up in Cyprus, the best time to visit Ayia Napa is during the summer months anywhere from June to September. This is when most, if not all, of the activities and events, will be in full swing and you are guaranteed to have a great time, whether that is basking on the sunny beach or visiting the famous Ayia Napa Square in the city centre.
The Ayia Napa Square has a selection of over 80 bars within the area from nightclubs, live music bars, karaoke bars and much more, there is something for everyone within the square. During the day party goers can visit the multiple beach parties hosted at the beach bars and clubs. The most famous beach bar in Cyrpus, Nissi Beach Club, is a must-visit for anyone looking to party all day long in the hot sun. This lively beach bar hosts a daily pool party which includes amazing party DJ sets from the leading local DJs in Cyprus that play music from 12 pm to 7 pm all throughout the day!
Things to do in Ayia Napa:
Splash down in Waterworld Themed Waterpark

– The Waterworld Themed Waterpark Ayia Napa is a must-visit for anyone who is looking to cool down and have a bit of fun in the scorching Cyprian heat. The water park is based on a Greek theme and is one of the biggest waterparks in Europe with over 25 slides, flumes and water park attractions. It has received many international awards being named in CNN's 12 best water parks in the world. Tickets range from £18 for a single person, if you book online.
Foam, Pool and Paint Parties at Nissi Beach Club

– Looking over Nissi Bay Island and Nissi Beach is an unmissable beach bar for anyone who is in search of food, drink, dancing and entertainment under the Cyprian sun. The Nissi Beach Club is located on the breathtaking beachfront and hosts daily beach club parties from 12 pm to 7 pm. The bar features unmissable parties from foam, pool and paint parties. The average price of these tickets is £20 – £40.
Visit The Ayia Napa Square

– The Ayia Napa square is notorious for being the centre of party life in Cyprus. Offering a range of nightlife activities from bars, nightclubs, British and Irish-themed pubs, karaoke bars, live music bars, cocktail bars and more. The square is a 45-minute drive from the Larnaca Airport however is a must-visit containing famous nightclubs and bars such as Aqua Club, Bedrock, Hard Rock Cafe, Carwash Disco, Castle Club and many more. The square is the perfect place for any partygoer to dance the night away!
Flights from London Gatwick and a return cost around £150.
Hotels cost around £65 a night at peak season near the Ayia Napa Square with a single bed, a swimming pool and self-catering available.
Food costs around £10-£15 for a one-course meal in a restaurant.
Out of all the particular clubbing holidays, Ayia Napa should certainly be on your bucket list as one to tick off. With cheap flights, accommodation and food, Ayia Napa has everything from sunny beaches, to some of the biggest nightclubs and provides entertainment and fun all year round.
We have rated Ayia Napa a 7.5/10!
4. Las Vegas (United States of America)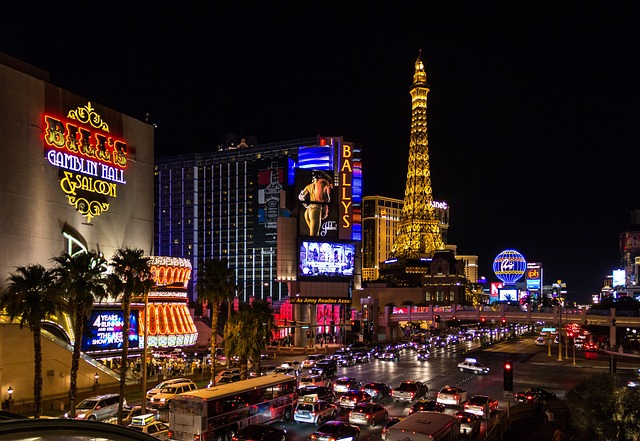 Known as the entertainment capital of the world, Las Vegas is located in the state of Nevada in the United States of America. The city is located within the Greater Mojave Desert and is known for its amazing casinos and crazy entertainment shows featuring some of your favourite actors, actresses, singers, dancers and performers. With more than 41 million people visiting Las Vegas each year it is clear to see why Las Vegas is the perfect party holiday destination.
From exotic luxury suits to small, single apartment rooms, Las Vegas has a little bit of everything if you are looking to visit the luxurious casinos or participate in one of the many shows Las Vegas offers day and night. Las Vegas is a location which is busy all year round so if you are looking for more pleasant weather, visit in the "winter" months from November to January. During the summer season, temperatures can become scorching so if you are travelling then, make sure to book activities that are located outside during the early morning for a cooler and less exhausting experience.
When you think of Las Vegas, you're instantly reminded of large fancy casinos such as the Wynn Las Vegas Casino, Caesars Palace, Casino at Bellagio, Ellis Island Casino and Brewery and the Paris Las Vegas Casino to name a few. However, Las Vegas has far more to offer than just gambling. There are plenty of nightclubs and bars scattered all around the downtown strip of Las Vegas with plenty going on from live music and shows to some of the biggest nightclubs with world-famous international DJs.
Things to do in Las Vegas:
Party in Caesars Palace Casino at the Omnia

– The Omnia is located in the famous Caesars Palace Casino and does nightlife the Las Vegas way with crazy light shows, loud music and smoke machines. In a 70,000-square-metre room, you can enjoy an experience like no other in the world. The Omina offers an over-the-top, extravagant nightclub that is buzzing with excitement and entertainment all night long. Featuring world-famous DJs such as David Guetta, Calvin Harris, Steve Aoki and Alesso, there is always something going on at the Omnia. Tickets are around $50 to $80 depending on the type of event taking place that night.
Watch a show at Park Theater

– A trip to Las Vegas could not be complete without a visit to the Park Theater to watch a world-famous show you could only ever experience in Las Vegas. From regular shows from celebrities such as Lady Gaga, Adele, Elton John, Bruno Mars and more, this 5,200 seater venue host jaw-dropping shows day after day. They also offer a VIP dedicated cocktail service if you are looking for that extra bit of quality, that only Las Vegas can pull off. Depending on who is performing that night, tickets cost from around $50 to $100.
Party at a Las Vegas Pool Club

– If you are looking for something other than just gambling at a casino all day, why not visit a Las Vegas Poll Club where you can party all day long? There is nothing more impressive than partying in a swimming pool in a hot, dry desert with drinks and party music. Visit one of the many pool clubs Las Vegas has to offer, from Wet Republic at MGM Grand, The Tank at the Golden Nugget and Moorea Beach Club at Mandalay Bay.
Plane flights from London Gatwick and a return cost from around £950.
Hotels with a single bed cost around £50-£60 per night in peak season depending on where you stay.
Food costs around £20 per person including a tip and a standard meal in a restaurant.
Although a fairly expensive trip and an age limit of 21 to be able to drink and gamble, Las Vegas is a must-visit for anyone who enjoys a party lifestyle and holiday. Las Vegas is a one-of-a-kind experience and is highly recommended especially if you love to gamble and party. It is something so wild and different to the typical party holidays that you have to visit at least once in your life.
We have rated Las Vegas an 8/10!
As expected, any type of list which utters the mention of parties and holidays has to include the party capital of Europe – San Antonio in Ibiza. Located along the north coast of Ibiza, San Antoni Bay is the centre of nightlife and partying into the small hours of the night. San Antonio is famous for its Sunset Strip known for its famous Sunset Bars and legendary nightclubs such as Pacha Nightclub, Privilege Ibiza, Amnesia, Cafe del Mar, O Beach, Ushuaia, DC10, Cafe Mambo and many more.
The perfect time to visit San Antonio is during the peak season which ranges from June to September when most events and parties will be taking place. In addition to this, the majority of bars, nightclubs and beach bars will be open hosting different activities, parties and events. The weather in the peak season ranges from 28 to 32 degrees, providing the perfect amount of heat to relax on the beach and take in those beautiful sun rays.
The Sunset Strip (Ses Variades) is the most lively and popular strip in Ibiza starts near the harbour and extends itself all the way along the Calo des Moro beachfront. Hence its name, the sunsets are magnificent along the strip providing an array of reds, oranges and yellow when the sun begins to set along the horizon out at sea. Here you can find amazing bars and nightclubs that are open throughout the day and into the night. Hosting some of the most popular and well-known DJs from across the globe, the Sunset Strip is a must-visit for those who enjoy the nightlife scene.
Things to do in San Antonio:
Go Clubbing on the Sunset Strip

– Party all night long on the famous Sunset Strip in Ibiza. Visit the heart of partying on the strip which is open late into the early hours of the morning. Party in world-famous clubs such as Cafe Del Mar, O Beach Ibiza and Mambo Nightclub. Each club has an excellent selection of music events including sets and performances from world-famous DJs. Many of the clubs also have an outdoor area with fabulous views of the Mediterranean Sea meaning that you will be able to experience the famous sunset on Sunset Strip. It is also important you check out what events are scheduled for the time you are away on holiday and the particular dress code that each club requires you to enter. The price of most nightclubs is free to enter unless there is a hosted event in which you will need to buy a ticket.
Attend a Beach Party

– Ibiza is famous for its breathtaking beaches and its party reputation. Therefore, if you are visiting San Antonio it is worth getting involved in one of the many beach parties that take place across the island. Famous beach clubs such as Ocean Beach club are known for their crazy party atmosphere and top-rated DJs. They offer a selection of drinks and also have swimming pools and sun loungers so you can enjoy the party atmosphere whilst relaxing and taking in the sun as well. Tickets for Ocean Beach Club cost around £20-£40 for a day pass access depending on what type of event is taking place when you visit!
Themed Parties at Ibiza Rocks

– Ibiza Rocks is a very popular destination for partygoers who visits San Antonio at any time of the year. It is a music venue that is known for its wild parties and jaw-dropping live music performances from famous musicians. It offers a range of events throughout the year including theme parties such as foam parties that feature a foam pit and cannon that fires out foam onto the dance floor with ravers below; pool parties that take place in the venue swimming pool and feature sets from international DJs; neon parties that feature glowing lights and decorations with famous DJs playing music all night long; silent disco parties that include wireless headphones that party-goers wear to listen to music and dance the night away. The cost for these tickets depends on what event is taking place but ranges from £20 – £65 usually.
Flights from London Gatwick Airport and a return cost around £200.
Hotels cost around £70 a night at peak season near the Sunset Strip with a single bed, a swimming pool and self-catering available.
Food costs around £10-£15 for a one-course meal in a restaurant.
Overall, if you choose to visit San Antonio you will be treated to a crazy party experience that is expected when you visit Ibiza. Not only are the flights, hotels and food prices very reasonable but there is a lot going on day and night so you are guaranteed to have your entire trip away jam-packed with dancing, drinking and most importantly fun.
We have rated San Antonio a 9/10!
Frequently Asked Party Holiday Questions
Conclusion - Finding the dream party destination - Pool Parties, Foam Parties, Boat Parties & More
As you can see from our list of five of the best party holiday destinations across the globe you do not have to just spend on your typical European party holiday destinations. To find the perfect party holiday destination for you and your group of friends take into consideration the amount of money you want to spend on flights, hotels, food and extracurricular activities. Next, you want to factor in the type of holiday you are looking to achieve and factors such as the location you want to visit (whether that's across Europe, Asia, North America or somewhere else), the types of parties you are interested in attending (the type of music, foam, pool, foam, boat parties, etc.) and most importantly everyone's budget.
Hopefully, this list has provided you with some comprehensive solutions to your questions with some basic local knowledge and different types of activities, nightlife and attractions each of the destinations in this list has to offer. Whether you are looking for a party holiday in Zante, Phuket, Ayia Napa, Las Vegas, San Antonio or somewhere else it is always best to do some more research on your selected party destination and ultimately make sure you have a fun and safe time when travelling abroad with friends!
Read Travel Blogs and More
Disclosure: Some links in this article may be affiliate links, which can provide compensation to HandL Blogs at no cost to you if you decide to purchase through these links. These are products we have personally used and stand behind. This site is not intended to provide financial advice and is for entertainment only. You can read our affiliate disclosure in our privacy policy.
 Disclosure: Some links in this article may be affiliate links, which can provide compensation to HandL Blogs at no cost to you if you decide to purchase through these links. These are products we have personally used and stand behind. This site is not intended to provide financial advice and is for entertainment only. You can read our affiliate disclosure in our privacy policy.