5 Best Nightclubs In The World [Best Nightclubs To Visit On Your Party Holiday]
Luke Iles – Uploaded 02.08.2023
Discover the best nightclubs to visit for your next party holiday
No matter what, a nightclub is what makes a party holiday, with some of the best nightclubs in the world hosting incredible international acts and world-class DJs night in and night out. When on a party holiday, in the day you may chill out and party to music at a beach club however the main event comes when it hits nighttime and you are heading to the main strip to attend to some of the best nightclubs in the world.
As someone who has travelled to various party locations all across the globe, I have visited my fair share of dance floors over the years attending some of the biggest music events in some of the best nightclubs in the entire globe.
Throughout this list, I will document my top five nightclubs in the world that you can plan your next party holiday around.
If you are looking to visit these nightclubs on a budget, check out our guide on the best cheap party holidays so you can visit the best nightclubs in the world whilst not having to spend your entire wage slip for a month!
The five best nightclubs to plan your next party holiday around
The five best nightclubs in the world that are perfect for your next party holiday include:
HI Ibiza
Green Valley, Brazil
Ushuaia Beach Hotel, Ibiza
Zouk, Singapore
Hakkasan, Las Vegas
Opened in 2017 on Ibiza's famous Playa d'en Bossa strip, Hi Ibiza prides itself on being the worlds most technologically advanced nightclub providing an L Acoustics surround sound system whilst incredible lighting and production mesmerise you whilst you dance to world-class DJs on the dance floor. From main residents such as David Guetta, Tale of Us and Paco Osuna to guest DJs such as Eric Prydz, Patrick Topping, FISHER and James Hype, HI Ibiza hosts a wide range of different music events from EDM and house to techno and disco.
The average price for entry to Hi Ibiza depending on the music event ranges from £50 – £80.
We rate HI Ibiza in Ibiza a 9.5/10.
Green Valley is by far the best nightclub in the whole of South America and that isn't said lightly either! Green Valley is a nightclub that takes nightclub decor to the next level being a half-open-air venue with a big tent over the top to keep you dry if it rains. It has two dance floors which are surrounded by palm trees and a lake inside! It has incredible lighting with laser shows and loud music. It is the perfect venue for those who love electronic music providing platforms for DJs such as ALOK AND Vintage Culture and now hosts international sensations such as Diplo, Armin van Buuren and Black Coffee.
The typical price for entry into Green Valley nightclub is around £20 – £30 depending on the event.
We rate Green Valley in Brazil a 9/10.
3. Ushuaia Beach Hotel, Ibiza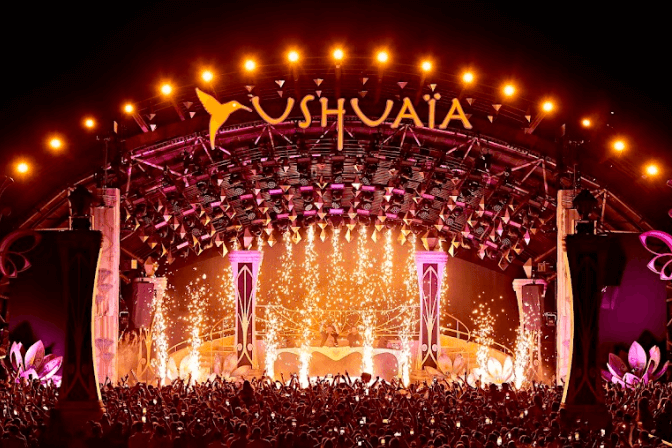 Ushuaia Beach Hotel is one of the best nightclubs in the world famous for its legendary lineups and an incredible outdoor dance floor that is complete with a beachside pool and hotel tower. Ushuaia is one of those world-famous, legendary Ibiza clubs that is cemented in the club space as a nightclub giant. It attracts some of the biggest DJs in dance music and house music including Clavin Harris, MK, Swedish House Mafia, KYGO, Tiesto, Like Mike and many more.
Ushuaia Beach Hotel is located on the Spanish island of Ibiza in the legendary party resort of Playa d'en Bossa.
Tickets to Ushuaia cost around £25 – £55 depending on which type of event and day you go. Entrance to all parties is included if you are a hotel guest.
We rate Ushuaia Beach Hotel in Ibiza an 8.5/10.
Zouk nightclub is known as the leading dance music and electronic music institution in Singapore leading the way as a dance music venue that is one of the best clubs in Asia. The club hosts various international and famous DJs throughout the season and has developed a reputation for propelling the dance and house music scene in Singapore and across Asia. Now located at Clark Quay's Cannery Block, it spans two floors with a signature dance floor alongside a sophisticated art spotting club and lounge.
The entrance to Zouk nightclub in Singapore costs £40 for women and £50 for men.
We rate Zouk in Singapore an 8/10.
Hakkasan nightclub is one of the best nightclubs in the world and in North America. It was revolutionary to the club space in North America with its sprawling complex of mega rooms for those who enjoy fine dining before they visit the club. It has a main dance floor area alongside a chill-out lounge and restaurant. Alongside this, the main room has crazy lighting that transports you into a different world. However, the reason Hakkasan is so famous is that it revolutionized the clubbing industry by hosting not only the top hip-hop and EDM stars but also a host of events including heavyweight boxing and MMA making it one of the best nightclubs in the world!
The price to enter Hakkasan differs depending on the event however men will pay around £30 – £75 where as women will pay around £20 – £50 for entry.
We rate Hakkasan in Las Vegas a 9/10.
After travelling across the globe in search of some of the best party destinations in the world, I have come across my fair share of amazing nightclubs. One thing I have learnt is that the best nightclubs in the world aren't just about extravagant decor and famous DJs but also about creating an unforgettable experience that you will cherish with your friends and loved ones for the rest of your life.
The five nightclubs on this list made it here for that exact reason. Memories! The best nightclubs in the world don't just offer a space to dance but help you craft an entire sensory experience that is unlike anything you will experience in your entire life.
Any nightclub mentioned on this list is worthwhile booking an entire holiday around because they are just that good. Whether you seek glitz and glamour, cutting-edge music or a glimpse into a city's soul, these top nightclubs are some of the best that I have ever visited and can assure you that you will have an amazing time if you are looking to plan your next party holiday around one of these music havens!
Disclosure: Some links in this article may be affiliate links, which can provide compensation to HandL Blogs at no cost to you if you decide to purchase through these links. These are products we have personally used and stand behind. This site is not intended to provide financial advice and is for entertainment only. You can read our affiliate disclosure in our privacy policy.
 Disclosure: Some links in this article may be affiliate links, which can provide compensation to HandL Blogs at no cost to you if you decide to purchase through these links. These are products we have personally used and stand behind. This site is not intended to provide financial advice and is for entertainment only. You can read our affiliate disclosure in our privacy policy.