3 Best Party Cities In The World For Your Next Party Holiday
Luke Iles – Uploaded 03.09.2023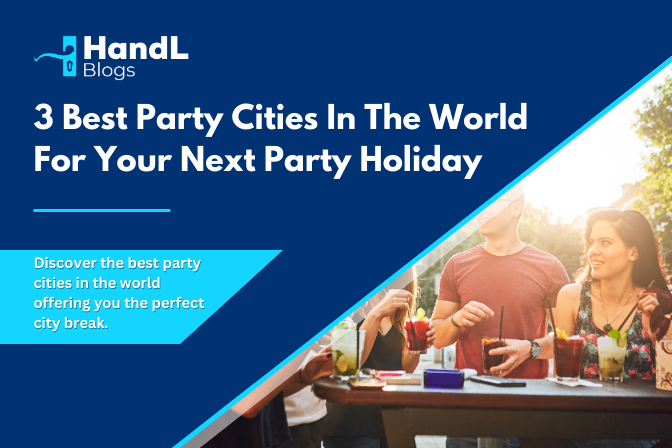 Best party cities for nightlife around the world
When choosing a city break as your next type of holiday there are plenty of things to see and do, from world-famous attractions to experiencing the unique and bustling life of a chaotic city. On top of all these different activities, big cities often come alongside offering a selection of bars, nightclubs and party events that can keep you entertained all night long.
In this article, we will discuss some of the best party cities in the world, that have crazy nightlife scenes with plenty of bars, crazy nightclubs and unique party experiences that you won't find anywhere else in the world. Making planning a party holiday that little bit easier with these top party cities that feature unique party venues from underground clubs, classic chain bars, live music venues, swanky bars and even beach bars!
If you are looking for a party holiday why not choose a party city that is located in one of the best party holiday destinations in the world, you get all the benefits of a party holiday whilst getting to explore a huge city which is the perfect choice for a quick weekend getaway with a few friends or loved one.
Discover the 3 best cities for partying in the world
After visiting some of the major cities from all across the world from London to Tokyo, here are the three best party cities that I have visited:
Bangkok, Thailand
Berlin, Germany
Buenos Aires, Argentina
Bangkok is the capital city of Thailand located in South East Asia. It is a bustling city with a population of over 10 million people making it one of the biggest cities in Asia which is known for its rich culture and tourism. If you are looking for nightlife in Bangkok, the best place to stay, in my opinion, is Sukhumvit for its close proximity to vibrant bars, clubs and entertainment options in the city. Bangkok is known to be one of the best party destinations in Asia and is a worthwhile visit if you are travelling across Asia.
Embark on an Unforgettable Night at Bangkok's Legendary Nightclubs –

Prepare yourself for an unforgettable night out in the vibrant city of Bangkok, where the nightlife scene is as electrifying as it gets. One of the most iconic nightclubs in the world, the Bed Supperclub, offers a nightlife experience like no other. This renowned venue is known for its avant-garde design and a party that begins in the evening and carries on well into the early morning hours. Securing entry here is often about timing and connections, making it an exciting challenge for party enthusiasts. Inside, you'll groove to the beats of famous DJs, surrounded by an eclectic and stylish crowd. Just remember, photography is generally discouraged, and each night can bring unique surprises.
Explore the Dynamic Nightlife Districts of Bangkok –

Bangkok's rich cultural tapestry has given birth to numerous distinct party districts that cater to every taste, home to some of the best nightlife in the whole of Thailand. The famous Sukhumvit Road is a bustling hub of entertainment, lined with nightclubs, rooftop bars, and international cuisine. Asok, a central area along Sukhumvit, is particularly well-known for its nightlife offerings. Alternatively, venture to Silom, where the vibrant LGBTQ+ scene takes centre stage, and you can enjoy colourful cabarets and lively influential gay bars and gay clubs. Meanwhile, Thonglor and Ekkamai are the go-to spots for trendy, upscale clubs where you can dance the night away.
Savour the Nightlife Along the Chao Phraya River –

Bangkok's iconic Chao Phraya River offers a different facet of the city's nightlife. Cruising along the river on a dinner cruise or enjoying cocktails at one of the stylish riverside bars provides a serene yet enchanting experience. As the cityscape lights up, you can soak in the stunning views of illuminated temples and modern skyscrapers. Whether you choose to dine on a boat or simply relax at a riverside venue, the Chao Phraya River offers a tranquil and picturesque way to savour Bangkok's nightlife.
Berlin is the capital of Germany and is located in North Eastern Germany. It is Germany's largest city with a population of over 3.5 million people. After visiting Berlin, I would recommend staying in the neighbourhoods of Friedrichshain or Kreuzberg which are close to all the nightlife destinations including the famous nightclubs and bars. Berlin is arguably one of the best party destinations in Europe that I have visited as well. 
Embark on an Epic Night Out at Berghain –

Prepare yourself for a pilgrimage to the world-renowned Berghain nightclub, a legendary institution that stands as a testament to Berlin's vibrant nightlife scene. This iconic venue, often touted as one of the most exclusive and enigmatic nightclubs globally, kicks off its pulsating parties every Friday evening, extending into the early hours of Monday morning. Securing entry to Berghain is a challenge in itself, akin to winning a golden ticket to Willy Wonka's Chocolate Factory. Once inside, you'll find yourself immersed in a world of pounding techno beats and an atmosphere that defies description. However, remember this sacred rule: no photography or mobile devices are allowed, and the club's stringent dress code adds an element of unpredictability to your chances of entry.
Explore Berlin's Thriving Nightlife Districts –

Berlin's tumultuous history has given rise to several distinctive party districts that beckon revellers from all over the world. The heart of the city, Mitte, boasts a vibrant party scene that gained notoriety in the 1990s. Here, you'll encounter a whirlwind of bars, clubs, and a lively atmosphere that carries you through the night. Venture to Prenzlauer Berg in East Berlin, a charming party district known for its eclectic mix of nightclubs and bars, each with its unique flair. On the other side of the city, Kreuzberg offers a laid-back yet equally captivating nightlife experience with its cosy bars and underground clubs. Friedrichshain, the birthplace of Berghain, stands as a mecca for alternative nightlife, housed within old factories and repurposed buildings, making it a must-visit for those seeking unconventional adventures.
Dive into Ku'Damm's Extravagant Nightlife –

Kurfurstendamm, affectionately known as Ku'Damm, reigns as West Berlin's epicentre for nocturnal delights. This renowned boulevard boasts an array of enticing shops, bars, restaurants, and nightclubs that cater to every whim and fancy of the night owl. Whether you're in the mood for a casual drink, a sumptuous dinner, or dancing until dawn, Ku'Damm has it all. Start your evening with a leisurely stroll down this glittering strip, hopping from one enticing venue to the next, and let the vibrant energy of Berlin's nightlife sweep you off your feet.
3. Buenos Aires, Argentina
Buenos Aires is the capital of Argentina and is located on the southeastern coast of South America. It has a population of over 2.8 million people and is a big city known for its rich cultural heritage, tango music and diverse nightlife. After visiting Buenos Aires, the best places to stay for nightlife activities are neighbourhoods such as Palermo or San Telmo. If you are looking for one of the best party destinations in South America look no further than Buenos Aires!
Experience the Vibrant Nightlife of Palermo Hollywood –

Palermo Hollywood, nestled in the heart of Buenos Aires, is renowned for its electric nightlife scene, featuring an array of trendy bars and stylish nightclubs. When you venture into this district, you'll find yourself spoiled for choice with an array of hotspots to explore. Consider checking out Niceto Club, where you can dance the night away to diverse music genres, or immerse yourself in the upscale atmosphere of Rosebar. For a more intimate vibe, don't miss Soria, Kika Club, and the enchanting Rey de Copas.
Revel in the Nighttime Elegance of Recoleta –

When it comes to sophisticated nightlife experiences in Buenos Aires, Recoleta stands out. This upscale neighbourhood boasts a plethora of chic bars, wine lounges, and classy venues that promise a more relaxed and inviting evening. Among the top establishments in Recoleta, the Millon offers a delightful ambience for wine enthusiasts, while Floreria Atlantico is a hidden gem for cocktail connoisseurs. Additionally, Gibraltar and Rey de Copas Recoleta provide a dose of elegance and charm, making them must-visit destinations for a memorable night out.
Embrace the Energy of San Telmo Night Market –

If you're seeking a distinctive and lively nightlife adventure, look no further than the San Telmo Night Market. Here, you can meander through bustling streets filled with live music and captivating street performers, creating a vibrant and one-of-a-kind nighttime atmosphere. The market's unique blend of local culture, artistry, and cuisine transforms the night into an unforgettable experience. Whether you're savouring authentic Argentine street food or dancing to the rhythm of a live tango band, the San Telmo night market promises a memorable and culturally rich night out.
We rate Buenos Aires an 8.5/10.
There are plenty of big cities across the world however out of the ones that I have visited so far, these have been the best three. Therefore, if you are looking for a unique getaway that has everything a typical city break would offer plus the lively party scene on top of it, choose one of these three party cities!
Bangkok, Berlin and Buenos Aires are three of the best party cities that I have visited offering a unique and vibrant nightlife experience. Bangkok entices partygoers with its blend of rooftop bars and clubs offering an incredible party scene in the heart of South East Asia. Berlin is known for its underground clubs and live music venues. In particular, the underground techno scene is considerably popular in the vibrant city and with many of the clubs and venues offering a nightlife scene unlike any other major city in the world. Finally, Buenos Aires charms visitors with its range of cocktail bars and great live music venues that are perfect for bar hopping. It is also home to some of the most famous nightclubs in Argentina allowing you to dance the night away!
These three party cities are some of the best party cities in the world for a holiday that has a little bit of everything so no matter what type of holiday you want, if you are a traveller looking to experience excitement and entertainment in different corners of the globe choose one of the these three best party cities mentioned throughout the article! 
Disclosure: Some links in this article may be affiliate links, which can provide compensation to HandL Blogs at no cost to you if you decide to purchase through these links. These are products we have personally used and stand behind. This site is not intended to provide financial advice and is for entertainment only. You can read our affiliate disclosure in our privacy policy.
 Disclosure: Some links in this article may be affiliate links, which can provide compensation to HandL Blogs at no cost to you if you decide to purchase through these links. These are products we have personally used and stand behind. This site is not intended to provide financial advice and is for entertainment only. You can read our affiliate disclosure in our privacy policy.