3 Best Party Holiday Destinations in Oceania [Sydney, Queenstown & More]
Luke Iles – Uploaded 25.07.2023
Discover the best party and clubbing holidays in Oceania
So if you are planning to travel to the continent down under this year, why not make it a party holiday?
From countless bars in party cities all across this continent, not only can you discover some of the best beaches, craziest nature and peaceful retreats but you can also enjoy the lively and party atmosphere in these party holiday destinations too.
As a traveller who loves all different types of holidays, you can have an amazing time exploring some of the unseen gems of the world from the Great Barrier Reef to the Golden Bay whilst indulging in the wild nightlife, providing you with an experience that is unlike any other place in the world and giving you a taste of travelling and experiencing the unique culture of the countries in Oceania whilst still supplying you with some of the best party holiday destinations in the world.
Keep reading as we explore three of the best party holiday destinations that I have visited whilst travelling across the continent of Oceania.
The three best party holidays in Oceania
Although there are plenty of energetic and lively destinations across the continent of Oceania, the best three party holiday destinations that I have visited in Oceania are the following:
Sydney, Australia
Queenstown, New Zealand
Gold Coast, Australia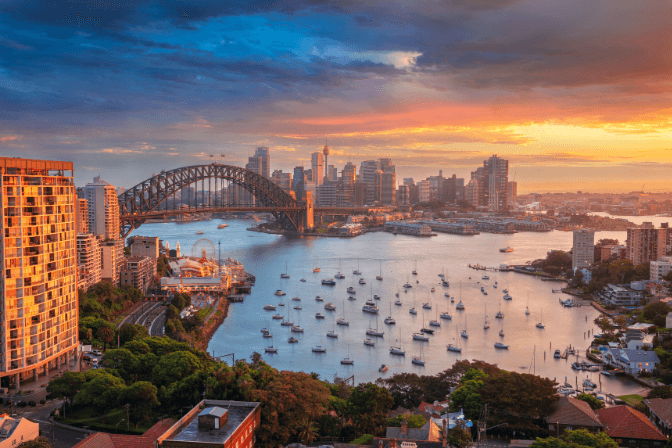 Sydney is a city in Australia located on the southeastern coast. Popular areas for nightlife include the neighbourhoods of Kings Cross, Darlinghurst and Surry Hills.
Experience the nightlife in Kings Cross –

Kings Cross is known for its lively nightlife and is considered one of the best party spots in Sydney. It offers a range of clubs, bars and late-night venues including Home Nightclub, The World Bar and Soho Bar. It has long been a popular destination for tourists and locals alike and is a must-visit if you are in the area.
Harbourside Party Cruises –

Sydney Harbour is an iconic location and a party cruise is one of the best things I did whilst I spent time in Sydney. With breathtaking views of the Sydney Opera House and Sydney Harbour Bridge, there is nothing better than soaking up the amazing views with a few drinks cruising along the stunning waterfront.
Party at Bondi Beach –

Bondi Beach is one of the most popular and famous beaches in the world. However, it is not only known for its stunning coastal views but also its lively beachside bars and restaurants. It's a great place to spend the day soaking in the sun at a beach party whilst listening to live music. During the summer months, Bondi becomes a hub of activities for locals who will come and party the day away on the beach.
Flights – A flight from London with a return costs around £1,350 to Sydney.
Hotels – The average price for a hotel room in Sydney centre is around £75 a night.
Food – A standard meal in a restaurant costs around £15.
2. Queenstown, New Zealand
Queenstown is a resort situated on the South Island of New Zealand. The party location of the city is found in the central area around Beach Street and Shotover Street which include numerous bars, clubs and restaurants offering a vibrant and lively nightlife.
Visit the Mall for all your nightlife activities –

The Mall is the main hub of nightlife in Queenstown with this pedestrian-style street which is lined with a wide array of clubs, bars and pubs offering something for everyone. Some of the best places I visited at the Mall were Bardeaux, Loco Catina and Below Zero Ice Bar. It is the best place to bar hop and meet locals and other tourists whilst dancing the night away.
Lake Wakatipu Cruises –

Similar to Sydney, taking a party cruise on Lake Wakatipu is a great way to enjoy the natural beauty of Queenstown. There are various party boat tours that offer onboard live music and entertainment whilst cruising around the lake surrounded by mountains. It is unbelievable!
Bungee jumping and adventure activities –

Queenstown is known for its adventure sports as a multicultural city there are many things to do and see here. That being said there are many companies that offer adrenaline-pumping activities such as bungee jumping, jet skiing, skydiving and other activities. Although it isn't solely party activities it gives you a great day experience that you can do with a group of mates before going out and partying the night away.
Flights – A flight from London to Queenstown Internation Airport costs around £1,450 with a return.
Hotels – The average price for a hotel room in Queenstown is around £75 a night.
Food – A standard meal in a restaurant costs around £20.
We rate Queenstown an 8.5/10.
The Gold Coast is a coastal city in the state of Queensland, Australia. The party town is centred around Surfers Paradise which is a lively and popular area known for its nightlife, bustling bars and nightclubs.
Party in Surfers Paradise –

Surfers Paradise is the beating heart of the Gold Coast's party life. It provides a lively atmosphere with various nightclubs, bars and pubs lining the iconic Cavill Avenue. It is a lively spot that hosts locals and tourists who are all looking for a party. Some of the best venues we visited in this party strip include Melbas on the Park, Helm Bar and Sin City Nightclub.
Visit Broadbeach –

Just south of Surfers Paradise is Broadbeach another hotspot for nightlife on the Gold Coast that you cannot miss out on whilst visiting. It hosts a precinct of bars, pubs and restaurants making it a great place to enjoy food and drink whilst listening to live music. There is also the Star Gold Coast Casino which hosts various entertainment events and live music.
Spend all night on the rooftop bars and nightclubs on the Gold Coast –

The Gold Coast has several popular nightclubs that attract partygoers including Sin City Nightclub, Shooters Nightclub and Cocktails Nightclub. In addition to this, there are plenty of rooftop bars where you can chill out and relax whilst watching the sunset on the coastline providing a stunning experience which I still cherish to this day.
Flights – A flight from London to the Gold Coast International Airport costs around £1,250 with a return.
Hotels – The average price for a hotel room along the Gold Coast is around £90 a night.
Food – A standard meal in a restaurant costs around £15.
We rate the Gold Coast a 9/10.
Oceania is a continent that is not only captivating for a traveller who loves nature and the natural world but also acts as a paradise for partygoers. Some of the destinations on this list provide an array of diverse and exciting party locations that cater to every traveller's wildest nightlife dreams.
From the vibrant and bustling streets of Sydney to the mesmerising charm of Queenstown, this region will provide you with an unforgettable experience that is unlike anywhere else in the world. Oceania is an underrated party continent with plenty of party towns and cities dotted around.
While these three cities mentioned steal the spotlight for the best party destinations in Oceania, these are only the ones I have visited personally meaning you should not overlook any other gems scattered throughout Oceania. From Aukland to Fiji and Samoa, each place brings its own unique charm and nighttime entertainment.
As a travel blogger who has only spent a little bit of time in Oceania, it is clear to say that it has earned its place as one of the best-party continents on the planet. So pack your dancing shoes and grab your suitcases and jet off to some of the best party locations in Oceania. Lose yourself in the party atmosphere in one of the many party towns and cities!
Disclosure: Some links in this article may be affiliate links, which can provide compensation to HandL Blogs at no cost to you if you decide to purchase through these links. These are products we have personally used and stand behind. This site is not intended to provide financial advice and is for entertainment only. You can read our affiliate disclosure in our privacy policy.
 Disclosure: Some links in this article may be affiliate links, which can provide compensation to HandL Blogs at no cost to you if you decide to purchase through these links. These are products we have personally used and stand behind. This site is not intended to provide financial advice and is for entertainment only. You can read our affiliate disclosure in our privacy policy.