5 Best Holiday Destinations In Italy - Discover The Best Of Italy
Luke Iles – Uploaded 02.05.2023
Uncover Some Of The Most Iconic & Beautiful Destinations In Europe When Visiting Italy
It goes without a doubt that Italy is one of our favourite holiday destinations to visit in Europe. It just has everything. From rich, preserved ancient history dating back thousands of years to incredible and beautiful scenery and nature. Italy is out of this world.
Not to mention the food! The food is incredible. Pizza. Pasta. Wine. Just to name a few.
If you are planning a trip to Italy and are stuck on where to go, there is something for everyone. Just be prepared that you might fall in love with this place and never want to return home. Just putting that warning out there, so don't blame me!
From the food, history, art, and nature to the little towns, the big cities, the popular tourist attractions and quiet hillside spots overlooking the Mediterranean countryside, there is something everyone can appreciate when visiting Italy.
When visiting Italy it is often described as "la dolce vita" meaning the sweet life and after visiting Italy we can see why.
So come with us as we whittle it down to our top five favourite holiday destinations in Italy and it might just help you decide on your next holiday location.
Our Top 5 Favourite Holiday Destinations in Italy
Italy is one of our favourite destinations to visit in Europe with its incredibly preserved ancient history, a rich and bursting culture and an array of incredible nature and landscapes that make it hard to whittle down to five destinations.
Not only that but the food is arguably some of the best in the world, making it an even tougher choice to determine the best places to visit in Italy and even if you don't visit one of the five destinations on this list when you go on holiday in Italy, you are guaranteed to visit somewhere beautiful and bursting with Italian culture.
We recommend that you should visit Italy once in your lifetime and with our list of the top five Italy holidays, every single one of these destinations is worth a trip of its own! Here are our top five best places to visit in Italy:
Rome
The Amalfi Coast
Venice
Florence
Lake Como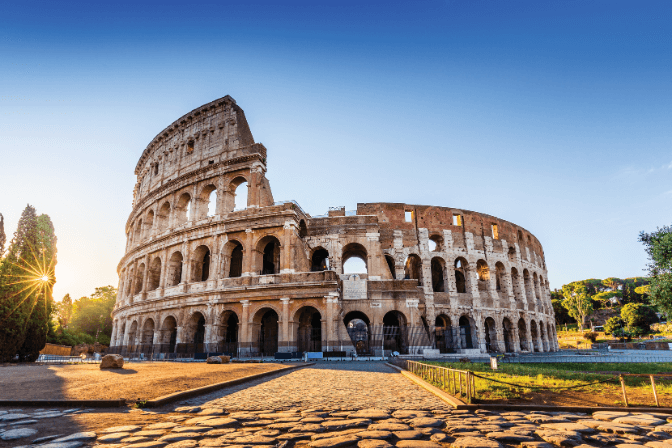 Commonly referred to as the Eternal City, Rome is the capital city of Italy and is located in central Italy. It is built upon the banks of the Tiber River and is situated in the Lazio region. It is surrounded by the Apennine Mountains and has an incredibly well-preserved ancient history with some of the most iconic landmarks in the entire world. Rome is a small city and can easily be explored on foot or via the Rome metro system that is located across the city.
Experience the amazingly well-preserved Ancient Rome attractions

– From the Colosseum, Palatine Hill and the Roman Forums, Rome has a centre that is brim full of incredible ancient ruins from the Romans' past. It is incredible to walk down the Via Sacra, an ancient Roman road, and reminisce on the past of what could have been and how legendary and revolutionary the Roman past was. By visiting the ancient Rome area which is deemed to be a

UNESCO world heritage site

, you can experience the story and history of the Roman civilisation. A ticket to the Colosseum will provide you free entry to the Roman Forums and Palatine Hill which contain the ruins of the hub of Roman affairs and trade. It is a once-in-a-lifetime experience that will take your breath away viewing the ancient ruins of a civilisation that was so revolutionary for its time. The walk from the Colosseum to the Roman Forums takes about two minutes plus re-entry and security checks. A guided tour is not necessary however is worthwhile if you are interested in knowing more about the ancient Roman ruins. Despite this, plenty of information is provided in Italian and English at different historic landmarks.
Explore the smallest country in the world –

Visit the Holy Vatican City and tick off the smallest sovereign state in the world from your bucket list of destinations. The Vatican City is home to the Catholic Head of State, the Pope, and has a population of only 800 people. It is the spiritual and administrative centre of the Roman Catholic Church and hosts a range of attractions that you need to visit. St Peters Basilica is the largest church in the world and is built on the site where St Peter, one of the twelve Disciples is believed to be buried. It is considered to be a Renaissance masterpiece crafted and designed by the great Michelangelo. It also contains many important works of art including Michelangelo's Pieta and Bernini's Baldacchino. The Vatican Museum and Sistine Chapel are also must-visits whilst in Vatican City offering some of the most incredible Renaissance art and pieces of history that have been collected by Popes throughout centuries. It also includes the Sistine Chapel inside the museum which has the famous Michelangelo painted frescoes on the ceiling of the chapel. We recommend getting a super early morning guided tour so you can get early access to the St Peters Basilica (which is free admission) and the Vatican Museum so that you can beat the crowds and view the historic buildings within your own space and freedom.
Get a guided tour around the many different Renaissance and historic attractions in Rome –

Rome is full of incredible and beautiful historic architecture that dates back to the 18th century in the Renaissance period. Unlike any city in the world, in Rome, every ancient street you walk down you will uncover an ancient statue, square, plaza, church or attraction. Getting a guided tour across the city is a great day excursion and provides you with great information on the history of Rome, not just on the ancient parts either. Visit the Trevi Fountain, Spanish Steps, Alter of the Fatherland, Pantheon, Castel Sant'Angelo, Campo Fiori, the many Rome museums and the multiple beautiful churches across Rome. There is so much to Rome and with a guided tour of the city, you can explore and uncover the true history and spots of Rome.
Incredible history and architecture with a city that is bursting with Italian culture and an interesting past.

Great transport connections across the city with the Rome metro that only costs a few euros for a day pass across the city with regular running trains.

Amazing Italian food with many incredible restaurants, cafes, bakeries and bars that are super cheap if ordering pasta or pizza.

Plenty of free things to do including entry to famous churches and tourist attractions.

Great train connections to other destinations around Rome such as Tivoli, Naples, Pompeii and Florence.
There are so many attractions and things to do that you won't be able to fit everything into your itinerary in one short trip.

Hotels can be expensive compared to other areas of Italy.

Hard to get taxis across the city and is easier to walk on foot or via the metro system.

Not much nightlife if you are looking for a party holiday destination

.
Flights from the UK range on average from around £ 150 – £ 200 in the peak season (June to August) with a choice of two airports in Rome including Leonardo da Vinci Airport in Fiumicino and Ciampino Airport.
Rome is the perfect destination for people who love the ancient past and history buffs, in addition to this Rome is a great choice for people who love Italian food and the culture of Italy. Rome is bursting with Italian heritage and culture that is present everywhere you look in the city. It is a relaxing city break destination with plenty to see and down with it being the perfect choice for couples and families to visit.
After visiting Rome, we give it a 10/10.
From the bustling city of Rome to one of the most beautiful and tranquil places in not only Europe but the entire world. The Amalfi Coast is a scenic coastline with plenty of natural beauty that is located on the coast of Southern Italy, it includes several picturesque hilltop towns and villages that bring that Italian character and charm. Some of the most famous and most historic cities and towns you need to visit along this coastline are Amalfi, Positano, Ravello, Maiori and Minori as well as some of the surrounding areas just off of the Amalfi Coast including Sorrento, the island of Capri, Pompeii and Naples.
Take a boat trip in Positano

– A boat trip in the incredible, breathtaking town of Positano will provide you with an experience like no other. The incredible views of the multicoloured buildings on the hillside whilst you relax in the summer heat on the Mediterranean Sea is something that you should only ever experience in a dream, yet it is real life when you visit Positano and hire a boat. A typical boat to hire out for a couple of hours will cost you around 50 – 75 euros plus a deposit but it is well worth the once-in-a-lifetime experience.
Dine in one of the many local Italian restaurants –

In all of the different small villages and towns along the Amalfi Coast, you will find iconic Italian restaurants, bars and cafes that serve incredible Italian cuisine. From pizza, pasta and a selection of fresh seafood dishes to homemade wine and the famous Lemoncello and Aperol Spritz that are available to drink. Prices of food in a restaurant are considerably more expensive than other places in Italy with a typical meal costing around 15 – 20 euros per person.
Relax on the many beautiful beaches the Amalfi Coast has to offer –

Some of the best beaches in the world feature along this Italian coastline including some of the beaches that you need to see whilst travelling on the Amalfi Coast. Some of the best beaches we visited during our trip along the Amalfi Coast included the Marina Grande Beach in Positano which features the iconic backdrop of the hillside buildings all in different colours in the Italian sun. The Maiori Beach in Maiori is one of the only sandy beaches along the Amalfi Coast. The Erchie Beach is a classic picturesque beach within the sunny pastel fishing village of Erchie with bright blue waters and incredible hillside backdrops and hill towns. The Marina Grande Beach in the town of Amalfi is also a must-visit with incredible scenic backdrops and bright blue waters with plenty of shops and restaurants along the promenade. The majority of the beaches we have mentioned do cost a fee to enter and spend an entire day relaxing. They are also fairly small so it is worth visiting early to secure a space and ensure that you are not visiting at a time that is overcrowded and too busy to relax.
Some of the most iconic and breathtaking coastlines and scenery in the entire world.

Rich history and culture that dates back to the Roman Empire with many ancient ruins, churches and attractions you can visit as well as the many fishing towns and picturesque seaside villages.

Incredible Italian food such as pasta, pizza and fresh seafood. They also offer incredible wines and the best Lemoncello and Aperol Spritz in the world.

A range of activities including swimming, boating, kayaking and hiking.
Everything is incredibly expensive in the small towns including food, drink, accommodation, parking, beaches, activities and transport.

The Amalfi Coast is extremely popular with tourists and the small villages, towns, beaches and roads can become very crowded, very quickly when in peak season.

Transportation can be difficult with irregular running bus schedules, narrow and busy roads plus expensive ferry journeys.

Some of the famous beaches require additional payments to use access and use all day.
Flights from the UK range on average from around £ 100 – £ 200 in the peak season (June to August) with the best airport to land in is Naples International Airport. From the Naples airport, you can either rent a car, get a high-speed train from the Naples Garibaldi Train Station to the Salerno airport or get a coach or taxi to your Amalfi Coast destination.
The Amalfi coast is perfect for those who want to visit incredible beautiful beaches that have the Italian and Mediterranean charm that you will not find anywhere else on the planet. Although it is expensive, the price is worth it for the destination you will be visiting, not to mention the incredible Italian cuisine. The Amalfi Coast is the perfect destination to visit for backpackers who are looking to explore the entire region, couples and families with a lot of different activities to do in the Italian sunshine.
After visiting the Amalfi Coast, we give it a 10/10.
Now heading over to the world that lives on the water, with the famous Italian holiday destination of Venice. It is located in the North East of Italy within the Veneto region in the Shallow Venetian Lagoon and is known for its 118 different small islands that are connected with a link of bridges and canals.
Explore the Grand Canal

– Take a Vaporetto water bus ride down the famous Venice grand canal, the price costs around 5 euros to 20 euros depending on the number of people, the distance and the time of the trip. Exploring the grand canal is one of the best things to do in Venice and we highly recommend it if you are planning a trip. You can visit the Rialto Bridge, and explore the Peggy Guggenheim Collection for one of the best views of Venice's architecture, history and art.
Cruise the Canals in a Gondola Ride –

One of the most notorious and famous things to do in Venice is the picturesque, romantic Gondola ride as you pass through canals and under bridges whilst Italian paddles you along the water gently whilst you enjoy the views. It is an experience like no other and we highly recommend you do it. You will get to pass under the famous Bridge of Sighs and experience many unique views of Venice, all whilst the Gondolier sings a traditional Italian song. The experience isn't cheap costing around 40 -70 euros for an hour's trip along the canals but is a once in a lifetime experience.
Visit St Mark's Square –

St Mark's Square is home to many beautiful buildings including the St Mark's Basilica which is free to enter. You can also visit Doge's Palace for around 25 euros for a day ticket and is definitely worth seeing the incredible Venetian Gothic-style architecture. You can visit both attractions in St Mark's Square with plenty of time to spare so you will have time to visit the many shops, bars, restaurants and cafes dotted around the square too.
Incredible history and attractions that are unlike anywhere else on Earth.

Amazing collections of historic Italian artwork with an array of different art galleries and museums across the city.

The city is beautiful and full of amazing things to see and that will provide you with an experience of a lifetime.
During the peak season, it can become very crowded with tourist hordes across the limited space the city has to offer.

If you struggle with mobility issues, Venice can be a big challenge with lots of walking across bridges with steps as well as getting on and off of boats.

The cost of Venice is expensive with transport such as water ferries costing up to five euros a go as well as food and drink plus accommodation all being above the standard price of your typical Italian destination.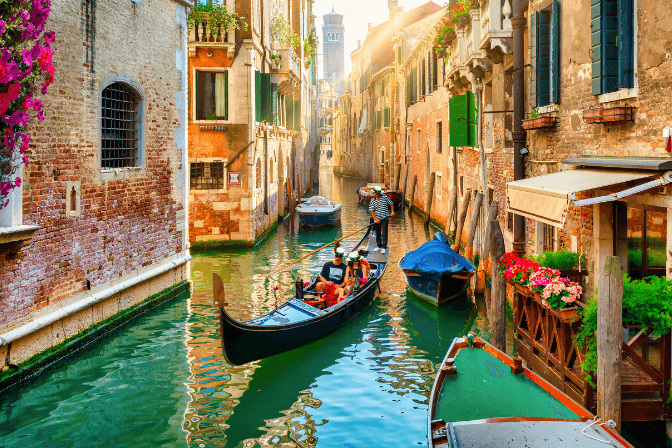 A plane flight from the UK to Venice costs around £300 as a direct flight with return included back to the UK. To get to Venice you will need to fly to Venice Marco Polo International Airport which is around a 20-minute drive from the Venice Lagoon.
Venice is the perfect place to visit in Italy if you want to be transported to a world, unlike anything you have experienced before. Venice has a personality of its own and is a romantic destination with plenty of things to do and see. Not to mention the food and drink is of course out of this world too. Venice is the perfect destination to visit in Italy if you are a couple in search of a romantic getaway or are travelling across North East Italy and want to tick off one of the most iconic bucket-list destinations in the whole of Italy.
After visiting Venice, we give it a 9/10.
From the water city of Venice to the city that is known as the Cradle of the Renaissance with its stunning architecture formal gardens and city design. Florence is located in central Italy within the region of Tuscany. It is located on the banks of the Arno River and has incredible Renaissance architecture and buildings that include classical details and sophisticated interiors. Furthermore, you can walk down the ancient streets and visit some of the stunning Renaissance masterpieces and buildings that were constructed in the 14th – 17th century.
Admire the spectacular artwork at one of the many famous art galleries

– No trip to Florence is complete without visiting some of the most notorious art galleries in the world. You need to visit the Uffizi Gallery, Accademia Art Gallery and the Palazzo Pitti when visiting Florence. They contain some of the best Renaissance and Italian artwork in the world including Michelangelo's – David; Botticello's – Birth of Venus and artworks by Raphael and Titian. A day pass into one of these galleries typically costs around 16 – 20 euros depending on which art gallery you choose to visit.
Visit the Florence Cathedral in the Piazza del Duomo –

Visit the Piazza del Duomo and view the stunning architecture and surroundings. You can visit the Cattedrale di Santa Maria del Fiore and experience the incredible interior. You can also climb to the top of the dome of the Cathedral for a stunning view of Florence. Whilst in the Piazza you can also visit the Baptistery and Giotto's Bell Tower to view some more of the incredible design and architecture of Florence, it is a must-see attraction.
View the stunning Piazza Michelangelo –

We recommend that you should take a short hike up to Piazza Michelangelo to be able to enjoy the spectacular views of the city skyline including a spectacular view that you will not get a better view of Florence. You are able to see the Arno River, Florence Cathedral, the Ponte Vecchio as well as the beautiful garden and bronze replicas of Michelangelos David sculpture. It is a peaceful experience that allows you to fully take in and experience Florence from a view like no other in the whole of Italy.
The architecture and building structure of Florence is out of this world with incredible attention to detail that will take you to another planet.

It is a great destination for those who are keen on Renaissance art with artwork from the likes of Michelangelo, Botticelli and Leonardo da Vinci in a selection of different famous art galleries across the city.

The Tuscan cuisine is second to none and some of the best pasta, meat dishes and local wine we have tried in the entire Italian region.

The perfect destination for history lovers with many historic landmarks and a bursting Italian culture throughout the city.
As Florence is a popular tourist destination expect busy tourist crowds, especially during peak season.

Florence is fairly expensive with high costs for accommodation, food, activities and drinks across the city.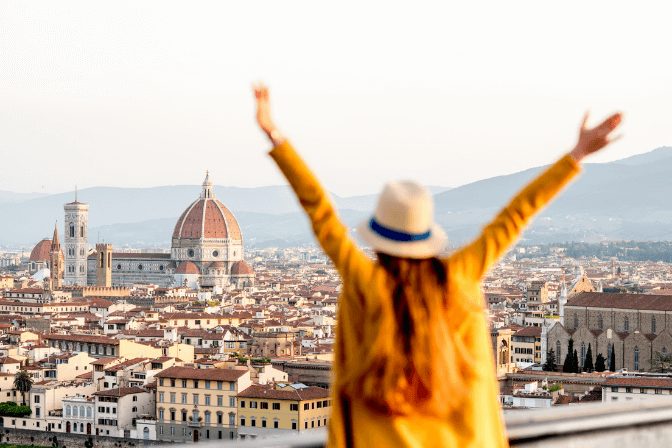 A direct flight from the UK to Florence with a return flight included will cost you around £300 in peak season. You can get a flight to Florence's small airport called Amerigo Vespucci Airport also known as Peretola Airport however you can also get a flight to Rome and take a high-speed train to Florence if you are looking to do it slightly cheaper.
Florence is the perfect destination for art and history lovers plus those who love the iconic Italian food and drink. Florence is a diverse and versatile place that appeals to many for different reasons. With incredible art galleries with iconic masterpieces to the world-renowned Tusican food and drink that is available in many of the cafes, bars and restaurants across the city. The city streets have a romantic and beautiful vibe to them with amazing attention to detail in the design of all the buildings in the city. There is also plenty of designer and high-end shops that you can browse making it the perfect destination for fashion lovers too. Florence is perfect for couples, families and students who love history, art, fashion and Italian food.
We rate Florence a 9.5/10.
Lake Como is located in Northern Italy in the region of Lombardy which is around 50 km away from Milan. Lake Como is one of the biggest Italian Lakes and is the third largest lake in Italy and is one of our favourite Italian lakes. It is one of the best places to visit with its glorious countryside, stunning scenery, elegant villas and charming towns. The Lake is surrounded by a lot of picturesque Italian towns including Como, Varenna and Bellagio.
Take a trip to one of the many ancient villas

– When visiting Lake Como we highly recommend that you visit one of the many spectacular and beautiful ancient Roman villas across the area. Visit the Villa del Balbianello, Villa Carlotta or Villa Mezi and immerse yourself in the Roman past within this beautiful area. The stunning ancient villas with the backdrop of Lake Como are a spectacular sight. Day admission to one of these villas typically costs you around 10 euros and will take you around half a day to complete.
Explore the surrounding towns-

Take a boat ride across Lake Como or stroll through one of the many ancient towns that are rich with Italian culture and all come along with their own character and charm. To get the full authentic experience of Lake Como, we recommend that you visit the towns of Bellagio, Varenna and Como as either day trips or to stay for a few nights if you want to change things up when staying at Lake Como.
Go hiking around Lake Como –

Lake Como is perfect for hiking and long walks with many scenic trails around Lake Como. The hikes we would recommend you follow are the Greenway del Lagio di Como or the Senitero del Viadante if you are in search of an incredible view of the lake in the surrounding mountainous and hillside areas.
One of the most naturally beautiful places I have ever visited with incredibly scenic views of the lake and surrounding rolling Italian hillsides.

There is so much to do in all the towns you visit in Lake Como including boat trips, hiking, swimming, cycling and site seeing.

The perfect destination to just chill out and relax in the sun surrounded by beauty.

Easily accessible with connections from major cities such as Milan and Bergamo with regular trains, buses and ferries.

The food and drink are some of the best we have tried in Italy.
The small surrounding towns and villages of Lake Como can get overcrowded by tourists during peak season.

Some of the towns in Lake Como can be very expensive including Bellagio as the most expensive town we visited in Lake Como.

Lake Como is not a destination to look for if you are in search of a party holiday destination with a quieter and more relaxing nightlife scene with little going on.

Irregular and limited public transport such as buses and ferries make it hard to navigate around Lake Como.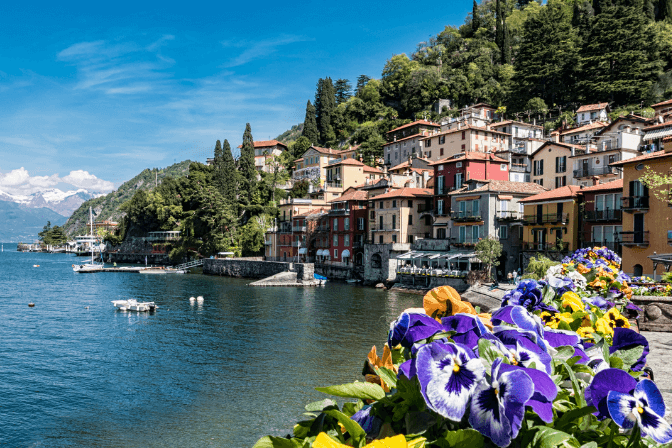 There is no direct flight to Lake Como however you can get a flight from the UK to the Milan Malpensa International Airport for around £150 with a return flight to the UK. From here you can get the Malpensa Express train from Milano Centrale station to Como San Giovanni station in the centre of the town of Como. The train from Milan to Como takes around 40 minutes.
Lake Como is one of the best destinations to visit in Italy for its scenic beauty and breathtaking nature. It is the perfect choice for people who are looking to relax in nature and the Italian countryside. It is also a great choice for those who want to keep active with many great outdoor activities such as boat trips, hiking and swimming to name a few. It is also great for those who love to visit and explore small unique Italian towns as well as visit historical Italian landmarks with many historic ancient villas across this region you can also visit nearby. Lake Como is ideal for families, young adults who enjoy history, nature and daily activities as well as couples looking for a romantic getaway.
The capital of the Balearic islands is a great place to visit in Spain for people of all ages whether you are visiting with friends, a loved one or as a family with young children, there are things to do for all ages and interests. If you love relaxing in the sun, experiencing iconic Spanish architecture and history plus enjoying good food and nightlife entertainment Palma is one of the best Spanish holiday destinations.
From visiting Lake Como we rate it an 8.5/10.
Overall, Italy is a diverse country that provides some of the most unique and iconic holiday locations in the entire world. With a country that is bustling with culture and a historic past that has been well preserved for thousands of years to incredible scenery and nature that would make anyone jaw drop, it is clear to see that there is a holiday destination in Italy that is perfect for anyone, no matter what type of summer holiday they are looking for.
We have visited up and down Italy and it is fair to say that it is one of our favourite destinations to visit in the entire world and we can guarantee that no matter where you end up deciding to spend your holiday in Italy there is a guarantee that you will fall in love with the country. No matter if that is with the tasty Italian cuisine and great restaurants or the sublime scenery and beautiful landscapes that you can only experience in Italy.
One thing is clear to see and that is it is not a matter of if you should travel and visit Italy but it is more of a case of when are you going to travel and visit Italy. With so many great holiday destinations, the time to visit Italy is now!
Read Travel Blogs and More
Disclosure: Some links in this article may be affiliate links, which can provide compensation to HandL Blogs at no cost to you if you decide to purchase through these links. These are products we have personally used and stand behind. This site is not intended to provide financial advice and is for entertainment only. You can read our affiliate disclosure in our privacy policy.
 Disclosure: Some links in this article may be affiliate links, which can provide compensation to HandL Blogs at no cost to you if you decide to purchase through these links. These are products we have personally used and stand behind. This site is not intended to provide financial advice and is for entertainment only. You can read our affiliate disclosure in our privacy policy.