A Full Guide To Traveling The Amalfi Coast On A Budget! [Itinerary included from experienced Travellers]
Harry Jeffery – Uploaded 07.08.2023
To most, when thinking of the Amalfi Coast, you think of the insane prices, busy crowds and packed beaches. Well, what if there was a way to get around the mess and enjoy the elements of this region that made it so popular in the first place?
Exploring beautiful beaches, terraced gardens & a luscious Mediterranean landscape...
Planning to visit the Amalfi Coast can surely be overwhelming if you don't know what you are doing. Lucky for you we have lots of tips and a full itinerary after recently visiting the whole coastline.
A key thing to mention straight off the bat is that your phone is your best friend, for taking amazing videos & photos, navigating tricky terrain, messaging friends family and even hotels & AirBnB owners, but we will get into that later…
Things to consider and be aware of when traveling the Amalfi Coast:
Firstly, you've got to understand that this whole region is an absolute tourist hot spot, meaning it can be tricky to find parking, beach spots or even restaurant reservations for those looking for an authentic Italian culinary experience.
The beaches that accompany the area's towns are mostly owned by private companies which come in the form of  beach clubs, no not the party 'Ibiza' type but instead ones crammed with sunbeds and well-needed umbrellas, especially in the summertime! If you want to enjoy these beaches to the fullest we recommend you take the financial burden of buying a day pass to one of these beach clubs, as the public beaches can be super uncomfortable and puts you at risk of pickpocketing.
Another major factor to consider is transport. Despite what all the pro travelers tell you, we found that hiring a car and driving to our destinations throughout the Amalfi coast were actually rather pleasant minus one or two exceptions. As long as you are smart with your routes, and timing and have a confident driver at the wheel, hiring out a car is a way cheaper solution to getting taxis to and fro from everywhere whilst thousands of other tourists are trying to do the exact same thing!
The perfect Amalfi Coast Itinerary (entire coastline):
Salerno

Scala (Ravello + Maiori + Amalfi)

Sorrento (Capri + Positano)
This is the direct route we took over 6 days of travel, and what can we say, we had a blast – it's no wonder that the Amalfi Coast is a Unesco world heritage site! Day after day of perfect weather, amazing people, incredible scenery and of course mouth-watering foods. Anyone who follows it is sure to have a similiar experience! So, read on to hear more about our trip, with tips and recommendations as well of course.
You have just arrived at the start of your Amalfi Coastline adventure in Salerno, a harbourside town with some precious food spots, including pizzerias, pasta restaurants and gelato shops, all with insanely cheap menus for the quality of food at stake here.
Although I would rank this town, as the lowest of all the spots in this Amalfi Coast after around 4 pm, the whole town transforms into a mixing pot of culture, good vibes and amazing aromas from the many hundreds of restaurants.
If you travel deep enough into the center of town, you can find secret narrow alleyways lit up only by candles and faint streetlights which made for the perfect atmosphere for some authentic Italian wine and seafood!
We visited mid-summer, which in my opinion was perfect due to nice weather conditions, all local attractions being open and of course, the sea being slightly warmer to enjoy a swim in!
How did our day in Salerno go?
After landing at Naples airport, we rushed straight over to the car hire pickup spot and offloaded our luggage into the boot of our new ride, and set off straight to our AirBnB located in the center of Salerno.
Parking cost us €10 euros for an overnight stay which was more than feasible in our opinion! After parking up and dropping off our luggage at our Airbnb for the night, we headed down to the seafront ready to get a first taste of Italian cuisine. We stopped off at a Pizzeria where I went for a 'white' pizza with pesto and Italian sausage!
On the way back to our room, we had some Gelato where I went for dark chocolate, a rare flavour that you would never get in the UK! Everyone we saw in this beautiful town seemed super happy and at one with their inner peace.
We then headed back to our room for a quick nap after a long day of traveling and flying before venturing out for dinner. When we did eventually stroll out, we located an amazing little restaurant in a narrow alleyway which also had a brilliant live performer playing all the Italian classics whilst we enjoyed some wine and freshly cooked seafood!
Overall, we came to Salerno with low standards as previous research gave off the vibe that Salerno was the lesser of all the Amalfi coast towns, whilst it was that, that doesn't mean it was in any way bad.
Salerno was generally lovely to walk around in and despite not having a proper beach, the water was still soothing to swim in, as was the food delicious.
2. Scala (Ravello, Maiori & Amalfi)
After leaving Salerno, You start driving towards the mountains! The easiest yet longest way to reach the wonderful town of Scala is through the Amalfi mountains, the road can be rather windy with lots of tight corners but is nothing an experienced driver can't overcome…
Scala was a joy to spend the next two days of our Amalfi adventure in, with lemon trees everywhere you look, and loads of surrounding towns, there was so much to explore, food to try and experiences to endure in!
Scala is an amazing, must-stay place on your tour of the Amalfi coast for multiple reasons. Firstly it's location, with the gorgeous town of Ravello just a 10-minute walk away which itself is a major hot spot for tourism whether it's food, shopping or its stunning villa tours. This town also runs a bus service with regular trips to Amalfi, Maiori and Minori for as cheap as €2 euros per person!
Next, the fact that compared to the rest of the Amalfi, the accommodation is incredibly cheap. Through Airbnb, we managed to secure an apartment with three bedrooms, for roughly £100 a night, split between 3 people which is more than reasonable in such an expensive region.
Not only this but our short time living in Scala gave us a real feel of authentic Italian countryside life, engaging in conversation with locals, eating in local spots where no other tourists ever visit, you get a real authenticity out of the trip. Something visiting the usual hotspots doesn't get you, unfortunately.
How did our day in Scala (Ravello + Maiori) go?
We arrived around midday after driving from Salerno and stopped off for some morning brunch just down the street from our Airbnb, which we were to check in a few hours time.
Surrounding us were buildings that looked older than America itself, stunning painted houses decorated with catholic statues and symbols, a marvel to the eye.
After we were able to check into our cheap, yet visually stunning and spacious Airbnb for the next two days which was a renovated church, we had a short kip before heading out on our first journey in Scala, the old town of Ravello…
As one of the most popular destinations in this area of Amalfi, we were ready to be waiting in miles of queues to simply use a toilet, but to our pleasant surprise, this wasn't an issue.
Turns out it wasn't at all nearby as we spent the next hour traversing down endless stairs until we reached Maiori! We found this little seaside town beautiful, and like most tourists, headed straight to the beach. Although pretty crowded, we found the public beach very relaxing as we took turns taking dips in the lukewarm water as sunset occurred.
We then headed to a nearby restaurant where we treated ourselves to croquette pizza and a selection of Italian desserts, which were honestly mouthwatering.
After a painful walk back to our apartment in Scala, we craved some true Italian seafood, which wasn't at all hard to find despite it being 11 pm, with a restaurant located near us with a beautiful cliff view.
How did our day in Amalfi go?
After a wonderful sleep, with a belly full of seafood linguine, it was time to get a bus down from Ravello to the ancient town of Amalfi. As mentioned previously, the bus trip cost us only €2 each!
We arrived and went straight to the gelato stand where I opted for a delicious-looking scoop of cookies and cream, later to be followed by a lemon full of sorbet! As most would, we headed straight to the beach to secure our own little spot for the day. which we were successful in doing!
To start things off, the view and atmosphere of Amalfi were out of this world and fully felt as if I was on the set of the film Luca.
After hours of sunbathing and swimming in the turquoise water, we decided to move inwards towards the main town and explore what it had to offer.
We certainly weren't let down as everywhere you looked there was amazing architecture, yellow lemon shops selling every lemon product under the sun. It would have been rude not to try the massive lemon sorbets that were selling out everywhere!
The local church was a thing of beauty, to think that monks traveled here from far and wide to pray and then got to take a dip in Amalfi's crystal sea still makes me jealous to this day…
If you are looking for a town to leave your jaw-dropping every single minute, then Amalfi is the town for you, the locals are also a joy to be around.
Exploring the town sure was hungry work, so we settled down at a super busy restaurant, which is often a good sign!
We were correct, I had freshly fried cod bites on cod mashed potatoes, as you can tell I love fresh Mediterranean fish – a true delicacy. This was hands down one of the best meals I had on the trip despite the €30 euros it set me back…
After the meal, we headed back to the port where we managed to get the same bus back up to Ravello, you guessed it for only €2…
After checking out from Scala, we went on our way to the next beautiful location Sorrento!
Sorrento is often the spot where tourists stay for cheap when wanting to visit locations such as Capri and Positano and we did exactly that. Due to being rather close to Napoli, the whole town was covered in blue and white, which was so cool to see in person.
Sorrento is best known for its godly view of Mount Vesuvius, delicious limoncello and its stunning sunsets which overlook the whole of Napoli.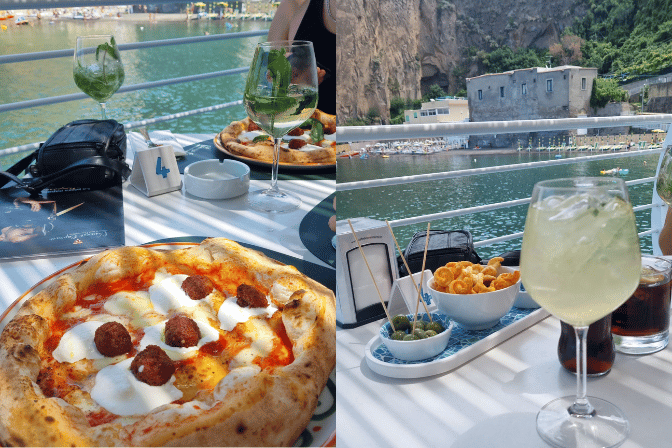 How did our day in Sorrento go?
Shortly after arriving and parking up for the next few days, our first instinct was to find the nearest beach and make the most of the hot weather that blessed us that day.
We headed down to Sorrento di Piano Beach which is located at the bottom of some bendy steep roads, but was definitely worth the trek there and back. This location is where we would spend the next few hours of our trip whilst we awaited check-in for our next Airbnb.
We were drawn towards the main restaurant of the beach, which was known for its famous pizza and cocktails! I had a special white pizza that actually came with honey and nut toppings, a very Mediterranean taste is required here!
After stuffing our faces with glorious Italian food and drink, attached to the restaurant was a beach club which we purchased access to for two hours of pure bliss, sun, beautiful views and cooling water. This was probably the most chilled-out, localized area of our whole trip despite it being luscious and super accessible.
To finish off the day after checking in we headed into the town and indulged in some pizza and gelato, as most days on our trip ended!
How did our day in Capri go?
If you are trying to go to Capri as a last moment idea, forget it. Unless you already have ferries to and fro booked, tours arranged and mass amounts of money to spend, then we wouldn't recommend visiting Capri for what it's worth.
Our day started early with an 8 AM ferry from the main port in Sorrento to Capri, which cost us around €30 per person for a return ticket. We then picked up breakfast whilst awaiting our 10 AM boat tour which cost us €20 euros each for chips and a drink each! Our boat tour took us around the whole island informing us of history and the different areas of the island including the most expensive house on the island which costs around €30 million!
So, instead of waiting in line to get one in order to explore the rest of the island, we stayed close to the port and visited a local beach where we paid for a beach club space, which by no means was cheap…
Despite the price, we had prime seating right next to the sea, without being crowded like sardines alike our peers on the public side of the beach!
It was around 3 pm at this point and after yet another incredibly expensive meal, we decided to get the early ferry home due to running out of things to do at the port/beach. I would probably rank Capri at the lower end of places we visited on our trip despite its reputation…
It was around 3 pm at this point and after yet another incredibly expensive meal, we decided to get the early ferry home due to running out of things to do at the port/beach. I would probably rank Capri at the lower end of places we visited on our trip despite its reputation…
How did our day in Positano go?
We had big expectations for Positano, and boy did it deliver! We also thought that driving into Positano would be a parking deathtrap, and boy were we wrong! Little to our expectations, there was lots of parking at a more than reasonable price! For the day it was €40, between the three of us, it was affordable.
We were starstruck at how stunning this place was, I'm aware that I have used that word to describe things on the trip a lot, but that really was the case. We strolled down towards the beach passing by countless stores, crowded lemon trees and amazing purple vegetation as far as the eye could see.
We picked up a delicious ice cream sandwich made freshly in front of us shortly after visiting the main church of Positano, so much flavour and culture all in one!
Of course, it would be rude not to try a pizza in such a prestigious Italian town, such as Positano! Once we finished our seemingly endless feast, we headed to the beach like true tourists…
It cost us €35 each to secure some of the best beach club seats in a prime location, which to be fair was worth it in my opinion as we were there 5+ hours! One thing I did dislike about the beach club is the fact that you still had to pay money each time you wanted to use the showers in the form of tokens.
To finish off our last day in the Amalfi Coast, we decided to go all out once we had left Positano and visited the famous cove just around the corner, the beauty we witnessed was outstanding and as for the group of people we met there, they were euphoric and so happy to be there – as were we!
After a lovely evening swim in the surprisingly warm water, we drove back to Sorrento for some final night fine dining! Pasta followed by seafood followed by pistachio cheesecake, wine and gelato. What more can a man ask for.
I can say thoroughly that this was one of the most enjoyable trips I have ever been on, the ancient towns, endless lemon groves, stunning views from the sea cliffs, food and drink to die for, it truly had it all!
Of course, there are always downsides to trips like this, but then again it is the same wherever you travel like if you lose your luggage or damage your hired vehicle which we were lucky to avoid this time around.
If you are looking to go on a similiar trip to what I did, I'd recommend spending around £2000 in order to actually experience everything this wonderful region has to offer, the tours here are very good and informative. Italians truly do take great pride in their culture and history so it's always great to hear them talk about it.
Disclosure: Some links in this article may be affiliate links, which can provide compensation to HandL Blogs at no cost to you if you decide to purchase through these links. These are products we have personally used and stand behind. This site is not intended to provide financial advice and is for entertainment only. You can read our affiliate disclosure in our privacy policy.
 Disclosure: Some links in this article may be affiliate links, which can provide compensation to HandL Blogs at no cost to you if you decide to purchase through these links. These are products we have personally used and stand behind. This site is not intended to provide financial advice and is for entertainment only. You can read our affiliate disclosure in our privacy policy.