4 Best AI Music Generators in 2023 [MuseNet, Aiva, Jukedeck & More]
Luke Iles – Uploaded 15.02.2023
Four Best AI Music Composers You Should Know About
It feels like we are living at the start of an artificial intelligence horror movie with the surge in the popularity of the use of AI recently. From talks of Google and Microsoft implementing their own AI generator tools to the craze of Chat GPT and the use of AI in digital marketing.
However, one of the most interesting and downright mind-blowing new artificial intelligence tools that people are talking about is AI music generators.
Gone are the days of searching for the exact song you need to fit that mood you are in or for a certain video you are creating. Instead, you can use one of these AI music generator tools and input the mood, genre, length and text and the AI music generator tool will create the studio quality music within seconds!
The 4 Best Text-to-Music AI Music Generators
These AI music-generating tools have only just begun to revolutionize the music industry with people using them to create anything from songs by your favourite artist that may have passed away or has stopped making music, all the way to DJs and musicians creating snippets and using them within their live sets and concerts. The possibilities are endless and it is about time you get on top of the trend and take your musical abilities to the next level.
We have searched the web and found four of our favourite AI music generators that you can mess about and have fun with or take a bit more seriously and use to help you develop music for a video you are creating or to use give you inspiration for a song you may be creating. The possibilities with AI music composer tools are endless and are only limited by your creativity.
So what is the best AI music generator? Well here is our list of some of our favourite AI music generators:
Aiva
MuseNet
Jukedeck
Ecrett Music
How Do AI Music Generators Work?
Now you may be thinking, how do AI generators actually work?
It can be quite mind-blowing that an AI music generator can learn how to master not only how to compose music but be able to produce a studio-level song within a matter of minutes just with the help of some inputs from a human.
If you put that into comparison with a human, it would take years to master production skills, all the different types of instrument learning plus having enough creativity to put it all together!
These AI music generators are something that will revolutionize the world's recorded music and we are only at the beginning of this stage.
Like any AI tool, the AI music generator relies on a huge amount of data that is stored within the artificial intelligence tools database. It then learns patterns from this data set and puts them into an output which would produce the result that the user has asked for.
In an AI music composer tools case, it has a huge library of different melodies, beats, instruments, chords, pitches and tones which are stored in its database and read by the algorithm. This algorithm will learn how to produce music based on the input suggested by the user by using all the data that it has stored within its database. This is how it creates a uniquely created song based on the exact input that the user has entered.
1. Aiva (Artificial Intelligence Virtual Artist)
Aiva is an AI music composer that allows users to generate their own music by first selecting a music preset such as a certain instrument, group of instruments or type of song. From here you can get in-depth and select parameters such as key, time signature, pacing and more. After that, the artificial intelligence software will begin to compose music and produce your desired song in a matter of seconds to minutes.
Once created you can listen to the audio and midi files or even view your creation in a piano roll setting. This piano roll setting allows you to view the composed music and even provides you with the ability to edit the track, wherever you see fit. You can edit the instrumentation, dynamics, tempo and more! Once you are happy you can download the MP3, audio and midi files in a zip archive.
It is worth noting that depending on your plan type, the number of downloads and the option to use the songs commercially may vary.
Provides a free music generator

Piano roll view

Easy to edit your AI-generated music

Produces a wide range of different genres of music that sound good
No video upload support

Free version is limited and songs can only be used in non-commercial cases with this plan

Premium plans can be pricey
First Tier – Free
Standard Tier – £11 per month
Pro Tier – £33 per month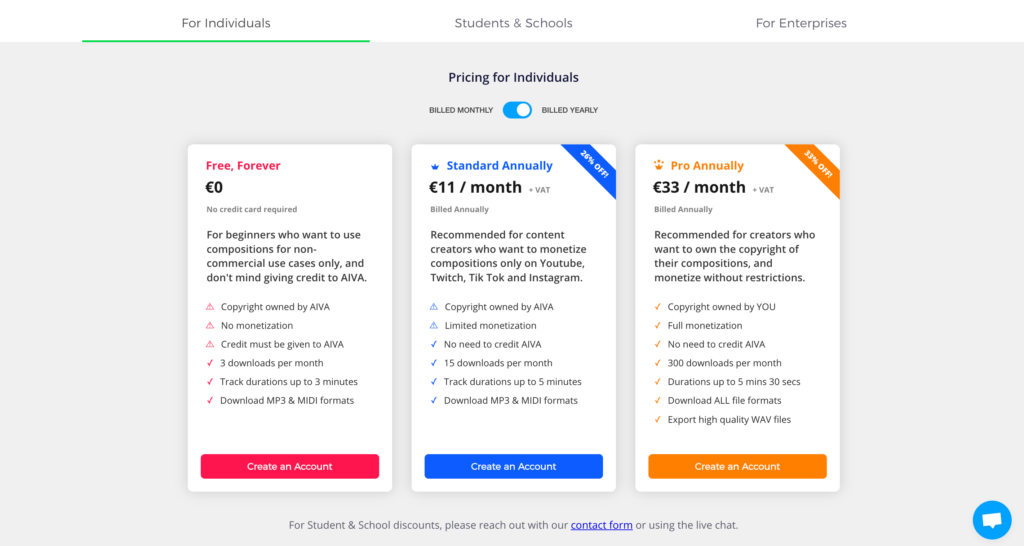 Avia is one of the best ai music generators currently on the market providing music production and songs with some of the best sounds. Not only this but the generator composes music that actually follows your inputs and ultimately sounds good as well. Not to mention the paid plans allow you to use the songs created by the music generator on commercial products and use them as your own music with no royalties attached. This is the ideal AI music generator for those who are happy to pay a premium in order to receive high-quality music that they can use in a commercial setting.
MuseNet is an AI music composer that was created by Open AI, the company that famously created Chat GPT. Muse Net offers users to create studio-quality music that is human-like in a matter of minutes.
In order to generate music using the AI composer you first must select the style and genre of the song that you want to create. MuseNet offers a selection of different styles such as pop, rock, classical, electronic and more. From here MuseNet requires you to have a bit of musical knowledge and an idea about music theory as it allows you to create a prompt using a sequence of notes or chord progressions. Don't worry, if you are a complete newbie to music or you lack creative skills, you can select one of Muse Net's many different prompts and chord progressions.
From here you can adjust certain parameters such as the tempo, music data, instrumentation and more. Next, you wait whilst the AI music creation begins. MuseNet downloads can take anywhere from a minute to around four minutes to download and once completed will provide you with MP3 files as well as midi files.
It is important to note that although MuseNet is currently only a free version of an AI music composer this means that the songs it produces are not royalty free. Therefore, it is important that you do not use these generated songs within a business setting.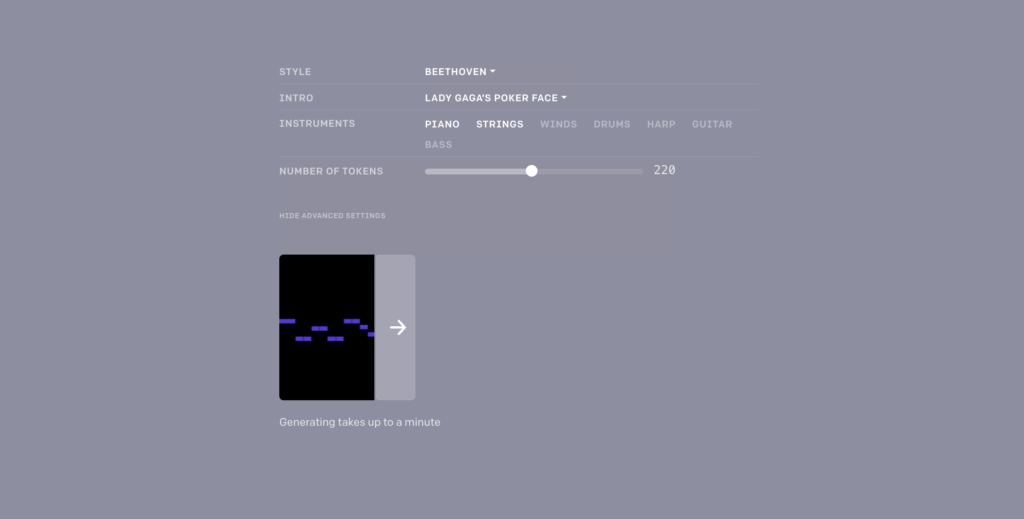 Easy-to-use interface to create songs within a few clicks

Allows you to generate music in a variety of styles and music genres

The AI-produced songs sound human-like and unique

Provides the option to add your own chord progression as a prompt

Free to use

Cost-effective for those who are looking to generate high quantities of AI-generated songs
Limited controls over the final product compared to other AI music composers

Restricted to its data set

Lacks human variation and control over the final product

It has a difficult time creating songs where conflicting instruments clash

Music is not royalty free
First Tier – Free
(No current pay-to-use plans available)
Although MuseNet is a free-to-use music generator it is important to remember that the songs that it produces are not royalty free and you cannot use them in any sort of business setting. The AI music composer is of good quality for a free version of an AI music composer. It has over 10 different styles to pick from and although some styles may conflict and not sound the best, other music compositions by the AI tool are of high quality and sound great. It is a tool that is worth playing around if you are a keen music enthusiast that wants to know what the future of AI music generation holds.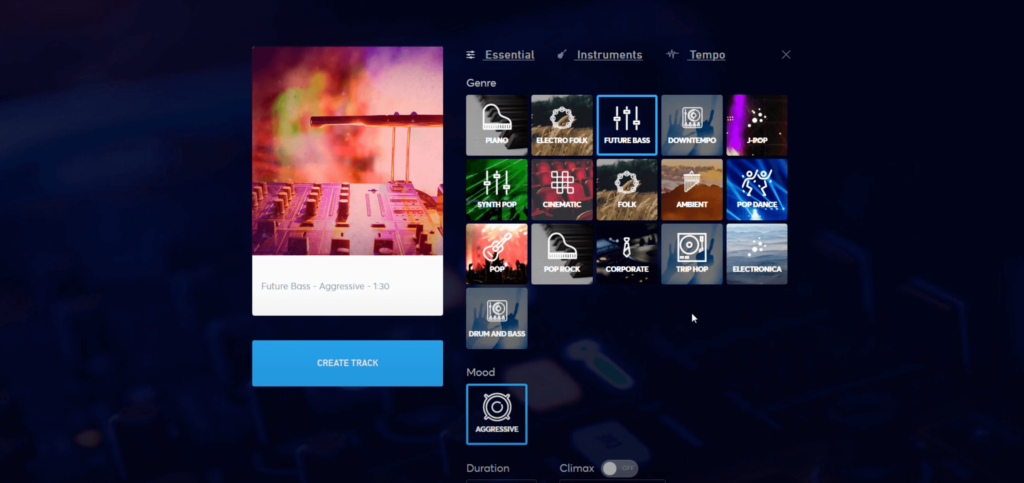 For music production, Jukedeck is one of the best artificially intelligent music composers available online. Within just a few clicks you can compose original music that sounds unbelievably great. Made by OpenAI which is the same company that made the famous text-to-AI image generator – Dall-E-2, now brings you an AI music composer tool that is revolutionary.
To create music using Jukedeck simply choose the music style and music genres you want to create, whether that is anything from a piano solo to a jump-up drum and bass track. Next, you select the type of mood of the song, from happy and energetic to dark and sad. Finally, you must select the duration of the song, however, it is important to note that the longer the duration of the song, the longer it will take to compose. An interesting feature that Jukedeck offers is the ability to pinpoint the climax of a song as well.
Once you have composed the music style and duration, you can then select the type of key, tempo, instruments and more. After the adjustments have been made you can begin to generate music. The creation time for your song can be anywhere between 3o seconds to around 5 minutes.
After the download has been completed you can edit your music using the on-platform music editor.
Free music generator for non-commercial use

It has recently been acquired by social media giant – TikTok

Many customisation options include adjusting pitch, tempo, instruments and more.

Provides the ability to select a climax period for the song
No premium plan so purchasing a batch of songs can be expensive

Currently awaiting a new version of Jukedeck after TikTok purchased the AI music tool
Non-Commercial Use – Free
Commercial Use – $0.99 per royalty-free song
Jukedeck is a great AI music composition tool that can help you produce free non-commercial songs within a matter of minutes. It produces quality-sounding music with an easy-to-use interface and lots of options to edit the song to your preferences. It is a great tool for anyone looking for free-to-use AI music-generating software that is easy to use and produces high-quality sounding music. One of the best features of Jukedeck is the ability to choose a climax period on the song, giving you more freedom and customization over your music production.
If you are in search of creating music, Ecrett Music is one of the best AI music-generating platforms on the internet. It lets you create a scene in which the music will then replicate the mood that you have created. Essentially the AI music composer will create the music based on the scene you create and the mood that you set within this scene
Firstly to create music you must press the "create music" button and then select at least one genre, scene or mood that you want your music to reflect. This could be anything from a scene such as travel or nightlife to a happy or chill mood to genres such as tropical house or hip hop. Ecrett music promises that even if you select the same scene twice, it will produce a completely new and original song. Once you have confirmed your choices the song will be created within a matter of minutes.
From here, Ecrett music prides itself on being an all-inclusive AI music generator by providing customization tools that allow you to edit the instruments, melody, backing bass, drums, song structure and more with just a few simple clicks.
Finally, you can download and manage your music within the easy-to-use music management category where you can download songs, add your best creation to a favourite list and so much more.
An easy-to-use interface and customizable options that anyone can edit

Can use and download your songs for free

The ability to create songs based on a scene is ideal for video soundtracks

The paid plans allow you to use music for monetization on YouTube
Pricing can be expensive

You are not able to edit soundtracks

Lacks creativity and songs can sometimes sound repetitive
First Tier – Free
Individual Tier – $4.99 per month
Business Tier – $14.99 per month
Overall Ecrett Music is a great AI music generator that is not only incredibly easy to use for those that have never came across music theory and playing an instrument before but it also has a great layout that makes it smooth and easy to understand. It is. a great tool for anyone who is looking to add a soundtrack to their promotional videos and would prefer a royalty-free soundtrack that matches the vibe they are looking for.
We rate Ecrett Music an 8.5/10.
Although it is fair to say that this is only the start of AI-generated music, the current platforms that are available on the market are nothing short of extraordinary. If you could imagine going back ten or twenty years ago and telling people that there would be real human-sounding music produced by AI that not only sounds great but can also be generated within seconds to the exact mood and genre you want to achieve; people would be laughing at you.
However, in 2023, AI music composers are no joke and although they are only just getting started, AI music generators are the ideal tool for anyone who is in need of a soundtrack that needs to match a certain theme. They are perfect for companies that regularly create videos and want a particular sound to match the vibe of the video. With AI music generators not only can you design the music to fit the theme of the video but you can also get this generated within minutes and it will be royalty-free and available to use commercially as well.
AI music generators are the perfect choice for those who don't want to contact a professional music composer to create a song that matches the tone of the video that they are creating because not only will that take months but it will also cost you a lot more money than what a simple AI music generator would!
Discover More AI & Technology Blogs Today
Disclosure: Some links in this article may be affiliate links, which can provide compensation to HandL Blogs at no cost to you if you decide to purchase through these links. These are products we have personally used and stand behind. This site is not intended to provide financial advice and is for entertainment only. You can read our affiliate disclosure in our privacy policy.
 Disclosure: Some links in this article may be affiliate links, which can provide compensation to HandL Blogs at no cost to you if you decide to purchase through these links. These are products we have personally used and stand behind. This site is not intended to provide financial advice and is for entertainment only. You can read our affiliate disclosure in our privacy policy.