Top 5 Best AI Art Generator Tools On The Internet In 2023! [Create amazing art quickly]
Harry Jeffery – Uploaded 26.12.2022
AI art generator tools have seen massive growth in popularity recently with trends blowing up where people generate images that look aesthetically pleasing, or funny, on mobile apps such as Tiktok, Instagram & Twitter.
Often, we see a lot of people scared of AI technology and its capabilities, and, mainly, Hollywood movies are to blame for this, with their best-selling storyline of AI taking over the world. When in reality, we feel that the development of this incredible tool will take the human race to heights we have never seen before.
Despite AI tools being in their early days, in the past year or so, AI text-to-art generators have seen a drastic rise in popularity. Allowing those who may not have been able to create art previously, to generate images online within minutes after putting the command into the AI generator.
What is an AI image generator?
To put it simply, the software is trained to memorize millions to billions of reference images from thousands of art styles. It then studies the words you enter, or a selfie you submit to the AI generator and comes up with its own image creation.
Some of the following ai tools use software known as stable diffusion, which basically splits up the run-time 'image creation' process into a 'diffusion' process which starts with noise.
It then works on improving the quality of the image until there is little to no noise left and the result is left more accurate to the description of the presented text.
Custom image generators that require nothing but a line of text, we really are living in the future huh…
Our top 5 favourite AI image generators:
StableCog

NightCafe
DALL e 2
DeepAI
ArtBreeder
Something we should mention about image generation using AI...
Although these creations may seem boundless and have endless possibilities, and although they may seem like realistic images, it is completely computer generated.
We mustn't take away credit from artists in real life because of this astronomical, technological breakthrough that allows the average person to create artwork of the same standard.
Now, onto the first AI image generator we have picked…
The AI tools Key features:
Incredibly fast, responsive website

, with an easy navigation system

It's free

, with only a few key steps till the finished AI-generated images

Uses Stable Diffusion

, which is the software that AI art generators use to create art
Stablecog is a relatively new website, as a matter of fact, so is the whole of text-to-art AI. It has a clean, sleek design with all the image options you could ever need when you want to generate art.
It has the ability to create art from scratch based on a few words entered on the main word bar on its website page.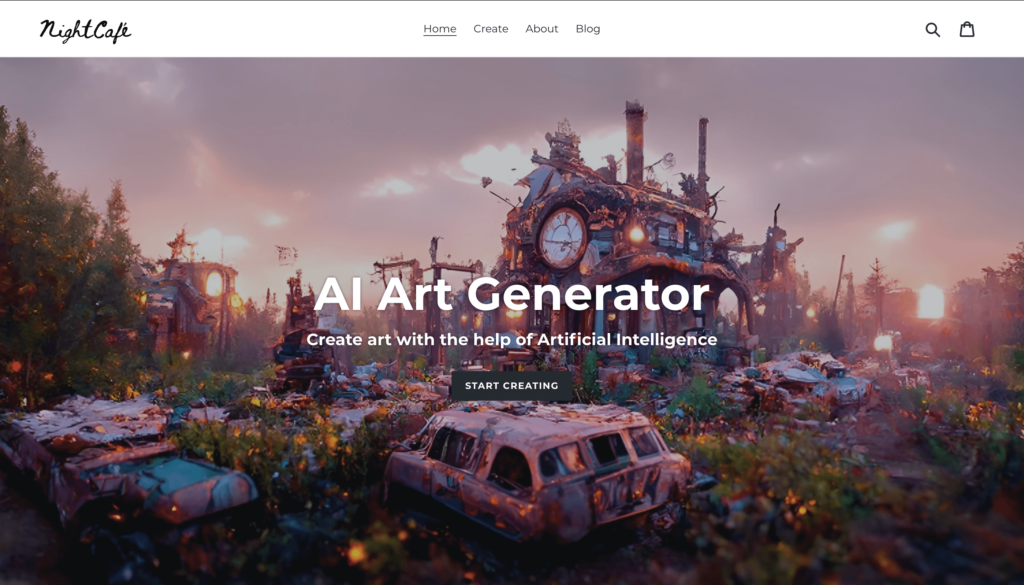 The AI art generators' key features:
Allows image generation using Stable diffusion

, DALL e 2, Coherent, Artistic and more!

Lets you generate images

and actually own them…

Allows you to buy a printout of your AI art, if you want to.
NightCafe is by far one of the most engaging and fun art generators to hit the market in recent years, having its own online community where you can earn points by interacting.
As well as this, anytime you generate art, you can organise your creations into collections and even bulk download them!
Apart from being an overall super-inclusive AI art generator tool, it has a clean, super-creative design.
Who knows, maybe you love the AI images you make so much that you decide to include them when creating nft art!
Key features of DALL e 2:
Known for having a trendy and modern

website with an easy-to-use interface.

Lets you

customise multiple layers

of your digital art.

Creates

high-quality images

in a matter of minutes.
From just a ten-second scroll through the DALL e 2 website, you can see how artsy the creators of this AI art platform are…
It offers features including a brush, which allows the user to customise their AI image by adding in shadow and highlights. It is also very user-friendly as on the home page the website takes you through its multiple features and best art styles.
DeepAI image and AI art generation:
A free ai text to image tool

, which is very clear and straightforward to use.

Lets you create cartoons

, with CartoonGAN.

Equipped with various tools, generating images of an insanely detailed description.
After being created with the aim of democratising AI, and showing people that doesn't have to be as scary and mean as the films make it seem.
Founded in 2016, introducing their open-sourced software to the world was amazing, in the fact that, it allowed people to create random, customised images using a text-to-art generator.
One of its best digital art key features, CartoonGAN, is a super popular image-to-cartoon converter that has super realistic outcomes…
Key features and art styles:
Range of image generators

, with different painting styles and filters.

A

unique

and very

creatively designed

website.

Includes an image quality enhancer

, as well as JPEG and PNG formats.
Artbreeder, is by far one of the most community-driven websites with many cool features for people to try out for free including converting your images into landscapes, portraits and even anime figures…
What the tool is most known for is the different variations it produces based on images you provide it with, through the use of machine learning models.
The majorly exciting thing here is AI image creation is in its early days, and already producing stunning images, out-of-this-world art and even trippy videos as well!
We cannot wait to see where the future takes these incredibly flexible and enjoyable AI art tools, but in the mean time have fun with the current free AI art generators out there.
Discover More Travel Blogs
Disclosure: Some links in this article may be affiliate links, which can provide compensation to HandL Blogs at no cost to you if you decide to purchase through these links. These are products we have personally used and stand behind. This site is not intended to provide financial advice and is for entertainment only. You can read our affiliate disclosure in our privacy policy.
 Disclosure: Some links in this article may be affiliate links, which can provide compensation to HandL Blogs at no cost to you if you decide to purchase through these links. These are products we have personally used and stand behind. This site is not intended to provide financial advice and is for entertainment only. You can read our affiliate disclosure in our privacy policy.