5 Best AI Apps You Need To Use | Guaranteed To Change Your Life
Luke Iles – Uploaded 09.03.2023
Why are Artificial Intelligence apps needed in 2023?
Artificial intelligence is a phrase which is getting thrown about all the time in 2023 but why has there been such a mad craze about AI recently and why do you need to care?
Well, much like anything as time passes, things change and when it comes to technology, the more time passes, the more technology improves. So much so that AI has become something we rely on every day even if we do not realise it.
Whether you have heard about all the noise surrounding new AI tools such as text-to-art AI generators or AI music generators, it is fair to say that AI is going to have a big impact on all different domains of our lives even if we have not realised it yet.
Now is only the start and with the increase in the use of mobile phones and in particular apps on phones within the past 10 – 15 years, much like anything in this generation, AI tools are now moving wirelessly and can be accessed in the palm of your hand through your phone or tablet.
However, when it comes to the best AI apps on your phone, what are the useful AI apps that you should use every day and what are the ones that you should consider downloading to help improve your life and change it for the better?
That's right, this top 5 list of the best AI applications you should download today is guaranteed to change your life in one aspect or another whether that is improving your speed at work or making you more productive at home. These 5 best AI apps will change your life forever!
Checkout these best AI apps to try in 2023 that will change your life
Elsa Speak – English Language Speech Assistant
Siri – Private Digital Assitant
Amazon Alexa – Customized Smart Solution
Google Assistant
Youper – AI Mental Health Support
1. Elsa Speak - English Language Speech Assistant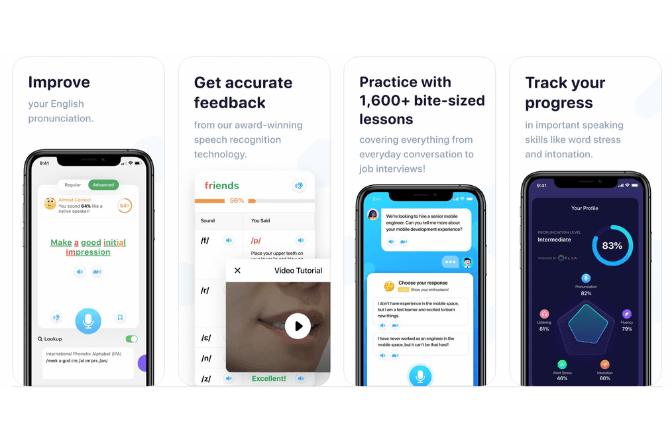 Elsa Speak is one of the best AI natural language-learning apps on the market. The AI app was developed by Apple and is one of the best apps for non-native English speakers to enable users to develop their natural language learning abilities like never before.
It uses a database of voice data of people speaking English in different accents and allows the AI app to recognise speech patterns of non-native English speakers and deliver language pronunciation lessons.
Variety of language learning exercises with over 1600 exercises covering 40 topics.

Voice dictionary feature will check your pronunciation and understanding of a word.

AI-powered assessment of pronunciation, fluency and intonation.
One of the best ways to improve your English language learning skills, it has revolutionized the way we can learn languages just by using a mobile application.

Provides instant feedback on your pronunciation.

Straight-forward lessons.

Easy to use on mobile or tablet.
The free version of ELSA does not provide all the courses and limits your access to features such as the dictionary feature.

Some of the AI app's language pronunciation feedback is incorrect or is too vague.

The app lacks excitement or motivation and is not good for learners that thrive off interactive learning techniques.
Basic Version – 7-Day Free Trial
Pro Version – $6.99/year
The AI app is available on various platforms: mobile, tablet and desktop on IOS and Android devices.
We rate Elsa AI language learning app an 8/10.
2. Siri - Private Digital Assitant
You may not have known that you have been using an AI app for a number of years now with Apple's inbuilt private digital personal assistant – Siri. If you own an iPhone, iPad or Mac or any sort of Apple device you have more than likely came into contact with Apple's AI voice assistant on more than one occasion.
Siri helps users automate tasks, and provide visual explanations and information at the command of a voice or with just a click of a button. As it is an AI app it uses machine learning and deep learning, to identify your own tendencies and typical patterns to be even more customised to your wants and needs.
Use Siri to respond to questions using voice prompts.

You can use Siri in correlation to other apps such as Home Connect, phone calls, text messages and maps.

Use Siri to control your home appliances such as lights and heating via voice with Home Connect.
Has a huge selection of functions, modes and uses.

Is compatible with a lot of different iPhone apps.

Can be used across all Apple devices.

It is very user-friendly and easy to use.
Has problems understanding your voice.

Often gets confused with different topics.

Can often appear when it is not needed to.

Displays incorrect information.
Siri is free to use and comes along with every Apple product. The only cost Siri may charge is data use from your carrier to access the internet.
Siri is the voice assistant installed on every Apple iPhone, iPad and Mac device that was built later than the iPhone 4s.
3. Amazon Alexa - Customized Smart Solution
The Amazon Alexa app is an AI app which allows you to connect the famous Amazon Alexa artificial intelligence voice assistant to not only your Amazon Echo device but any type of speaker, headphone or even Smart Home devices.
This AI app provides you with the ability to access this AI voice assistant from anywhere on any compatible device meaning you can stream music, get answers quickly or even control your home appliances all from this artificial intelligence app.
Responds to voice prompts providing information from the internet and internal database.

Can stream music, podcasts and radio stations.

Smart Home allows you to control your household appliances such as lighting via Alexa.

Can shop online with Alexa.

You can set reminders and alarms using Alexa.
Very easy to use via voice command.

Easy to set reminders and alarms so you don't forget things.

Alexa allows you to shop online with ease.
Can be slow to respond to voice commands.

Can stop responding to your voice for no reason.

Often mishears your commands which can be frustrating.

Connection to the internet can drop out frequently.
The Alexa app is free to use and can even be connected to a smart speaker that is not necessarily an Amazon Alexa device.
You can download the Amazon Alexa app on IOS and Android devices including phones and tablets. The Amazon Alexa app is not available to use on Windows PCs.
We rate the Amazon Alexa app a 9/10.
Google Assistant is a voice ai assistant and ai powered app that uses natural language processing and speech recognition to respond to various text and speech recognition commands. You can ask the Google Assistant voice commands and questions or make phone calls quickly without a touch of a button.
The artificial intelligence app is built by Google and is featured on all their own products, it also works in coordination with the Google Echo Dot which is a smart speaker that was designed by Google however the artificial intelligence app can just be used as a simple AI-powered application on your mobile or tablet device as well.
Can respond to voice commands and questions.

Can make phone calls and send messages.

Can set alarms and timers.

Can listen and play music.
Allows you to open applications quickly.

It can give relevant and valid suggestions and recommendations.

Can find information really quickly.

You can book services through it using voice commands.
It can be slow to respond.

Has issues in recognising your voice.

Sometimes does not understand the voice command.
The Google Assistant app is free to download and use. It is often pre-installed on many Android and Google devices.
The Google Assistant is available to download on IOS devices and Android devices. It can be downloaded on phones, tablets and some laptops and desktops.
We rate Google Assistant an 8/10.
5. Youper - AI Mental Health Support
Youper is a unique type of artificial intelligence app and is one of the only AI mental health support apps on the market. It is an AI chatbot that is designed to enable users to help identify, track and analyse their thoughts and feelings if they are struggling with mental health issues such as depression or anxiety.
The AI-powered app is a conversational bot that will listen and interact with the user to develop a self-understanding of that particular user. It will then use this information to provide relevant and suited guided therapy exercises to that particular user and identifies what type of mood they are in at that current time. The AI app attempts to intervene and challenge the user's mood when it recognises the user to be in some sort of emotionally challenged state.
Provides guided therapy exercises.

Helps to capture and improve your mood using AI-powered technology.

The AI-powered application analyzes your thoughts and feelings to provide the best course of action.

Helps you monitor symptoms and identify mood patterns using AI technologies.
The AI chatbot within the AI app is a great guide in CBT activities.

The AI chatbot is useful in suggesting different meditation and breathwork techniques to suit your own personal mental health needs.

The app is easy to use and understand.

Therapists and behaviour coaches help to create individual treatment plans to help manage your mental health issues.
The app can be buggy and cause issues.

Can be hard to get in contact with a real-life therapist.

The premium subscription can be expensive.
Youper is free to download however the premium plans cost $12.99 per month or $94.99 per year.
The artificial intelligence app is available to download on IOS and android and is available on mobile and tablet.
We rate Youper AI a 7/10.
Overall, it is fair to say that self-learning AI applications are on the rise with more and more people opting to use AI apps in the case of speeding up or automating a service. The future is looking bright for artificial intelligence apps and AI technology and it seems as if we are only experiencing the very beginnings of something that is bound to shape the world into a new place and take us to heights we have never seen before. Whether that is with breathtaking applications such as Chat GPT or any of the best AI apps that we have mentioned throughout this blog. It is more than worth checking them out and we promise by downloading at least one of these AI apps and using them will change your life in one way or the other. That may be in an impactful way or even just a small minor tweak that makes a small problem or task you face in everyday life that little bit easier when you come across it but it can all be put down to one of these AI apps.
Discover More Travel Blogs
Disclosure: Some links in this article may be affiliate links, which can provide compensation to HandL Blogs at no cost to you if you decide to purchase through these links. These are products we have personally used and stand behind. This site is not intended to provide financial advice and is for entertainment only. You can read our affiliate disclosure in our privacy policy.
 Disclosure: Some links in this article may be affiliate links, which can provide compensation to HandL Blogs at no cost to you if you decide to purchase through these links. These are products we have personally used and stand behind. This site is not intended to provide financial advice and is for entertainment only. You can read our affiliate disclosure in our privacy policy.