Worst Time to Visit Dubai [Don't Travel To Dubai On These Dates]
Luke Iles – Uploaded 22.10.2023
What is the worst time to visit Dubai?
The worst time to visit Dubai is during the summertime from June to August when temperatures can rise up to 40 degrees Celcius. In my opinion, the best time to visit Dubai is from October to April when temperatures are much cooler around 20 – 30 degrees Celcius and outdoor tourist activities are more likely to be open in the daytime.
Visit Dubai during autumn, winter or spring for mild weather and fewer crowds.

Summertime is the worst time to visit Dubai with extreme heat and potential attraction closures.

Get great discounts on hotels and flights between September to November when temperatures are cooler.

December is usually the busiest month and peak season in Dubai, so plan ahead if visiting then!
Dubai's Summer Heat: The Worst Time for Outdoor Activities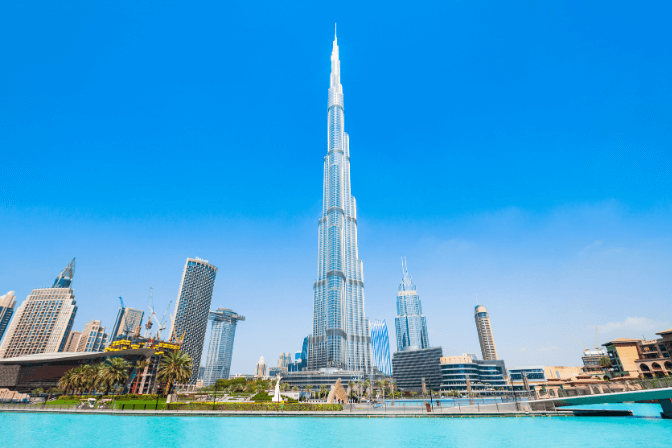 If you're planning a trip to Dubai, it is best to avoid the scorching summer months from June through to August. During this time period, temperatures can soar up to over 40°C (104°F), accompanied by an increase in humidity levels which makes it feel even hotter.
Such tremendous heat could have potentially dangerous effects on your health and hamper outdoor activities such as sightseeing tours, theme park visits, beach experiences or water park trips.
To get the most out of your stay in Dubai without enduring extreme temperatures and weather conditions like those mentioned above. Plan for visiting between October and April when temperatures are much more pleasant allowing you to fully enjoy your stay and not be at risk of the high temperatures and humid heat.
I found when visiting during the winter months, Dubai was a lot more enjoyable and you did not have to plan activities around avoiding the hottest points in the day. Although prices of flights and hotels may be more expensive and places are more busier it is worth the compromise for the enjoyability of your trip.
Health Risks: Heat Exhaustion and Heatstroke
As the extreme heat during the summer months in Dubai is a major health risk, it is important to take precautionary measures. Symptoms of heat exhaustion can include dizziness, nausea, heavy sweating and muscle cramps as well as higher body temperature which may lead to confusion or even seizures if not prevented, known more commonly as heatstroke.
This is an issue that we had to plan around when we visited Dubai during our visit in August, therefore we could not enjoy our trip to the fullest compared to when we visited in a better month such as December a few years later.
To protect yourself from this health risk, if you do decide to visit during the summer months, try to avoid strenuous activities during peak times and consider wearing sensible clothing choices such as light-coloured garments that are loose fitting while being conscious about hydrating regularly too. As an alternative for outdoor activities when necessary be sure to plan plenty of indoor activities and allow regular breaks preferably in air-conditioned spaces throughout your day where possible.
Fortunately, Dubai is well equipped for these issues and as a tourist, we found there are plenty of tourist attractions and activities to take part in that are well-air-conditioned and will keep you protected from the sun. Some of the most popular tourist destinations include the indoor ski resort, the Dubai Mall, the Burj Al Arab and the Dubai Underwater Aquarium and Underwater Zoo.
Limited Hours for Attractions
One thing to note if you plan to visit Dubai is that during the summer months, many popular tourist destinations and attractions operate on reduced hours or close altogether due to the high temperatures experienced during the day.
For example, outdoor theme parks and waterparks have limited access while desert safaris are closed completely.
This makes the summer months the worst time to visit Dubai because these closures can diminish your overall experience with everything being unavailable or having operating hours cut short significantly. This makes the summer season by far the worst time to visit Dubai if you are hoping to visit outdoor tourist attractions and enjoy your trip when you are visiting Dubai.
Benefits of Visiting Dubai During the Hot Months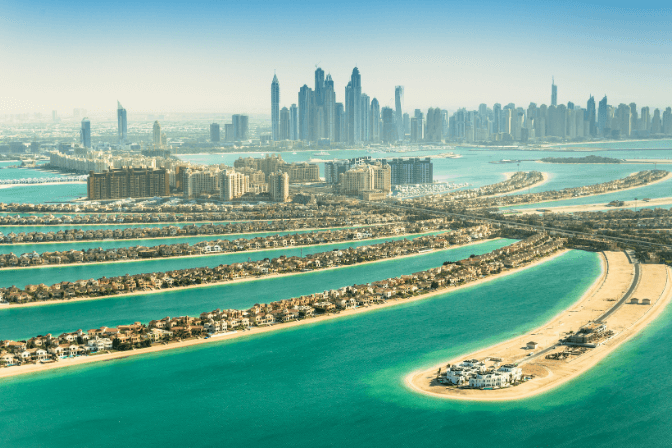 Although visiting in the summer may be one of the worst times to visit Dubai, visiting during this time does offer some advantages that are worth taking into account. Tourists can take advantage of reduced prices on flights and hotels, as well as many indoor attractions such as shopping malls and indoor activities which provide ways to escape from the hot weather. These incentives definitely merit a closer look when considering travelling to this city during these hotter days.
Hotel Discounts and Flight Deals
During Dubai's hot summer, you can find competitive hotel rates and discounted flights with websites such as lastminute.com, skyscanner.net or travelrepublic.co.uk. On premierinn.com you will also discover an appealing monthly stay offer which comes with a host of benefits like complimentary breakfast in the room along with huge discounts on dining and laundry services for guests.
We found when visiting that the best way to get exclusive offers is to just go to the visitdubai website directly which is dedicated exclusively to offering cheap deals that are only available in the summertime!
Indoor Attractions and Activities
Although the summer may be the worst time to visit Dubai, the city has many indoor activities and attractions that will keep visitors entertained. You can head over to luxurious, world-class shopping malls such as The Dubai Mall or Mall of the Emirates in air-conditioned comfort, then cool off at Ski Dubai! IMG Worlds of Adventure is another great spot with entertainment suited for all ages.
Don't miss out on this wonderful experience even during hot weather – with these venues available indoors, no one needs to feel deprived of fun while visiting. With a wide range of indoor activities available in Dubai, it is one of the best destinations to visit even if you can't head outside because it is too hot.
Ramadan's Impact on Your Dubai Trip
When you are planning a trip to the Middle East, particularly Dubai, it is important to take into account the Islamic holy month of Ramadan. Throughout this period Muslims observe fasting from sunrise till sunset and publicly consuming food or beverages plus smoking is prohibited during daytime hours.
While some adjustments may need to be made during your vacation, we found visiting during this time as a tourist there are many exceptions made for you with places such as the hotels and mall restaurants still remaining open as usual.
The Best Times to Visit Dubai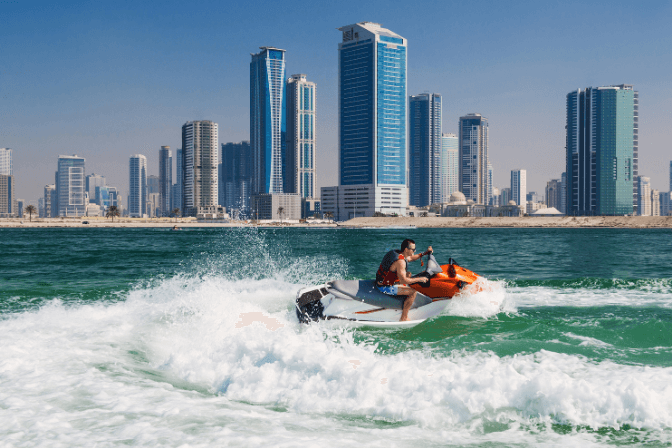 If you want to avoid the worst time to visit Dubai then there are plenty of alternative times to visit that provide a more enjoyable and pleasant trip for your next holiday.
In my opinion, one of the best times to visit Dubai is during the winter months which offer a cooler climate alongside exciting festivals. Alternatively, springtime provides cheaper travel opportunities in milder temperatures and good weather. To gain an understanding of what these different periods have to offer it is worthwhile digging into their individual benefits further.
For instance, winter promises pleasant weather for visitors as well as festivities such as Diwali or National Day Celebrations which only come around at this time each year. Meanwhile, in Spring, you can take advantage of budget-friendly trips whilst being able to avoid the extreme summer heat.
Autumn and Winter: Pleasant Weather and Festivals
When planning a trip to Dubai during the autumn and wintertime (from October until February), you can expect lovely weather with temperatures ranging from 20-30°C (68-86°F) alongside lower levels of humidity.
Not only is it an excellent opportunity for outdoor entertainment but you can take advantage of several events such as the Dubai Shopping Festival, Winter Festival at Souk Madinat Jumeirah and the International Film & Jazz Festivals. The period between October and April means avoiding extreme heat while still experiencing everything that this amazing city has to offer!
Spring: Budget-Friendly Travel and Mild Climate
If you are looking for a time to visit Dubai that is both budget-friendly and comfortable, then spring (March through May) is the best choice. Hotel prices during this period tend to be lower than in autumn months, making it ideal if saving money and travelling on a budget is your goal. The temperatures at this time of year are not as burdensome as those seen in summertime meaning outdoor activities and city attractions can still be enjoyed comfortably with minimal closures.
When to Visit Dubai: Month-by-Month Analysis
When it comes to deciding when you want to visit Dubai and to help you avoid the worst time of visiting, there are many factors that need to be considered. Weather conditions, levels of crowds and events happening all play a role in providing an insight into what you can expect during your stay in this lively city.
In January, Dubai boasts a comfortable temperature of about 20 degrees Celsius (67 Fahrenheit) so outdoor fun like skydiving, ziplining and hot air balloon rides can be enjoyed. With fewer holidaymakers around this month is an ideal time to explore the city's attractions, without it feeling crowded or rushed.
February offers balmy weather and also an influx of tourists. The temperatures are usually warm at 25 degrees Celsius with some rainfall giving a chance to experience water-based activities on local beaches.
Visitors should plan for raised hotel prices during March in Dubai since there is a huge influx of tourists due to the pleasant beach weather with temperatures reaching around 28 degrees Celsius (82 Fahrenheit).
April is the start of summer in Dubai, with rising temperatures and a surge of visitors due to Easter. Outdoor pursuits can become more difficult to manage because of the heat but there are plenty of indoor activities that can provide relief from it all.
Shopping malls around town present a variety of entertainment options for tourists wanting an alternative activity. They offer something different compared with other outdoor leisurely experiences.
One of the worst times to visit Dubai is during May with its scorching heat and temperatures hitting the upper 30s. Outdoor activities can become unbearable in Dubai during May and it can be an unpleasant experience during the day.
Nonetheless, you can still enjoy visiting some of the city's most iconic attractions such as the Burj Khalifa, The Dubai Mall and Burj Al Arab which are all suitable for indoor exploration. Don't forget to check out places like Al Fahidi Historic Neighborhood & Dubai Museum plus the spectacularly designed art piece, Dubai Frame!
The sweltering heat of June in Dubai, with temperatures reaching into the high-30s and scarce rainfall, makes it the worst time to visit Dubai. Despite this if you are looking for a more affordable trip there are still plenty of indoor activities to experience from Ski Dubai Snow Park or the Dubai Mall.
Due to intense temperatures during the month of July, many outdoor activities are closed in Dubai. That being said, tourists can benefit from some great discounts on flights and hotel bookings while visiting at this time as well. Much of its most popular tourist destinations and spots tend to be empty due to weather conditions being too hot for comfort outside or in open-air areas making it the worst time to visit Dubai during july.
However, you can still enjoy all the attractions available indoors though like shopping malls or restaurants where air conditioning makes it more bearable. By visiting Dubai in July you can make good use of low flight rates before they start increasing once again by August!
During the intolerable heat of August in Dubai, hotel prices are typically lowered and outdoor activities should be avoided. Despite this, people visiting can still take part in numerous indoor attractions such as ICY Dubai's themed music nights or desert safaris at night for a change of pace. You can also visit attractions such as the Glow Garden when exploring around the Marina area.
Although it may not replace your normal summer vacation spot entirely, there is still plenty to do inside while keeping cool under these conditions and enjoying discounted rates on accommodation.
September is an ideal month to visit Dubai and take part in water activities thanks to its pleasant weather. The city offers attractions like Ski Dubai, the grand Burj Khalifa Tower, Desert Safari tours as well as a trip to the world-famous Mall of Emirates with the mesmerizing Fountain Show at its courtyard and Atlantis Aquaventure Waterpark for some fun by the beach.
Dubai is a perfect destination to visit in October, with pleasant weather conditions for outdoor activities and beach visits. Temperatures during this time of the year usually reach around mid-30s Celsius degrees but you should be aware that hotel rates may still remain high due to the number of visitors. It's a great choice as there are fewer tourists during October than at other times throughout the year!
November in Dubai offers a lovely climate and the beginning of peak tourist season which usually results in higher accommodation prices. Visitors can still take advantage of a variety of activities, such as Jumeirah Beach, Wild Wadi Water Park, Global Village experience, Desert Conservation Reserve visits or appreciating nature's beauty at the Miracle Garden. There is plenty to do in Dubai during November and is one of the best times to visit in my opinion.
In December, Dubai enjoys delightful weather with temperatures ranging from low to mid-20s. Nighttime brings a chill in the air so people usually require light jackets when venturing out. December is the peak tourist season of the year in Dubai meaning hotel rates tend to be pricier than usual.
Temperature Trends in Dubai (1991-2020)
The graph depicts Dubai's monthly temperature trends, showcasing the minimum, mean, and maximum temperatures for each month of the year.
Hottest Month: August with an average of 36.7°C.
Coolest Month: January with an average of 19.9°C.
Highest Recorded Temperature: 41.8°C in August.
Lowest Recorded Temperature: 15.5°C in January.
January is the coolest month with a mean temperature of 19.9°C, offering pleasant weather for tourists.
August is the hottest month with an average temperature of 36.7°C, which might be too warm for many visitors.
Average Monthly Precipitation in Dubai (1991-2020)
This bar chart visualizes the average monthly precipitation in Dubai, highlighting the limited rainfall the city receives.
Wettest Month:

February with 25mm of rainfall.

Driest Months:

May to September with virtually no rainfall.

Total Annual Precipitation:

95mm spread across 25 days of the year.
May to September are the driest months with virtually no rainfall, ensuring outdoor activities won't be hindered by rain.
February, being the wettest month with 25mm of rainfall, has a higher likelihood of rainy days which can disrupt plans.
Average Daily Sunshine Hours in Dubai (1991-2020)
The chart illustrates the abundant sunshine Dubai enjoys, showcasing the average daily sunshine hours for each month.
Sunniest Months: May and June with 11.5 hours of sunshine per day.
Least Sunny Months: January, February, March, and December with around 8 hours of sunshine per day.
Average Annual Sunshine: More than 3,500 hours.
May and June both have the highest sunshine hours with 11.5 hours/day, offering ample daylight for sightseeing and other activities.
January, February, March, and December have the least sunshine hours with around 8 hours/day.
Average Sea Temperature in Dubai (1991-2020)
This line graph depicts the warmth of the sea in Dubai throughout the year, making it a haven for beachgoers.
Warmest Sea Temperature: 32.5°C observed in July and August.
Coolest Sea Temperature: 22.5°C in February.
Yearly Average Sea Temperature: Approximately 28.1°C.
July and August, with sea temperatures around 32.5°C, offer the warmest waters for beachgoers and those interested in water activities.
February has the coolest sea temperature at 22.5°C, which might be slightly chilly for some swimmers.
Methodology and Data Collection
The data visualized in the graphs represent the historical weather trends of Dubai over a 30-year period from 1991 to 2020. Various climatic variables, including temperature, precipitation, sunshine hours, and sea temperature, are showcased. These figures are averages derived from decades of observations, ensuring they present a dependable representation of the typical meteorological conditions one can anticipate in Dubai throughout the calendar year.
The process of gathering the data was meticulous, sourcing historical weather information from esteemed meteorological databases. These databases amass data from multiple weather observatories located in and around Dubai. The figures presented are monthly averages, which are the result of daily recordings collated over numerous years. Such an extensive dataset offers a comprehensive and realistic portrayal of Dubai's climate, enabling residents and visitors alike to have accurate expectations and plan accordingly.
Frequently Asked Questions
Are you planning to visit Dubai and wondering what tips can make the most out of your trip? Here are some frequently asked questions about visiting this Emirati city that might help:
Which month is not good for visiting Dubai?
In my opinion, the worst time to visit Dubai is during June, July and August is not recommended since the temperature rises drastically up to almost 40 degrees Celsius.
What is the cheapest time to visit Dubai?
Travelling to Dubai during the months of September, October and November is an economical option. These months usually have great discounts on flights and accommodation compared with summertime, providing a more cost-effective trip for your travel budget.
What is the most expensive month to go to Dubai?
During the half terms of February, May and October, demand for holidays to Dubai is at its peak. This means that these months are more expensive compared to other times of the year. You can still find some great deals during those periods if you look hard enough although if you want to save money, avoid booking your trip to Dubai during the peak season.
How hot does it get in Dubai during the summer months?
During the summer months, with a humidity level that can feel oppressive, Dubai endures sweltering temperatures up to 104°F (40°C). The heat is almost unbearable at this time of year and if you are looking for a more suitable time to visit Dubai avoid visiting during the summer months.
How does Ramadan affect a trip to Dubai?
If you are visiting Dubai during Ramadan, there is a range of activities and events to enjoy. Although most eateries close in the daytime, restaurants located within hotels and malls stay open. Thus giving you plenty of chances for dining out at any time while experiencing this unique period in Dubai.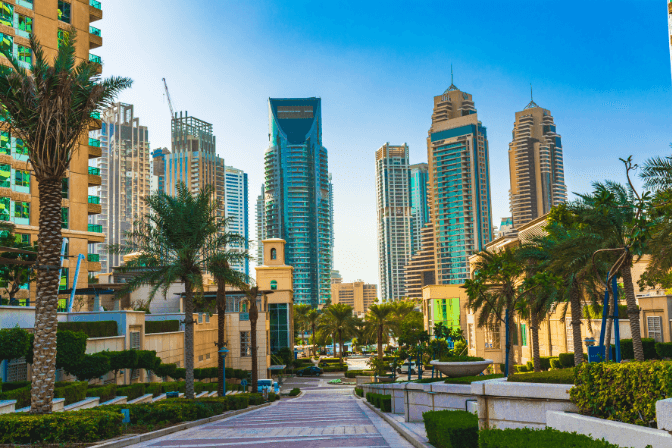 Visiting Dubai is an incredible experience suitable for all types of travellers. As someone who has visited Dubai during plenty of different seasons throughout the years, it is a city like no other offering a remarkable blend of incredible architecture and nature.
That being said in my opinion, the worst time to visit Dubai is during the peak season and summer months due to its high temperatures. It is best to avoid times from June to August when temperatures are incredibly hot and attractions may be closed.
Instead alternative times like autumn, winter or spring offer much more pleasant weather conditions as well as fewer people on-site compared with summers in Dubai. This makes visiting Dubai during the winter, spring or autumn time much more tolerable and one of the best times to visit Dubai.
When planning a trip to Dubai, it is wise to avoid the extremely hot, summer months and instead choose a more suitable period in order to have an enjoyable experience. To craft the perfect itinerary for yourself that fits your budget and interests, you should take into consideration factors such as weather conditions, cost-effectiveness and activities that appeal specifically to you. This means you can still visit during a time when everything you want to do and see is open and not as busy as it would be during the peak tourist season in Dubai. This way of careful preparation will ensure unforgettable moments when it comes to visiting Dubai for the first time.
Read Travel Blogs and More
Disclosure: Some links in this article may be affiliate links, which can provide compensation to HandL Blogs at no cost to you if you decide to purchase through these links. These are products we have personally used and stand behind. This site is not intended to provide financial advice and is for entertainment only. You can read our affiliate disclosure in our privacy policy.
 Disclosure: Some links in this article may be affiliate links, which can provide compensation to HandL Blogs at no cost to you if you decide to purchase through these links. These are products we have personally used and stand behind. This site is not intended to provide financial advice and is for entertainment only. You can read our affiliate disclosure in our privacy policy.