3 Best Party Cruises For Your Next Party Holiday [Best Party Cruise Ships]
Luke Iles – Uploaded 22.08.2023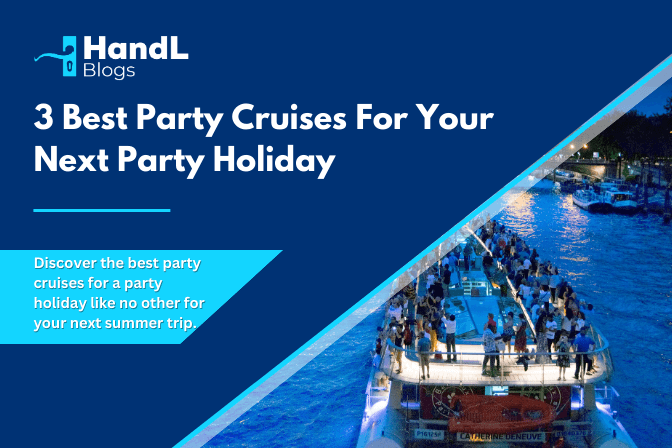 Best party cruise lines for young adults
Have you ever thought about a party holiday cruising the Mediterranean Sea visiting golden sand beaches in the daytime then partying away the night in a luxury nightclub on a juggernaut cruise ship?
Well now we have put that idea in your head, you can actually go on party cruises that will take you to some of the best party holiday destinations in the world whilst you lay back and relax voyaging overseas as you arrive at your next party destination.
A party cruise can be one of the best choices for your next party holiday and is definitely a luxury party holiday that can take your vacation game to the next level.
Planning a party holiday on a cruise ship is easy all you have to do is select the type of party cruise line you want to sail with and the rest is sorted for you. From visiting the best party destinations to getting unlimited refills on your fancy cocktails, the choices are endless when doing a party cruise holiday.
I have to say out of all my time travelling, a party cruise is definitely a unique experience and one of the best types of party holiday which combines luxury travel with relaxing days and party hard nights.
With that being said, it can be hard to find the best party cruises, therefore we have done all the hard work for you and found three of the best party cruise lines on the market for your next holiday abroad!
The 3 best party cruises for your next holiday
The best party cruises for adults that you need to book for your next holiday are the following:
Carnival Cruise Line
Virgin Voyages
MSC Cruises
The Carnival Cruise Line is a great choice for your next party holiday if you are looking to party day and night. Although it is home to families as well as a younger crowd looking to party, there are so many options to do on nightlife that Carnival is still a great choice either way!
Carnival offers cheap party holidays that are a great choice for a quick getaway with your friends or family if you are looking to party and visit some incredible destinations. The cruise line is a great choice for entertainment and nightlife activities with a casino on board as well as bars and lounges to chill and drink at.
However, the main choice for choosing the Carnival ship is for the amazing party and entertainment activities that go on till late at night. From the Mega Deck Party, the White Hot Night Party, the Serenity Adults Only Retreat, RedFrog Rum Bar, Skybox Sports Bar, & Assorted Bars, Wine Bar and Nightclubs and Late Night Deck Parties there is plenty of nightlife on the Carnival Cruise Line.
Carnival Cruise Lines offer cruises across Australia, New Zealand, Europe, the Caribbean, Asia and more.
We rate the Carnival Cruise Line an 8/10.
Virgin Voyages is a cruise ship that is 100% adults only, so you won't have to worry about accidentally booking a party cruise that has little children and families trying to have a relaxing time. Instead, the Virgin Voyages cruise lines are packed with party activities that will allow you to party all day and night.
The Manor is the famous two-story nightclub within the ship that begins the night with live entertainment and shows which later turns into a fully-fledged live music, pulsating nightclub which stays open to the hours of the early morning.
Furthermore, the Scarlet Night is a new event that Virgin Voyages implement on their cruises which involves the entire ship coming to life to party. This is one night during your trip where multiple party activities spring up across the ship from crazy pool parties with live music to late-night karaoke in the entertainment venues which lasts into the early hours of the morning. The boat is decorated in red whilst everyone is encouraged to wear red too, so don't forget!
Virgin Voyages offer cruises across the Caribbean, Europe, South Pacific, Transatlantic and many more.
We rate the Virgin Voyages party cruise line a 9/10.
MSC Cruises are another great choice if you are looking for one of the best cruise ships for partying. Every MSC Cruise offers an array of party activities including themed parties that include white parties, flower parties, pool parties, elegant nights and more. These themed nights involve lots of drinking, dancing and live music, just remember to double-check what night is what and bring outfits to match!
The MSC cruise ships also have a European-influenced nightclub that stays open to the early hours of the morning with a lively atmosphere and performing DJ. There are multiple party locations on the ships with the Galaxy Lounge and Restaurant Club turning into a nightclub after 11 pm every night offering a range of music from 70's disco to Reggaeton. There is also the Garage Club which stays open until 4 am on the ship most nights.
MSC Cruises offer holidays across the Caribbean, Mediterranean, Europe, Africa, Asia and many more.
We rate MSC Cruises an 8/10 for their party cruise line.
Overall, you should now be rearing to board and set sail for the party holiday of a lifetime with any three of the party cruises named on this list. From cruise ships with nonstop nightclubs and live DJs to those with luxurious bars and lounges. Party cruises are one of the best holidays you can book offering a completely different type of party holiday experience.
If you are looking for a lively and entertaining getaway with a blend of stunning destinations, vibrant onboard activities and a dynamic social atmosphere; these three party cruises on this list, provide a unique way to celebrate and let loose whilst on holiday.
Whether it is dancing under the stars on the top deck, enjoying the themed parties or making some new friends in the bar, by choosing a party cruise for your next holiday you can enjoy a party holiday that combines relaxation and revelry into one!
Disclosure: Some links in this article may be affiliate links, which can provide compensation to HandL Blogs at no cost to you if you decide to purchase through these links. These are products we have personally used and stand behind. This site is not intended to provide financial advice and is for entertainment only. You can read our affiliate disclosure in our privacy policy.
 Disclosure: Some links in this article may be affiliate links, which can provide compensation to HandL Blogs at no cost to you if you decide to purchase through these links. These are products we have personally used and stand behind. This site is not intended to provide financial advice and is for entertainment only. You can read our affiliate disclosure in our privacy policy.