Top 5 Holiday Destinations in Spain - Must-See Destinations You Need To Visit!
Luke Iles – Uploaded 04.03.2023
What are the best holiday destinations in Spain?
From beautiful beaches and excellent restaurants to old towns and historic architecture, Spain has a mixture of towns and cities that will provide you with an exotic break like no other.
It is clear to see why Spain is one of the most popular holiday destinations in Europe. Whether you prefer a fast-paced city break exploring the history of the city, a crazy over-the-top party holiday or a relaxing getaway on a beach in the sun, Spain is a diverse country with a lot to offer.
So if you hope to visit the land of sunshine, siestas and sangria, Spain is the perfect destination for anyone who is in need of some sun with some amazing destinations which suit everyone's personality and lifestyle when it comes to travelling abroad!
But before you quickly pack your bags and jump onto a plane to Spain, it is important that you take into consideration the best holiday destinations in Spain so you can find that perfect holiday destination for your summer break.
Top 5 Best Places You Need To Visit in Spain
Here are our top five best destinations, that we have hand-picked from personal experience when visiting the land of sun and beaches:
Barcelona
Costa del sol, Marbella
Playa de Las Americas, Tenerife
Granada
Palma, Mallorca
Barcelona is located in Northern Eastern Spain and is Spain's major Mediterranean port facing the Mediterranean Sea. Barcelona has a remarkable history and its architecture and culture are unlike any other. It is located in the Barcelona province and Catalonia autonomous community.
Visit the Basilica de la Sagrade Famillia

– The largest unfinished Catholic Church in the world that was designed by Antoni Gaudi, a Catalan architect. The minor basilica is a must-visit in Spain and costs around 17 euros for a standard ticket with entry to climb the towers.

Experience the Barri Gotic –

Known as the Gothic Quarters, the Barri Gotic is a beautiful neighbourhood with stunning architecture full of shops, restaurants, bars, cafes and museums. It was an old roman village with an incredible past and history behind it. The winding alleyways and sprawling squares are an incredible site and a must-visit in Barcelona.

Uncover the amazing Park Güell –

Another creation of Antoni Gaudi built in the early 1900s, the Park Guell is a public park that contains some incredible artwork including colourful mosaics, winding cobblestone paths and a spectacular view of Barcelona. When at the park you must visit the Dragon fountain which is very colourful with different tiles and awesome designs. The general admission price for adults to enter the park is 10 euros.
Incredible architecture and culture within the city.

For a large touristic city, the areas are very clean and well-kept.

There are plenty of attractions to keep you busy.

The perfect city break with lots of sun and history plus it has a beach!
The public transport is not as good as in other major Spanish cities such as Madrid and Seville.

It is an expensive city with the price of food, accommodation and attractions being pricey compared to other areas of Spain.
Flights from the UK range on average from around £ 150 – £ 200 in the peak season (June to August).
Barcelona has three local airports however there is only one that is directly in Barcelona itself, that is the Barcelona Airport El Prat de Llobregat which is 8 miles outside the centre with taxi fares that cost around 30 euros.
Giona airport is the second closest airport to Barcelona and is around 62 miles away from the centre. Taxi transfers from this airport cost around 60 – 80 euros.
Reus airport is the third closest airport to Barcelona and is around 75 miles away from the centre and will cost you around 70 – 90 euros for a taxi transfer.
Barcelona is the perfect getaway for people who are in search of a city break trip that is full of Spanish architecture, history and art. It is the perfect holiday destination in Spain if you are looking to spend around 3 to 4 nights.
We absolutely love the beautiful city that is Barcelona, it is one of the best destinations to visit in Spain and is a must for everyone's travel bucket list to visit Barcelona once in their lifetime. It is a historic city and the ideal location for a short city break with a rich culture and incredible buildings and art to plenty to do and many lovely places to see in the day and night time.
We rate Barcelona a 9/10.
2. Costa del sol, Marbella
Costa del sol known as the Coast of the Sun is a coastline on the southern side of Spain known for its amazing sandy beaches and spectacular cliffs, mountains and sand dunes. It is located in the province of Malaga and has coastal resorts such as Marbella, Estepona and Benalmadena.
Relax on some of the best beaches in Spain –

A trip to Marbella is not complete without visiting some of the iconic Spanish beaches. If you love golden sands and clear water with a selection of water sports activities visit Playa del Cable beach. If you prefer a more relaxing beach, visit Playa de la Fontanilla beach or Playa de Nagueles beach.

Visit Marbella Old Town –

Known as Casco Antiguo, Marbella old town is a scenic district that is characterized by its historic old buildings and winding cobblestone paths. It has a central square that is lined with castle walls and orange trees and is home to some unique and traditional Spanish shops, bars, restaurants and markets.

Enjoy Puerto Banus and its waterfront restaurants –

The luxury water marine is one of the main attractions in Marbella providing a stunning view of the Mediterranian sea and scenic mountain range whilst being jam-packed with restaurants, designer shops, nightclubs and bars.
Lively nightlife with nonstop nightclubs and bars meaning you can party all night long.

Pristine beaches to soak in the sun rays.

Amazing food from scenic and traditional Spanish restaurants.

A historic city with a heritage that dates back to roman times with destinations such as the Old Town and Arab Castle.
Very busy with tourists during the peak months from the start of July to the end of August.

Very expensive compared to other destinations in Spain as it is known as one of the more luxurious seaside resorts on the Costa del Sol coastline.

The party scene and intense nightlife can be a drawback for those who are looking for a more relaxing holiday.
Flights from the UK range on average from around £150 – £200 in the peak season (June to August).
The airport to travel to in order to visit Costa del Sol is the Malaga-Costa del Sol airport which is located in Malaga. A one-way fare from Malaga airport is around a 32-mile trip and will cost you 50 euros in a one-way taxi fare from the airport to Marbella.
Marbella is the perfect destination for those who want a bit of everything when visiting Spain, you get the amazing beaches which are lovely places you can relax on during the day and take in the Spanish sun, plus the offerings of the crazy nightlife that Marbella has to offer. It is a great place to visit with a group of friends or as a couple.
With beautiful beaches and a lively nightlife scene, Marbella is one of the most exciting Spanish resorts to visit on the Costa del Sol. With amazing scenic coastlines and golden sandy beaches, you can keep yourself entertained during the day. With a rich history and architecture, you can also visit attractions such as the medieval Old Town and Arab Castle. In addition to some of the best cuisine in Europe, Marbella offers tourists the chance to dine in tasty restaurants that offer a great view of the waterfront. Not to mention the crazy nightlife with a selection of top-quality bars and nightclubs where you can dance the night away.
We rate Marbella a 7.5/10.
3. Playa de Las Americas, Tenerife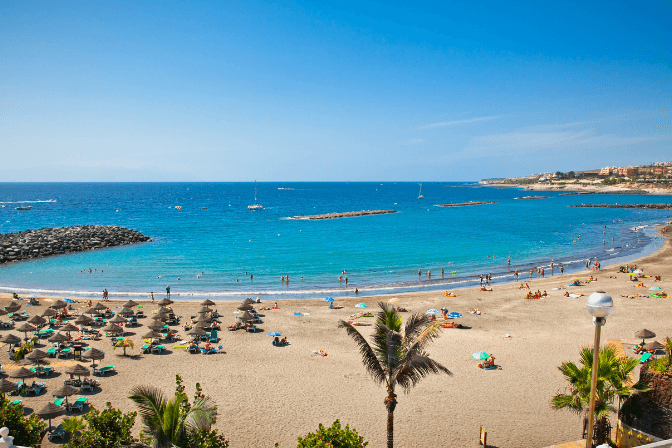 Tenerife is the largest island in the canary islands and Playa de Las Americas is the largest holiday resort on the island. Located on the southwest coast of Tenerife, Playa de Las Americas is known for its golden beaches, lively surf and exciting nightlife.
Visit the iconic beaches

– A trip to Playa de Las Americas is not complete without visiting some of the most iconic beaches within the Canary Islands, let alone Tenerife itself. If you are in hope of long golden sandy beaches with clear water and with quick access to cafes, restaurants and bars visit Playa de las Vistas, Playa de Troya and Playa de Torviscas beaches.

Experience the incredible nightlife on the Veronica Strip

–

If you are hoping to experience the crazy nightlife that Playa de Las Americas has to offer, then look no further than the famous Veronica strip. Known for its nightclubs, bars, karaoke bars and entertainment venues, anyone who visits Playa de Las Americas looking for a fun night out, will not be disappointed.

Splashdown at Siam Waterpark –

Siam Waterpark is one of the best waterparks in the world, hosting a selection of Thai-themed water slides, water chutes, swimming pools and even a huge wave machine. It is great fun, no matter what age you are, with family-friendly rides, two kid-themed areas plus your mega thrill rides and lazy rivers. It also has an array of animals such as seals, sharks and fish. It even has a slide which goes through a shark tank!
Known for its incredible beaches, Playa de Las Americas has some of the most iconic beaches on the island of Tenerife.

A buzzing nightlife scene with incredible entertainment, nightclubs, bars and karaoke bars that are open till the early hours of the morning.

From budget-friendly hostels to high-end luxury all-inclusive hotels, Playa de Las Americas is accessible for every budget.

Plenty of shops and restaurants are available.
During peak season from the start of June to the end of August, Playa de Las Americas can become very busy.

Very touristy and lacks a real identity or culture compared to other Spanish locations.

Not ideal if you are wanting a relaxing holiday without the constant late-night interruptions of nightlife noise.
Flights from the UK cost around £150 in peak season from around the start of June to the end of August.
The airport to travel to in order to visit Playa de Las Americas is the Tenerife South Airport which is 9 miles away from Playa de Las Americas. A standard taxi from the airport to the centre would cost you around 28 euros.
Playa de Las Americas is the ideal holiday resort for anyone who loves the beach, sun and party lifestyle. It is the ideal location for a group of young adults, couples and even families to visit with a wide selection of attractions that cater to all ages. It is arguably the best destination in the Canary Islands.
Playa de Las Americas is a great location in Tenerife, Canary Islands and is for people of all ages, with everything you could ask for in a summer holiday destination. It is great for families with family-friendly attractions such as the Tenerife Zoo, Monkey Park and Siam Waterpark plus a large array of water sports and beach activities. It also has chilled and relaxing bars and restaurants off of the strip plus the energetic and chaotic nightlife with bars and nightclubs for the younger generation who like to party. It is a great seaside resort that has a bit of everything no matter what your preference is.
We rate Playa de Las Americas a 8.5/10.
Granada is located in the southern region of Spain located in the autonomous community of Andalusia. It is known for its Moorish architecture, historic neighbourhoods, gardens, caves, flavourful cuisine and lively nightlife.
Visit the Alhambra –

The Alhambra is a palace that was built in Granada in the 14th century by the Nasrid dynasty. It is one of the finest pieces of Islamic architecture that is still available to see in the modern day. It is one of the most popular tourist attractions in Spain and well worth the visit if you are visiting Granada.

Enjoy the Generalife historic site –

Constructed in the 13th century, the Generalife is a historic summer country estate that was home to the Muslim rulers of Granada. It has incredible gardens that are full of beauty and the inside of the palace is full of incredible Islamic architecture.

Visit the Royal Chapel of Granada –

The Royal Chapel of Granada is a historic Catholic chapel that contains a lot of Spanish history. It was built in the 16th century and is the resting place of two of Spain's most famous Catholic monarchs in King Ferdinand II and Queen Isabella I. It is also home to some incredibly important Catholic ancient artefacts such as the crown and sceptre of Queen Isabella I.
A rich culture and history are ingrained throughout the city wherever you look.

Stunning architecture and buildings with many different gardens and notable landmarks.

Authentic delicious local Spanish cuisine including tapas, seafood and local specialities that include the famous Granada Alpujarra stew that is worth a try.

Surrounded by incredible natural beauty such as the Sierra Nevada mountain range.

A vibrant nightlife that includes bars, nightclubs and music venues.
A challenging hilly terrain that can be exhausting and hard to navigate, especially for handicapped visitors.

Can be very busy with tourists during the peak season from the start of July to the end of August.

Public transport can be fairly limited in certain parts of the city and is not on par with other touristic Spanish cities.
The average flight price for those looking to visit Granada in peak season from early June to the end of August is around £150.
The airport you would need to land in to visit Granada would be the Federico Garcia Lorca Granada Airport. A taxi costs around 27 euros to get from the airport to the city centre and is around a 20-minute drive from the airport.
Granada is perfect for people in search of a culturally and historically rich getaway that is peaceful and rich in Spanish culture. It is a great destination for married couples and those over the age of 30. However, that being said it is also a great destination for young people looking to experience Spain plus get a good taste of the nightlife that Granada has to offer. If you are looking for a more relaxing and tourist sightseeing holiday destination in Spain, Granada is a great option.
Granada has a bit of everything to offer from a holiday in Spain from the amazing culture, historic landmarks and traditional cuisine options to the stunning mountain range and scenic views. In addition to this, it has some entertaining nightlife with clubs and bars that run into the early hours of the morning so if you are looking to experience Spain to its fullest Granada is a must-visit destination in Spain.
We rate Granada an 8.5/10.
Palma de Mallorca is the largest city on the Spanish island of Mallorca and is the capital city of Mallorca. The island is located east of the Spanish mainland and is one of the largest islands out of the group of Balearic islands. Palma is located on the south coast of Mallorca and is known for its beaches, lively nightlife and historic landmarks.
Visit the Catedral de Mallorca –

The Catedral de Mallorca is a stunning Catholic cathedral located in Palma that was built in the 13th century. It is known as the Cathedral of Santa Maria of Palma and is a gothic-style cathedral that is an important landmark in Catholic Spanish culture.

Relax on the beautiful beaches –

Palma is home to some of the best beaches in the Balearic Islands. You must visit the Playa de Palma beach, Cala Major beach and the Can Pere Antoni beach if you are in search of golden sand beaches in the Spanish sun.

Enjoy the famous Palma nightlife –

Palma is known for its incredible entertainment and nightlife, visit the Palma old town in the evening and visit some low-key and chill-out bars playing live music. If nightclubs and partying are more your type of thing, visit the Paseo Maritimo waterfront which is full of nightclubs, bars and night time entertainment.
Incredible architecture that is rich throughout the city.

Easy access around the city with lots of areas accessible by foot, bus or taxi.

A vibrant cultural scene with plenty of galleries, theatres and museums within the city.

Plenty of golden beaches to relax on in the sun.

An exciting nightlife with plenty of bars and nightclubs.
Limited parking in the centre of the city so not ideal if you are renting a car and is easier to use public transport.

Very busy with tourists in the peak summer season.

Hotels, food, drinks and activities can be fairly pricey compared to other Spanish tourist locations.
The flights from the UK to Mallorca cost around £130 – £160 in peak season from the start of June to the end of August.
If you are looking to visit Palma, the best airport to land at would be the Palma de Mallorca airport. A taxi transfer from the airport to the centre of Palma cost around 25 euros and is a 20-minute drive.
Palma is the ideal location for those who enjoy warm weather, soft sand beaches, beach bars, history, Spanish culture, Spanish food, scenic views plus lively nightlife. It is the perfect destination for older adults as well as young adults who enjoy golden Spanish beaches, beautiful architecture and Spanish history plus a lively party nightlife. Palma has a bit of everything and no matter if you want a non-stop day and night action-packed holiday or a relaxing summer holiday in Spain, Palma is a great value destination.
The capital of the Balearic islands is a great place to visit in Spain for people of all ages whether you are visiting with friends, a loved one or as a family with young children, there are things to do for all ages and interests. If you love relaxing in the sun, experiencing iconic Spanish architecture and history plus enjoying good food and nightlife entertainment Palma is one of the best Spanish holiday destinations.
Frequently Asked Questions About Holidays To Spain
Overall, Spain has plenty of amazing locations that are not only warm but also stunning and rich with amazing Spanish culture and history. From the amazing tapas and wine to the blue waters and golden beaches, Spain is the ultimate European getaway that is not only fairly inexpensive but also a country that offers a bit of everything so no matter what type of getaway you are in need of, Spain has you covered. Just remember if you are in need of a warm holiday in the sun that the rain in Spain falls mainly on the plane!
Read Travel Blogs and More
Disclosure: Some links in this article may be affiliate links, which can provide compensation to HandL Blogs at no cost to you if you decide to purchase through these links. These are products we have personally used and stand behind. This site is not intended to provide financial advice and is for entertainment only. You can read our affiliate disclosure in our privacy policy.
 Disclosure: Some links in this article may be affiliate links, which can provide compensation to HandL Blogs at no cost to you if you decide to purchase through these links. These are products we have personally used and stand behind. This site is not intended to provide financial advice and is for entertainment only. You can read our affiliate disclosure in our privacy policy.