4 Best Types of Spanish Food [Croquetas, Paella & More]
Luke Iles – Uploaded 23.03.2023
Traditional Spanish Dishes That You Must Try
When you think of Spain, the first thing that may come to mind is the iconic beaches and warm weather that Spain is so well known for. After all, they are known as the Land of the Sun.
Or it might be that crazy 5-day holiday you spent in Ibiza that you hardly remember. No? Just me?
Well, maybe you are a little more civilised than me and the amazing history of Spain and magnificent culture comes to mind. Whether that is the traditional bullfighting or the incredible work and architecture of Antoni Gaudi.
It is clear to see that Spain is known worldwide for many different things however what you may have forgotten about is the delicious Spanish cuisine and Spanish food that you can eat all over the principalities in Spain.
From traditional Spanish dishes that have been adopted across the world, we have travelled all across the best destinations in Spain to experience the incredible Spanish culture and try the traditional Spanish cuisine that can be eaten across the country.
4 Of The Most Delicious Spanish Foods
You may not know but Spanish food is incredible, not only are they the perfect portion size, full of flavours and taste but you also get to enjoy meals in the amazing country of Spain. Whether that is relaxing by a stunning seafront or in a bustling city with some of the most jaw-dropping Spanish architecture around you. It is clear to say that when it comes to meal time, Spanish cuisine is up there in being one of the best in the world.
However, after travelling up and down Spain, we have tried endless Spanish meals and have come to the conclusion of what the top four best Spanish foods are.
Tortilla de Patatas Bravas
Paella de Marisco
Croquetas
Churros con Chocolate
1. Tortilla de Patatas Bravas
Tortilla de Patatas Bravas are an iconic part of Spanish cuisine and one of our favourite Spanish foods that we ate when travelling across Spain. Also commonly known as the Spanish omelette, the Tortilla de Patatas Bravas is a must-try when visiting Spain to really experience the Spanish culture. It is one of the classic Spanish dishes and one of the most famous Spanish dishes in Spanish food culture.
It can be found throughout the country in cafes and restaurants due to its popularity however it was originally believed to have been created in northern Spain in the early 19th century. Its location can't be pinpointed but during this time, the Spanish omelette was considered part of traditional Spanish cuisine in the areas of the Navarre region. The popularity of this Spanish dish can now be seen across the entire country of Spain and across the world, most notably in surrounding European countries.
It is a staple dish in Spanish cuisine due to being easy to cook and cheap to make. The Spanish omelette is a traditional Spanish dish that was popular with working-class families due to its easy nature to cook with little and cheap ingredients. It is the Spanish version of an Omelette however this Spanish version contains ingredients such as potatoes to give a fuller and richer taste. The Tortilla de Patatas Bravas consists of a mixture of whisked eggs, potatoes, onions and olive oil, this is combined and cooked like a typical omelette to provide a fuller and stronger tasting take on the traditional omelette.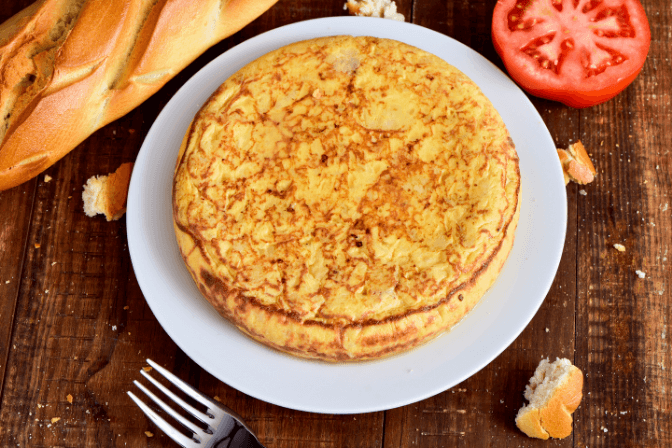 Due to its popularity and ease to make, the Tortilla de Patatas Bravas can be found in most Spanish cafes and restaurants across the country. However, if you want to experience the dish as a true Spanish food guru, head to the Basque country in Northern Spain where you can visit the Bar Nestor in San Sebastian which is known for its thick and gooey take on the Spanish Omelette. Casa Dani's in Madrid is also a great spot to experience one of the best typical Spanish dishes and famously has one of the best Tortilla de Patatas Bravas in Spain. Flash Flash Tortilla in Barcelona is also another iconic spot for the famous Spanish dish and modernizes it with additional extras such as beans, pork, rum, orange and even macaroni!
We rate the Tortilla de Patatas Bravas a 9/10.
Paella de Marisco is one of the most famous Spanish dishes and is considered Spain's national dish. Paella is a traditional Spanish dish that can be found across Spain and the rest of the world. The Paella de Marisco is the perfect summertime dish that can be eaten in the Spanish sun. It is a must-try no matter where you visit in Spain and is cemented in Spanish cuisine as a staple Spanish food.
The Paella de Marisco originally came from the Spanish coastal region of Valencia in the early 1800s. It is one of the most popular Spanish foods and is by far the most common and available paella recipe in the world. Valencia is one of the largest natural ports along the Mediterranean Sea and alongside being one of the largest rice-producing areas in Eastern Spain makes sense why the Paella de Marisco originated from that particular area of Spain.
Paella de Marisco, also known as seafood paella, is a delicious Spanish food that typically contains a mix of different grilled seafood including prawns, muscles, shrimp, squid and clams on a bed of rice with different vegetables such as peas, tomatoes and red peppers. The seafood paella is seasoned with green peppers, paprika, saffron and tomatoes. The seafood paella is a very colourful dish that burst with different colours and suits the typical Valencia backdrop perfectly when you are eating this popular Spanish rice dish in the golden Spanish sun.
If you are hoping to get a taste of the iconic Paella de Marisco, the best place to try seafood paella in Spain is of course, where the seafood paella originated at the beginning of the 1800s on the coastline of Valencia. No matter where in Valencia you are guaranteed to find a delicious authentic paella in any type of traditional Spanish restaurant however some of the favourites we discovered whilst in Valencia were the La Pepica, the Casa Carmela and the El Raco. If you are in search of trying this delicious Spanish food but are not visiting Valencia, any coastal destination in Spain will provide you with a freshly cooked Paella de Marisco. In particular, Barcelona, Malaga and Madrid are all known for their amazing restaurants that serve all types of popular Spanish foods, including the Paella de Marisco.
We rate the Paella de Marisco a 9.5/10.
Croquetas are unique Spanish food and are famous for Spanish cuisine. It is one of the many Spanish foods that once you try it, you will be craving wherever you travel across the world. Mainly eaten as a Spanish side dish or as a Spanish tapas dish and even sometimes as a starter, the croquetas are a traditional Spanish food that you have to try when visiting Spain at least once.
Originally croquetas were brought across from France however Spain implemented their own twist on the fried dish by removing the creamy potato filling and replacing it with bechamel sauce. It became a pivotal part of Spanish cuisine due to its cheap and affordable ingredients and was a means to easily use up any leftover vegetables and meat and turn them into a tasty, digestible Spanish treat.
Also known as a croquette, the savoury dish is an iconic Spanish food that is one of the most famous dishes in Spain. Typically, Spanish croquetas will be found with a filling of smooth Spanish cured ham and bechamel sauce that is rolled into balls or logs and then covered in breadcrumbs and fried. The popular Spanish food would then be served hot and usually as a side dish. You can also find other types of croquetas available across different restaurants and cafes in Spain filled with fillings such as potatoes, crab, rice, chicken, mushroom, cheese, broccoli and even boiled eggs.
If you want to get a taste of traditional Spanish food and experience amazing Spanish cuisine whilst in Spain, why not order some of the best Spanish food we have tried? Although this traditional Spanish dish can be found all across Spain, some of the best places we have tried the croquettes have been in Madrid and San Sebastian. In particular the ham croquetas we tried in the Casa Julio restaurant and Bodega La Adrosa restaurant in Madrid were exceptional. In addition to this, the Casa de Tota restaurant in San Sebastian also serves some delicious salted cod croquetas which were mouthwateringly good.
We rate the Spanish croquetas an 8/10.
One of our favourite desserts from across every country is the Churros con Chocolate which is a must-try when visiting Spain. The Spanish just do this desert better than anywhere else on the planet and that is quite a statement. It is a famous Spanish food and dessert which has spread across the world as a sweet Spanish dish.
Although typically known as a Spanish food, the churro's origin is unknown however it is thought to have come from Spain or Portugal. However, one thing is known for certain that the Spanish made the dessert popular, all the way back in the 16th century when Spanish explorers spread the idea of churros across the world. In particular, this dessert became popular in North America in Mexico and America which put their own twist on Spanish food by adding cinnamon to it. In Spain, the churro is served alongside chocolate sauce and is usually eaten as a breakfast dish or as a dessert after a meal.
The Spanish churro has spread across continents to all parts of the world and is eaten daily by many people across the globe. A Spanish churro is made with minimal ingredients including flour, water and salt. They are typically eaten for breakfast or as a dessert in Spanish culture and are served with a runny chocolate sauce. They are the ideal Spanish treat for vegans because they do not contain any animal products such as eggs however when trying them in Spain it is always worth clarifying with your server beforehand.
The famous Spanish sweet treat can be enjoyed across the world however the best places to eat the Spanish churro when visiting Spain are in Madrid and Barcelona. The Chocolateria San Gines in Madrid is one of the most famous churro spots in Spain providing the traditional Spanish food with dripping chocolate sauce that is delicious. The Churreria Laietana located in Barcelona serves a modern take on the Spanish churro with different variations on the classic with churro options that are served with ice cream and chocolate-filled churros.
We rate the churros con chocolate a 9/10.
Overall, when it comes to eating food in Spain, you can be certain you won't be disappointed. Although Spain has some notable dishes sometimes Spanish cuisine can get easily overlooked however some of the best dishes that are now available all across the globe were originally created in a small Spanish village.
Therefore, no matter where you are visiting in Spain, we plead you to get involved with part of the Spanish culture and enjoy some authentic and typical Spanish food that will send your taste buds into a frenzy wanting more. All four of the traditional Spanish foods we mentioned on this list are popular across the country and you can find a tasty Spanish meal no matter where you travel across Spain.
These Spanish meals on this list are not only delicious but are also rich in nutrition and are ideal for those who like to go to the gym in Spain and keep an eye on their health, fitness and diet.
Although we have mentioned some of our favourite spots we have visited for some of the classic Spanish dishes if you are looking to experience traditional Spanish meals anywhere in Spain we recommend taking a look at the reviews of the Spanish bars, cafes and restaurants around where you are staying and we guarantee you will be able to experience some tasty authentic Spanish dishes, no matter where you visit in the country.
Disclosure: Some links in this article may be affiliate links, which can provide compensation to HandL Blogs at no cost to you if you decide to purchase through these links. These are products we have personally used and stand behind. This site is not intended to provide financial advice and is for entertainment only. You can read our affiliate disclosure in our privacy policy.
 Disclosure: Some links in this article may be affiliate links, which can provide compensation to HandL Blogs at no cost to you if you decide to purchase through these links. These are products we have personally used and stand behind. This site is not intended to provide financial advice and is for entertainment only. You can read our affiliate disclosure in our privacy policy.