Which Countries Require Biometric Passports To Enter?
Luke Iles – Uploaded 22.06.2023
Learn why biometric passports are taking over the travel industry
If you live in the UK and have recently received a new passport you may have noticed that it has changed its front cover colour from red to blue. Now this isn't a mistake and you haven't accidentally been given the wrong passport.
With the advancements in artificial intelligence within the travel industry it makes sense to introduce biometric passports. However, biometric passport technology has been in play since 2010 and is only improving as the years go on. With over 212 countries across the world now implementing and issuing biometric passports, it is clear to see that this type of biometric data being stored in passports is the way forward.
There are plenty of advantages to introducing these types of passports including more security, faster travel, fraud prevention, reliable identification and secure data storage.
It is soon becoming one of the major passport requirements seen across the globe with more and more countries requiring their inhabitants to switch to a biometric passport.
Throughout this article, we will document all the countries which require biometric passports to enter and leave.
What is a biometric passport?
A biometric passport, also known as an E-passport, is a more advanced type of traditional passport. A biometric passport is a passport that can be scanned electronically. It has more security features than a traditional passport such as an embedded microchip which contains all the details of the passport holder within that chip.
Once you have a valid holiday destination in mind as well as a rough idea of the travel budget, you can easily research accommodation and compare prices by following the steps below:
This chip allows the user to be able to use the E-passport gates at airport border control which use AI facial recognition technology. This technology makes it easier and swifter for people who have just disembarked the plane to get off and let through into the country. Not only do these E-passport gates speed up the process but they also save airports a considerable amount of money on paying for fewer staff members to man border control.
All UK passports since 2010 include the biometric chip thus making them a biometric passport. In March 2020, the UK began the issue of the new blue and updated biometric passports. These passports have an improved interface which integrates an improved biometric chip which works more efficiently with the new facial recognition technology within airports.
The biometric identifiers within the biometric passport itself are also used to prevent identity theft and fraudulent passports. As the biometric passport contains a biometric data chip, it makes it easy for homeland security and border control to identify if a passport is fraudulent or not.
Therefore, not only does a biometric passport speed up your time in the airport and through border security but also protects you against identity theft and people using fraudulent passports to enter a country.
How do you know if you have a biometric passport?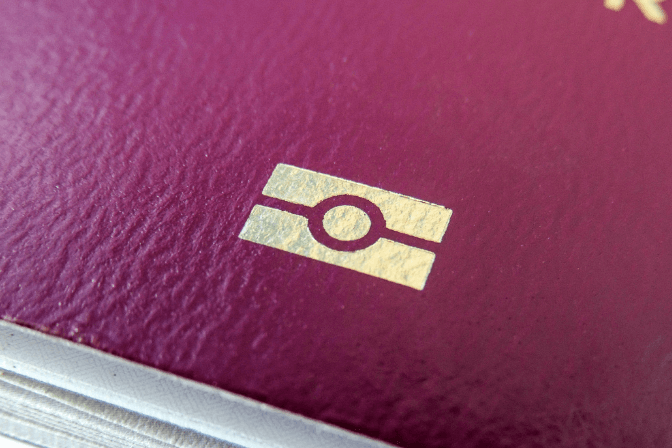 All UK passports since 2010 contain some form of biometric data and are thus classified as a biometric passports. This means that unless you have not renewed and updated your passport, you will have a biometric passport whether that colour is red or blue in the UK.
You will typically find that the new blue passports are much better at working with the facial recognition technology within airports meaning you won't have to turn around a get human intervention. Instead, you can swiftly move through the gates due to the improvements made in the biometric data being easier to recognise for these AI facial recognition systems.
To further identify that you have a biometric passport you can look at the cover of your passport. If there is a small, gold camera logo at the bottom then your passport is classified as a biometric passport rather than an ordinary passport.
What countries currently use biometric passports?
The countries that currently use biometric passports include every EU country with the exception of Denmark and Ireland. All other EU countries are required to issue biometric passports as a standard to all of their citizens. This includes a passport that contains all the necessary biometric data and biometric identifiers including digital imaging and fingerprint scan biometrics.
The list of countries that currently use biometric passports includes:
Algeria, Benin, Botswana, Burkina Faso, Burundi, Cameroon, Cape Verde, Central African Republic, Chad, Comoros, Congo (Democratic Republic), Congo (Republic), Djibouti, Egypt, Equatorial Guinea, Eritrea, Ethiopia, Gambia, Ghana, Guinea, Guinea-Bissau, Ivory Coast (Côte d'Ivoire), Kenya, Lesotho, Liberia, Libya, Madagascar, Malawi, Mali, Mauritania, Mauritius, Morocco, Mozambique, Namibia, Niger, Nigeria, Rwanda, Sao Tome and Principe, Senegal, Seychelles, Sierra Leone, Somalia, South Africa, South Sudan, Sudan, Swaziland (Eswatini), Tanzania, Togo, Tunisia, Uganda, Zambia, Zimbabwe
Afghanistan, Armenia, Azerbaijan, Bahrain, Bangladesh, Bhutan, Brunei, Cambodia, China, East Timor, India, Indonesia, Iran, Iraq, Israel, Japan, Jordan, Kazakhstan, Kuwait, Kyrgyzstan, Laos, Lebanon, Malaysia, Maldives, Mongolia, Myanmar (Burma), Nepal, North Korea, Oman, Pakistan, Philippines, Qatar, Russia, Saudi Arabia, Singapore, South Korea, Sri Lanka, Syria, Tajikistan, Thailand, Turkey, Turkmenistan, United Arab Emirates, Uzbekistan, Vietnam, Yemen
Albania, Andorra, Austria, Belarus, Belgium, Bosnia and Herzegovina, Bulgaria, Croatia, Cyprus, Czech Republic, Denmark, Estonia, Finland, France, Georgia, Germany, Greece, Hungary, Iceland, Ireland, Italy, Latvia, Liechtenstein, Lithuania, Luxembourg, Malta, Moldova, Monaco, Montenegro, Netherlands, North Macedonia, Norway, Poland, Portugal, Romania, San Marino, Serbia, Slovakia, Slovenia, Spain, Sweden, Switzerland, Ukraine, United Kingdom, Vatican City
Antigua and Barbuda, Bahamas, Barbados, Belize, Canada, Costa Rica, Cuba, Dominica, Dominican Republic, El Salvador, Grenada, Guatemala, Haiti, Honduras, Jamaica, Mexico, Nicaragua, Panama, Saint Kitts and Nevis, Saint Lucia, Saint Vincent and the Grenadines, Trinidad and Tobago, United States
Australia, Fiji, Kiribati, Marshall Islands, Micronesia, Nauru, New Zealand, Palau, Papua New Guinea, Samoa, Solomon Islands, Tonga, Tuvalu, Vanuatu
Argentina, Bolivia, Brazil, Chile, Colombia, Ecuador, Guyana, Paraguay, Peru, Suriname, Uruguay, Venezuela
Please note that this list is based on information available up until September 2021, and the passport policies of countries may change over time.
Overall more than 212 countries have issued biometric passports to their citizens making them increasingly prevalent around the world. In addition to this, the majority of airports have now integrated AI facial recognition software into their border control systems so they can automate the border control process when it comes to biometric passports.
With numerous countries across the world integrating this technology to enhance security and streamline border control processes, it is clear to see that biometric passport are not only the future but rather the future is now!
While biometric passports do provide specific advantages such as improved security, faster airport procedures and enhanced compatibility worldwide, it is important to understand that there is a difference between benefits and privacy protections to ensure that the implementation of biometric passport systems are carried out responsibly and lawfully by each country.
Read Travel Blogs and More
Disclosure: Some links in this article may be affiliate links, which can provide compensation to HandL Blogs at no cost to you if you decide to purchase through these links. These are products we have personally used and stand behind. This site is not intended to provide financial advice and is for entertainment only. You can read our affiliate disclosure in our privacy policy.
 Disclosure: Some links in this article may be affiliate links, which can provide compensation to HandL Blogs at no cost to you if you decide to purchase through these links. These are products we have personally used and stand behind. This site is not intended to provide financial advice and is for entertainment only. You can read our affiliate disclosure in our privacy policy.