The Top 7 Best Ways How To Cook Pak Choi In 2023! [Includes Vegan Options]
Harry Jeffery – Uploaded 24.01.2023
Also known as Chinese Cabbage, or Bok Choy, Pak Choi is a leafy vegetable that originates from China. It is also a member of the mustard family! It's also super easy to grow yourself, so incredibly sustainable.
Often enjoyed in a stir fry, or even ramen dishes, Pok Choi is a delicious feature of most Chinese dishes and is an extremely versatile vegetable, which can be cooked in a variety of different ways.
At just a mere 13 calories per 100 grams, yet packed with nutrients and a refined taste, whats not to love…
More on how to cook Pak Choi:
Scientifically known as Brassica rapa subsp. chinensis, Pak Choi can be cooked in many ways, in many dishes across Asian cuisine, mainly Chinese. It is also available all year round which makes cooking Pak Choi an incredibly common feature in most seasonal recipes.
With lots of health benefits including being packed full of folate, which helps reduce tiredness & as well as being full of magnesium, calcium & potassium, Pak Choi is not for off superfood status.
Pak Choi can support bone health & promote heart health, making it a super important factor of Asian dishes in terms of health.
Let's get into the Top 7 ways to cook Pak Choi & explore relevant recipes!
Best ways to cook & prepare Bok Choy
Grilled baby

Pak Choi
Pak Choi

in soup/broth

Steamed

Pak Choi

Spicy

Pak Choi

Ginger

Pak Choi

Raw

Pok Choi

Fried

Pok Choi
Bok Choy is special in the fact that certain ingredients can influence its texture & taste of it.
Personally, this is one of my favourite ways to cook Chinese Cabbage, due to the fact that it's very healthy. With no need for cooking oil, grilling the Bok Choy brings out the earthy taste which is both comforting & delicious and can complement any dish nicely.
What does grilled Pak Choi go well with?
This delicious & nutritious side vegetable goes amazingly well with oriental dishes such as in Pad Thai, Ramen soups & even curries!
Below is a list of recipes we recommend you add grilled Bok Choy to...
Tofu with chilli & greens
Roast crispy pork
Noodles with crispy chilli oil eggs
Pak Choy with oyster sauce & chilli
2. Pak Choi in soup/broth
Another super popular way of enjoying Chinese cabbage is by including it in broth-style dishes such as ramen. It has a particularly nice texture when added to these types of dishes as they are crunchy.
Another key feature is that the broth, which should be full of flavour, seeps into the leafy green making every bite of it even more heavenly.
What recipe does Pak Choi in soup/broth go well with?
Chinese pork one pot
Thai chicken soup
Vegetarian Ramen
Lentil soup
Another healthy way to prepare this veggie, steaming can soften its previously crunchy consistency.
Steaming makes the vegetable just more tolerable overall to someone who perhaps isn't that fond of uncooked veg and allows you to take in Pak Choi's wonderful vitamins that little bit easier.
What recipe does steamed Pak Choi go well with?
Teriyaki steak & noodles
One pan coriander-crusted duck
Asian greens
Chilli chicken & sweet sesame seeds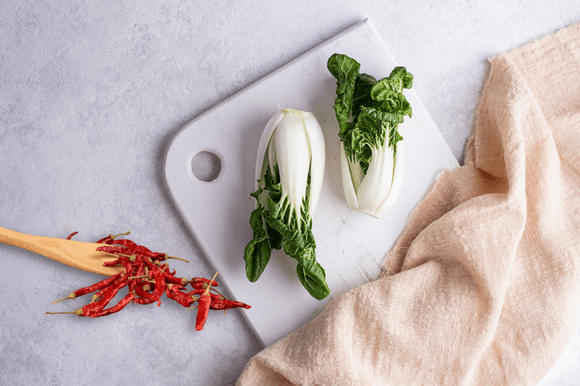 Looking to add a hint of spice to your side dish?
Well, spicy Pok Choi, also described as chilli oil infused, is just that!
Either by frying it in chilli oil, or marinading it in a marinade which partly consists of chilli flakes, you can achieve a healthy, spicy side which also tastes sublime…
What recipe does spicy Pak Choi go well with?
Steamed fish parcels
Fried salmon noodles
saucy Japanese greens & sticky sesame rice
Super-fast prawn noodles
For a more unique way to serve the vegetable known as Bok Choy, why not cook it with ginger, to give it more of a kick to it when consumed?
If so the best way to go about this is by ultimately frying it with the stems perhaps with some garlic as well.
What dish does ginger Pak Choi go well with?
BBQ pork
Five spiced beef with black bean sauce
Wontons in broth
Thai-styled fried fish
An unusual choice but it is definitely the healthiest way to serve this vegetable & the best texture to it for sure!
Yeah, sure if you cook it, you are obviously going to release the tanginess & crunchiness of the plant, but believe it or not, some people prefer that.
Definitely not one for the picky eaters though…
What does raw Pak Choi go well with?
Vegetarian ramen
Steamed cod & vegetables
Thai noodles soup with salmon
Vietnamese-style caramel pork
Personally, by far my favourite way to cook this vegetable is to fry it whether that's with olive oil or even soy sauce in stir-fries.
Whatever you do decide to marinate it in can be reflected in how tasty it becomes at the end.
Luckily, this veggie's servings prep time is super short and to cook, it will only take a few minutes on a frying pan.
Why not have it with stir-fried prawns & soy sauce?
What does Fried Bok Choy go well with?
Easy teriyaki chicken
Stir fried prawns & vegetables
Coconut curry noodle bowl
Marinated tofu & veg
As mentioned previously, my personal favourite ways to serve this vegetable is definitely through frying it & grilling it.
Firstly, these two methods usually mean your food has been cooked at a high heat, so is safest, and makes you feel warm inside.
As well as the fact that the vegetables usually swelter down to around half the size when cooked in these ways, making them easier to eat if you aren't too fond of them but still want to consume them for the nutrition…
Read More Cooking Blogs From HandL Blogs
Disclosure: Some links in this article may be affiliate links, which can provide compensation to HandL Blogs at no cost to you if you decide to purchase through these links. These are products we have personally used and stand behind. This site is not intended to provide financial advice and is for entertainment only. You can read our affiliate disclosure in our privacy policy.
Disclosure: Some links in this article may be affiliate links, which can provide compensation to HandL Blogs at no cost to you if you decide to purchase a paid plan. These are products we have personally used and stand behind. This site is not intended to provide financial advice and is for entertainment only. You can read our affiliate disclosure in our privacy policy.