2023's Top 7 Best Marathon Shoes! [For All Terrains]
Harry Jeffery – Uploaded 30.12.2022
Looking for the ideal marathon running shoes can be tough...
Envision this, you are entering a new period in your life.
Filled with self-improvement both mentally and physically and you have set one of your goals this year to complete a marathon!
However, in order to achieve this, you must train, daily, weekly and monthly to become prepared for when the date finally comes around. This is where I come in to help you…
Finding the ideal marathon running shoes for you can be quite the challenge, which may leave you browsing numerous marathon training websites as well as countless running shoe reviews on youtube.
HandL Blogs has you covered, with some intense research and exploration into the world of marathon running, and a few late-night coffees, we have created a list of our top 7 most recommended marathon shoes for all terrains…
Whether you have set yourself the goal of completing a marathon (26 miles), or a half marathon (12-13 miles), you are going to have your hands full from day one. From your diet to intense training and definitely your choice of running shoes.
Running shoes are quite unique compared to the usual gym or lifestyle shoes as some include a blown rubber outsole, carbon fiber plates and fresh foam in order to make up for the countless miles that are going to be run in them that would cause a whole lot of wear and tear for both the runner and the shoe if he/she was using Nike airforces for example!
Top 7 Best Marathon Shoes:
Nike Air Zoom Alphafly

Hoka Mach 5

ON Running CloudMaster

Asics Nova-Blast 3

Saucony Endorphin Speed 3

Brooks Glycerin 20

Puma Velocity Nitro 2
What you should look for when buying the perfect running shoes...
Ideally, colour-wise, if you care about that sort of thing, you want to pick a darker colour that isn't going to appear as muddy when you inevitably have to run through either boggy fields or sandy beaches.
You want to pick running shoes that give your a spring in your step when trying them on, as over the time period it takes you to complete the marathon, if yours isn't a cushioned shoe, this can cause significant damage to your Achilles heels.
Based on your foot width, be sure to explore this aspect of the shoe before ordering or buying in-store, as some are designed for slimmer and others for wider feet, both being uncomfortable if vice versa.
Well then, let us dive deeper into the chosen models!
1. Nike Air Zoom Alphafly
Key features of these marathon running shoes:
Made from an extremely breathable material

, making your feet feel less stuffy.

Fitted with carbon plates

, which improves the stability of your running.

These running shoes are true-to-size

, so you won't be let down if ordering online.

A well-cushioned shoe

, with fresh foam, for a bouncy & responsive ride!
The well-known Nike air zoom running shoes are often referred to as one of the 'best marathon shoes' on the market.
This trainer is both, bouncy, light and truly allows you to reach you limits and break your personal best. Whatever the distance you are running, thes running shoes are perfect. Although these shoes are sold at a premium price, they are well worth the hype and the money!
A light, breathable atomknit matched with a stiff carbon plate results in an explosive ride, second to none.
Coming in at an average price of £220 to £280 across multiple websites, this shoe is not for those on a tight budget…
Although expensive, we believe that these are some of the best running shoes on the market and if you can spare the money, is a shoe we would deeply reccomend.
If you are looking for cheaper alternative marathon shoes, check out our next option below…
Key features of these marathon training shoes:
Super breathable mesh

, making for an amazingly comfortable fit.

A utilised rubber insole

, designed to resist abrasion.

Reinforced

A

chilles design

, for better strength and stability for your heel whilst running.

Well balanced

, that makes all the difference over long distances.
After being launched recently, the Hoka Mach 5's took the running industry by absolute storm quickly becoming a marathon runner's favourite.
These running shoes are all-around performers, no matter the weather, no matter the terrain, and no matter distance. They are incredibly lightweight, coming in at roughly 232 grams, meaning it will literally feel like you are running with your socks on!
The fit of these marathon running shoes is well designed for most foot sizes, for those with both a wider toe box and smaller ones. For those running in colder environments, these are capable of trapping a fair amount of heat, whilst also allowing your feet to remain cool in hotter conditions with their breathable mesh uppers.
For those with flat feet, this trainer is for you as no section of the trainer is necessarily narrow!
As promised, these trainers aren't as expensive as the Air Zoom Alphafly, next…
For a pair of these new shoes, you are looking at scraping together on average, £90 to £130. Whilst still a lot of money, a much more reasonable price.
3. ON Running CloudMonster
Main qualities of these marathon training shoes:
A unique, modern design

, that uses the latest running technology.

Light-weight frame

, for explosive steps throughout your marathon.

Foam reduces heart rate and energy used by

implementing CloudTec

.
ON Running's latest releases, the CloudMonsters, live up to their name in the sense that running in these marathon shoes feels like you are running on the clouds!
With a rough drop height of around 6mm, they don't only make you look taller, but they also give more cushion and spring to your feet which can help you avoid injuries especially when you finally run that destined marathon.
These are some of the best marathon trainers 'solely' due to the fact of their helion foam soles that are both plush and rigid. What this means in simple terms is it adds some extra weight to the shoe but in fair exchange adds a more responsive feel to the shoe!
The CloudMonsters, although looking super modern and otherworldly, actually cost a respectable £150 on average across the top marathon shoe-selling websites!
Top features of these marathon running shoes:
Multiple colourways

, all of which are super stylish and add that extra flare when running.

Top-level foam

, for consistent, light steps throughout the marathon.

Made for optimal performance in all weather

, so say goodbye to the rainy-day excuses!
Weighing in at only around 253 grams, these are some of the most efficient, stable marathon running shoes that money can buy.
Being one of Asics finest releases to date, the outsole durability of the marathon shoe compared to previous models has been drastically improved. Sizing wise this shoe provides a secure fit with a slightly tapered toe box so a better pick for those with a narrower foot build.
The best marathon running shoes for you can be hard to find, as everyone has different-sized feet, toe lengths and preferences when it comes to comfort. However, this trainer is as close as it comes to an 'all-inclusive' shoe.
You won't be disappointed by the pricing either…
You will be happy to find out that these stylish, well-balanced shoes from Asics only cost around £135! Which for the quality compared to other marathon runners of this price, is extremely underrated.
5. Saucony Endorphin Speed 3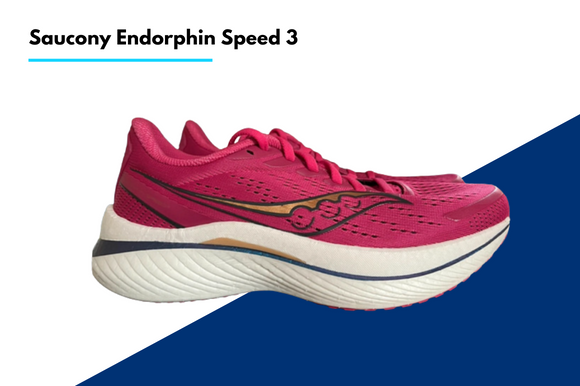 Key attributes of these marathon running shoes:
Only weighing 204 grams

, some of the most light-weight shoes on the market.

Wider midfoot and heel bases

, so they are pretty much stability shoes.

Speedroll technology

, to enhance your overall marathon performance.
The Saucony Endorphin Speed 3's speedroll technology includes a newly designed carbon plate for added propulsion, a light mesh upper and a softer foam composite sole.
With multiple trendy colourways, the speed 3s are up there as one of the best marathon running shoes when it comes to fashion, with several including the same colours for the soles and upper shoe…
The sizing of this specific model is on the narrower side, which is a preferred running shoe for those with thinner feet, meaning this may be one to avoid for those with a wider toe box.
As you can imagine, these are on the lower pricing end of the running shoe pricing spectrum, these will set you back roughly £100 to £165 depending on which variant you decide to purchase.
Key features of the Brooks marathon super shoes:
The DNA Loft 3 midsole

, for increased ride quality.

Excellent sole grip

, making for a super versatile, stable shoe.

weighs 289 grams

, so a bit heavier when running marathons.
Brooks has been producing top-tier running shoes for some time now, and with one of their latest releases being the Glycerin 20's that still remains the case!
Long distances, and short distances, are all the same experience with this shoe. Created with fresh foam soles and a flexible heel collar, for the ultimate cushioned ride.
The upper uses a range of premium trims from several materials to create a plush interior, with additional widths available too!
But what does the price of this marathon shoe?
Some of the best marathon running shoes tend to be super expensive due to their durability and materials, this marathon shoe is no exception however is on the cheaper end!
Coming in at an average price of £140-£160!
Main qualities of these marathon training shoes:
An all-rounder shoe

, in all aspects of marathon running.

Weighs roughly 258 grams

, so an average-weighing shoe!

Made specifically

to cover that dreaded marathon distance.
Puma really didn't hold back when it came to creating the Velocity Nitro 2's and only went and created some of the best marathon running shoes of the past few years.
These shoes are great for long runs, easy runs, recovery runs and of course marathon runs. This is mainly due to the fact that the soles of the marathon shoe are a combination of both hard and soft, which allows for great comfort as well as great performance!
Surprisingly, this all-around great shoe only costs £70!
The cheapest on our whole list…
Every shoe we have mentioned we would highly recommend, they are truly at the top when it comes to fitness and running shoes.
We purposely included options for all foot varieties so nobody can miss out, as well as multiple pricing options!
Discover More Travel Blogs
Disclosure: Some links in this article may be affiliate links, which can provide compensation to HandL Blogs at no cost to you if you decide to purchase through these links. These are products we have personally used and stand behind. This site is not intended to provide financial advice and is for entertainment only. You can read our affiliate disclosure in our privacy policy.
 Disclosure: Some links in this article may be affiliate links, which can provide compensation to HandL Blogs at no cost to you if you decide to purchase through these links. These are products we have personally used and stand behind. This site is not intended to provide financial advice and is for entertainment only. You can read our affiliate disclosure in our privacy policy.